In the early laps, though, most of the leading was done by Peterson's March, Ronnie hounded by the Tyrrells of Stewart and François Cevert, Siffert's BRM, Regazzoni and Ickx. At Monza the attrition rate was always high, and by lap 18 Stewart was gone, together with both Ferraris, but so mesmeric was the lead battle that the locals, rather than head for the car parks, stayed put.
Siffert was the next man in trouble, his BRM jammed in fourth gear, but by now others were coming through, notably Mike Hailwood, who had not driven a Formula 1 car for six years, and was making his return with the Surtees team.
On lap 25, Hailwood – who had qualified 17th! – came by in the lead. "I didn't know what this slipstreaming lark was all about," he grinned afterwards. "I'd never done it before…"
Into the late laps, the front runners shook themselves down, preparing for the sprint to the flag. It was all a matter of being in the right place at Parabolica, of getting through it well, of slipstreaming by the rest just before the line. The last thing a thinking driver wanted to do was lead into the last corner on the last lap.
As it was, Cevert and Peterson arrived virtually side by side, both leaving their braking too late, both sliding a little wide, at which point Peter Gethin's BRM, fourth at the start of the last lap, dived past by the pair of them, and held the lead all the way to the flag.
"The rev limit was 10,500," Peter laughed afterwards, "but I took it to 11,500 before snatching top gear, figuring that the bugger would probably blow apart – but if it didn't I'd win!"
Over the line, Gethin – who somehow found the time and confidence to give a victory salute – was a couple of feet ahead of Peterson, with Cevert third and Hailwood fourth. Howden Ganley, fifth for BRM, was six-tenths behind Gethin.
Half a minute later Amon trailed in, sixth. "I got a pretty poor start, and the temperatures started to go up a bit, so I just sat back, and waited until I'd got rid of a bit of fuel. Once I'd done that, I had no trouble in getting up to the front.
"I led for several laps, without any problem, until nine laps from the end, when I lost my visor… In previous races, I'd been losing tear-offs, so this time I'd taped it on more firmly – too firmly, as it turned out, because when I pulled it off, the whole bloody visor went!
"Actually," Chris mused, "it wouldn't have made a lot of difference, because then I started to get fuel starvation, as well. A bit disappointing, all in all…"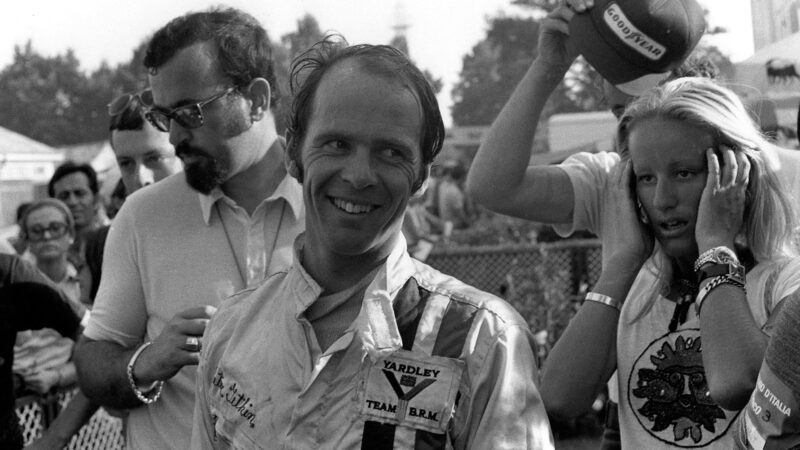 At races in the USA they love to reel off statistics – the number of leaders, of lead changes, laps led, and so on – but this has never caught on in Europe, perhaps for the sound reason that lead changes are not something to be taken for granted in Formula 1.