On the 20th of the 72 laps Mercedes brought Hamilton in from 3.5sec behind. Red Bull responded the next lap, did a faster stop and got him out still comfortably ahead. Such an early stop suggested they were two-stopping. Valtteri Bottas, on the other hand, having run a much gentler pace in third while still pulling well clear of the Pierre Gasly-led second group, was one-stopping. This was part of a Mercedes plan of a strategic pincer movement on Red Bull, which couldn't counter that given that Sergio Perez had got knocked out of qualifying in Q1 through an operational misjudgement, and would indeed start from the pitlane (he eventually come through to eighth).
So Bottas was left out there leading on his old tyres as the new-tyred Verstappen quickly closed him down. This was a potentially treacherous phase of the race for Red Bull. Could Bottas back Verstappen into Hamilton? Could he bring Hamilton close enough to Verstappen that Lewis could go for the undercut in an early second stop?
Lap 30 – just 10 after Hamilton's first stop – and Verstappen couldn't quite pass Bottas on the straight, trapping him into the old-tyred pace through the rest of the lap where passing is just not feasible. Here was Hamilton's chance and he took whole chunks out of Verstappen to be almost up with them by the end of the lap. But a Bottas wobble through the chicane made it easy for Verstappen to slipstream him up through the short straight and the final flat-out blast onto the 18-deg banking. The Red Bull was past even before the DRS zone. Had Hamilton pitted on this lap he'd likely have undercut past Verstappen, but it would have been wildly early. So Red Bull would've left their man out there for a more ideally-spaced set of stints, and a huge grip advantage in the final one.
The pincer had failed.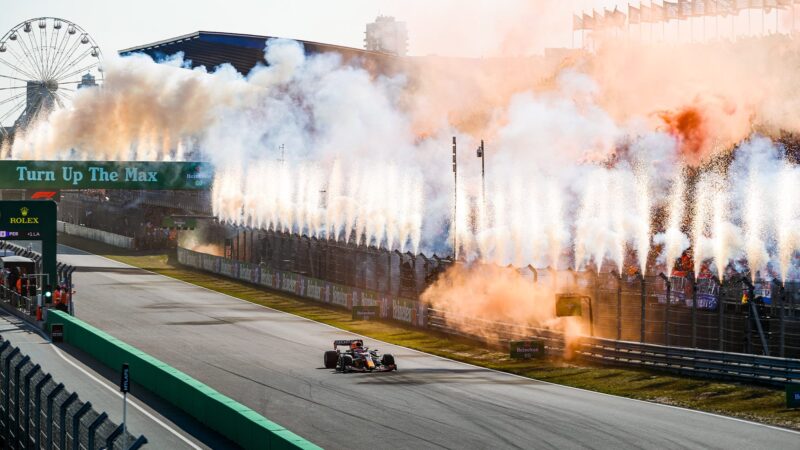 Merc tyre gamble
Hamilton held the gap at around 1.6sec for the next few laps but Verstappen then suddenly began lapping 0.7sec faster and Hamilton had no answer, Mercedes brought him in before the gap got even bigger. That was lap 39, with Verstappen responding once more on the following lap and remaining comfortably ahead. But now on hard compound tyres to Hamilton's mediums.
Hamilton did indeed seem to have a little more tyre grip and he gradually closed the gap down, but in the near-certainty he'd not retain that advantage by the time he caught up. That's how it played out. Hamilton lost tyre temperatures as he lapped a couple of backmarkers and dropped around 0.5sec. In response Verstappen stepped up the pace, like he'd just been cruising all along.  Hamilton's challenge was over.
The crowd got to enjoy the last 20 laps watching their hero extend his lead, retaking the lead of the championship as he did so. With a third stop, Hamilton had just the consolation of an extra point for fastest lap on a new set of softs, on the final lap of this intense little track.