Michael Masi: F1 Race Disruptor – Goin' Up, Goin' Down in Abu Dhabi
We didn't think it was possible after the 'Aramco 500' last week, but F1 outdid itself for contrived controversy in Abu Dhabi
Where even to begin? If Formula 1 hadn't made a parody of itself, it has now. Still, makes for great watching eh?
Where else do you get Toto Wolff screaming "No, no, nooo!" like he's about to become human fodder in some kind of Giant Squid vs Mega Shark z-movie ripper? F1, the reality TV show which happens in real time, delivered more bizarre, heartbreaking and hilarious moments than ten years' worth of Oscar-nominated flicks.
There's almost too much to sum up. Still, it's not stopped us trying before.
Here's what was going up and very much down at the 2021 Abu Dhabi Grand Prix.
Going Down
Race Disruptor – Michael Messy
"Tell them lapped cars are NOT allowed to overtake 🙅🏽‍♂️"

"Now tell them they can 🤣"#AbuDhabiGP pic.twitter.com/LVzGylXNmY

— Dan (@G2Amenyah) December 12, 2021
Sorry to put the old boy through it again two weeks in a row, but what even is Michael Masi's role in F1 anymore? To make it completely contrived? Race Disruptor Michael Masi would be an even more appropriate title it seems.
Bernie Ecclestone's mid-race sprinkler idea now doesn't seem that outlandish. Get ready for those Mario Kart-style Mega Mushrooms, Triple Red Shells and Bob-omb next.
Antonio Giovinazzi's unmemorable F1 career
Say it in carbon: Alfa Romeo Racing ORLEN to feature livery message for Kimi and Antonio in Abu Dhabi 🤩 pic.twitter.com/jh3HYKkl0X

— Alfa Romeo Racing ORLEN (@alfaromeoracing) December 9, 2021
Kimi Räikkönen's career has become so iconic that several of the famously verbose Finn's catchphrases have entered the grand prix vernacular – an altered version of the most famous one being plastered on his engine cover for his farewell race.
Not so much for Gio. Ah well Tony, we can't all be the writers of legendary racing lines. Take it from us.
Transfer Request
View this post on Instagram

Didn't think it could get any worse after that American accent in Texas, but Daniel Ricciardo took his season to a new level of cringe by wearing his not-so-Secret Santa gift from Fernando Alonso on his arm – a transfer tattoo of the Spanish ace's mug.
Seriously Fernando – we thought you were cooler than that.
Going Up
Watery Bottas (again)
Whilst Lewis Hamilton was feeling the immense pain of not having won a 1,858,585th world title and his team were in the midst of protesting, Valtteri Bottas was celebrating in some style.
Don't worry Valtteri, you're safe at Sauber now, you won't ever have to worry about where you finish again.
Feeling Gene Haas' presence
Our class of 2021 📸😊

A challenging year but a massive thank you to our entire team for all the hard work – both at track and back at base 🙌#HaasF1 pic.twitter.com/iPNwAAaomL

— Haas F1 Team (@HaasF1Team) December 10, 2021
Diehard budget F1 outfit Haas decided not to fly owner Gene Haas in for the final race of the season, but just photoshop him into the team's end of year photo instead. Makes sense.
Still not over 2010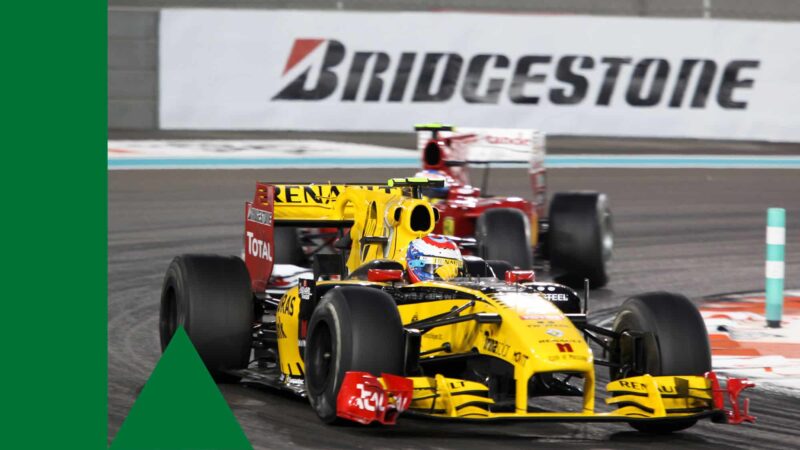 As per usual, Ferrari's pre-race press release brought unintended hilarity through an admirable effort in clinging onto the oldest and sourest of grapes.
"The race can consist of a long train of cars unable to overtake on the 5.554 kilometre track, unless the drivers are prepared to take a risk at Turn 7."
Still sore over that pesky Petrov bloke guys?
Letting rip
THIS IS UNACCEPTABLE!!!!

— George Russell (@GeorgeRussell63) December 12, 2021
In a world packed with anodyne, paid-to-keep-quiet sport stars, it really does warm the cockles to see George Russell indulging in a slightly unhinged Twitter rant (OK, perhaps a slight exaggeration, but still).
Hopefully the iPhone is within reach when him and Hamilton go toe-to-toe next year and the Brit evolves Pokemon Red-style into 'George Rosberg'.
Red Bull's Big Tow
Red Bull showed that team-work makes the championship dream work in Abu Dhabi with both cars giving each other a tow in qualifying, securing pole for Verstappen, before Perez masterfully held up Hamilton during the race, costing him crucial seconds.
The Mexican said earlier this year that if it was possible for Red Bull to take a title, he would make it happen. He was good to his word.