I have to convince myself that this can't happen to me. That my life cannot end there, like that, without having time to prepare. It's impossible. And yet, I don't have much hope of escaping on my own.
I see it coming. Death. It approaches slowly but I can already smell it coming, surrounding me.
My body almost accepts it and relaxes. It's over. I'm not afraid, but I'm overwhelmed by questions: Which part of me is going to burn first? How long will I be in agony? Will it hurt to die?
But … I think of my children, at home. Sacha, Simon, Camille. I can almost imagine them in front of me, all three of them. So small. Funny. Companions. Will they grow up without a daddy? Am I going to abandon them? I refuse. They need me. My children. They need me. I must fight for them. My children. I cannot leave them. I'm not allowed to let go.
Marion
I close the door to the cinema room. I want to make sure that nobody will hear anything of what is going on. I don't know how I'm going to react to the information that will reach us, so we must keep the children away from this dark room in which we fear the worst.
Time is our enemy. The more it passes, the less our chance of seeing Romain come out unscathed. For pity's sake, let time stop, let the earth stop turning, let nothing move until we know.
Not knowing is the worst part. But no, they keep going, those f**king seconds.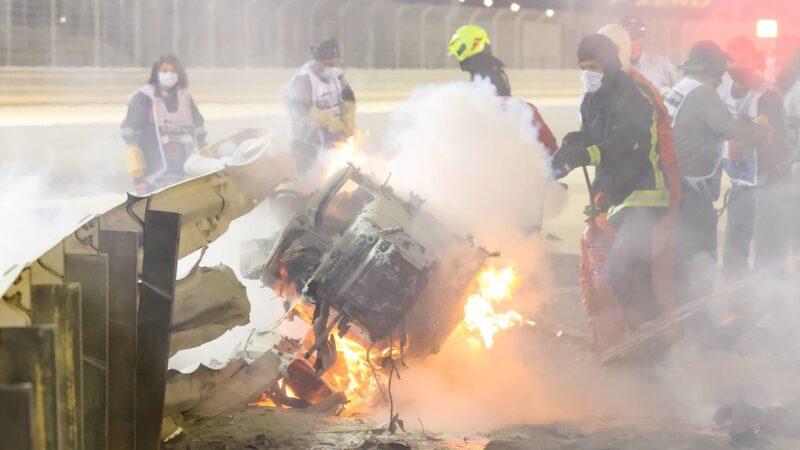 Romain
I am stuck in the flames, and I am the only one who can save myself. It's not a question of courage, it's a question of life or death.
No one will come to my aid. I am going to make another attempt to escape, by rotating my body but my left foot is stuck under the brake: I will have to sit back in the blaze to free my leg. It is a difficult decision to make. To dive back into the coffin intended for me.
Marion
We need some news – Kim… Kim Keedle. Romain's physiotherapist. I send him two words by WhatsApp and I'll be able to see as soon as he reads it. As long as he hasn't read the message, it means that he has no information. If he reads and does not answer, it follows that it's a bad sign — that he doesn't know how to tell us that… But no. He didn't read it. So we don't know. We do not know.
Romain
I have to fight. I have to try, until the end. I pull with all my might, like crazy, ready to rip my leg off from the rest of my body if necessary. I leave my shoe there, swallowed up by the blaze that my cockpit has become, but my foot is free.
But it's far from over. To pull myself up, I have to help myself with both hands, and plunge them into the flames that surround me. Instantly, my red gloves turn black. I feel the pain. I know I'm burning alive.
But… as I push myself out, it's deliverance. I will live. I will live for my children. I will see them grow up. I'll be able to hug them. Kiss them. Smother them with love.
Marion
I wait, phone in hand and I see Romain on the screen, his face pale. I tell myself that this is a picture taken before the explosion because the director didn't know what else to show. But no. it's live… he's alive. I scream. He's alive! I open the door to the cinema room and run up the stairs, shouting loudly, for my children as much as for me: 'Papa is fine! Papa is fine! Everything is fine! Papa is well!
My phone rings "Hello? Marion, it's Jean Todt [president of racing's governing body, the FIA]. I'm with Romain, he is fine."
I breathe a sigh of relief into the receiver. I probably gasp. And that's when I suddenly hear, in the distance, behind Jean: "Mosquito! I'm fine!" The voice is clear. Almost joyful. My God, those words will echo for the rest of my life. It's the voice of my husband. The voice that I thought I may never hear again. "Mosquito." That ridiculous nickname he has given me for so many years. He knows that by hearing it, I will understand. I will understand that he will survive what has just happened, and that we will have the rest of our lives to heal together. I laugh and cry at the same time.
Romain
Now in hospital, Romain is visited by Jean Todt
Jean said to me mischievously: "So? Do you like the halo? Only fools don't change their mind!"  The halo. The president of the FIA ​​knows that I was one of its fiercest detractors. Implemented after the death of Jules [Bianchi, following a crash at the 2014 Japanese Grand Prix]. Of course, I'll become one of its greatest supporters. The halo saved my life, as did Jules, by extension. Without his accident, this safety device would never have been installed. Without his accident, I would have been dead. Decapitated.
My priority is to see my children and my wife. My God, the video call does me the world of good. They are all there in the dining room. Marion, Sacha, Simon, Camille. I even see my father behind them! Marion and I look at each other, her eyes are damp. I know her by heart. She's trying to hold on for our little ones. My eyes fog up a bit too. We have so much to say to each other, to still live together…
---
La Mort en Face
Romain & Marion Grosjean
City Editions, €18.50
(French version)
English version expected to be available from November 24