Rich Energy just the latest in motor sport's history of unusual sponsors
- Last updated: December 4th 2019
Motor racing has rarely had a shortage of curious characters, and that applies absolutely to those buying advertising space. Amid the spat involving F1 team Haas's sponsor Rich Energy, we've taken a look at some of the more interesting cases…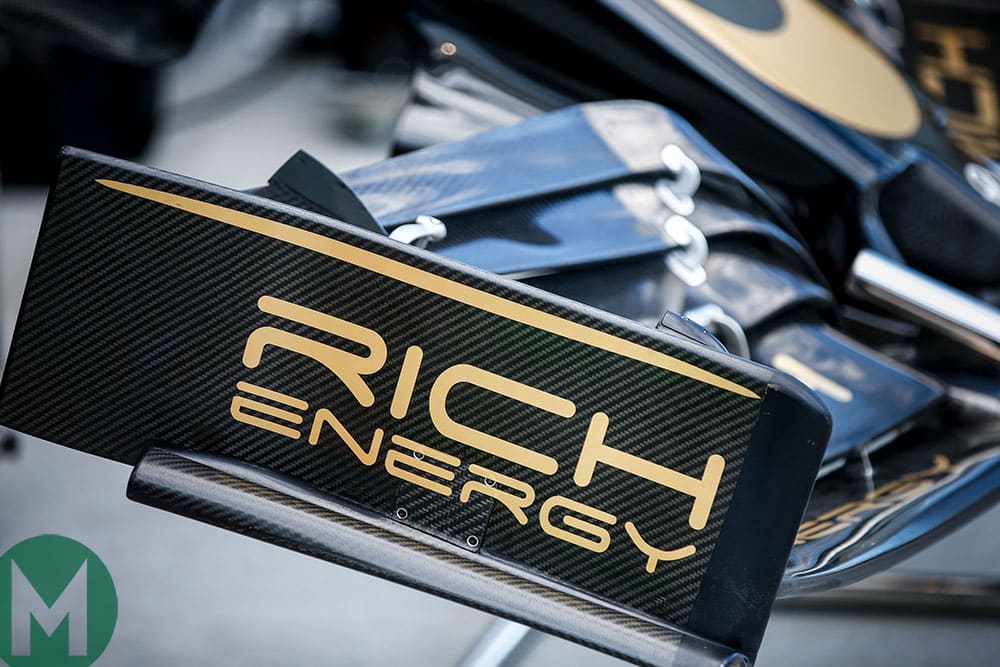 The Haas F1 team's title sponsor Rich Energy has been quite the topic of conversation Photo: Motorsport Images
One way or another, sponsors are quite the talk in Formula 1 right now. And one sponsor in particular.
Rich Energy, that is. Currently, we believe, title sponsor of the Haas team. There had been focus on the energy drinks firm anyway, with an ongoing legal dispute with Whyte Bikes over the use of its logo. But it's just gone up a notch.
It was posted on Rich Energy's Twitter account that it was terminating its contract with Haas due to "poor performance", adding that it aims "to beat Red Bull and being behind Williams in Austria is unacceptable", as well as that "the politics and PC attitude in F1 is also inhibiting our business".
But, not so fast. Later the company's shareholders clarified that "clearly the rogue actions of one individual have caused great embarrassment". The logos remain. Someone was hasty with the keyboard. Yet later in the day the Twitter account struck back…
As with most things in F1 and in motor sport beyond though, this sort of thing is far from new. There is quite the previous when it comes to, shall we say, interesting figures and firms who were providing the cash – at least purportedly. And some equally interesting associated stories. We take a look at a few examples.
Southern Organs
This was, allegedly, a church organ manufacturer, and it sponsored all sorts in UK motor racing during the mid-1970s. This included Formula Atlantic in 1974, the British Saloon Car Championship in 1975 and it even backed David Morgan's sole grand prix appearance, which was for Surtees at Silverstone in '75. The firm was run by Sidney Miller, better known as Jim, with John Bellord.
Their aim was to convince people to 'help' finance church organs that the churches themselves were unable to finance. Trouble was, many of the organs either didn't exist or were already financed, sometimes several times over. It's thought around 100 fake hire-purchase agreements were signed.
And when the scheme crumbled they pair did a flit. They were eventually traced to the otherwise uninhabited Priest Island off the west coast of Scotland's mainland, where they had gone with £1000 in a briefcase…
Shannon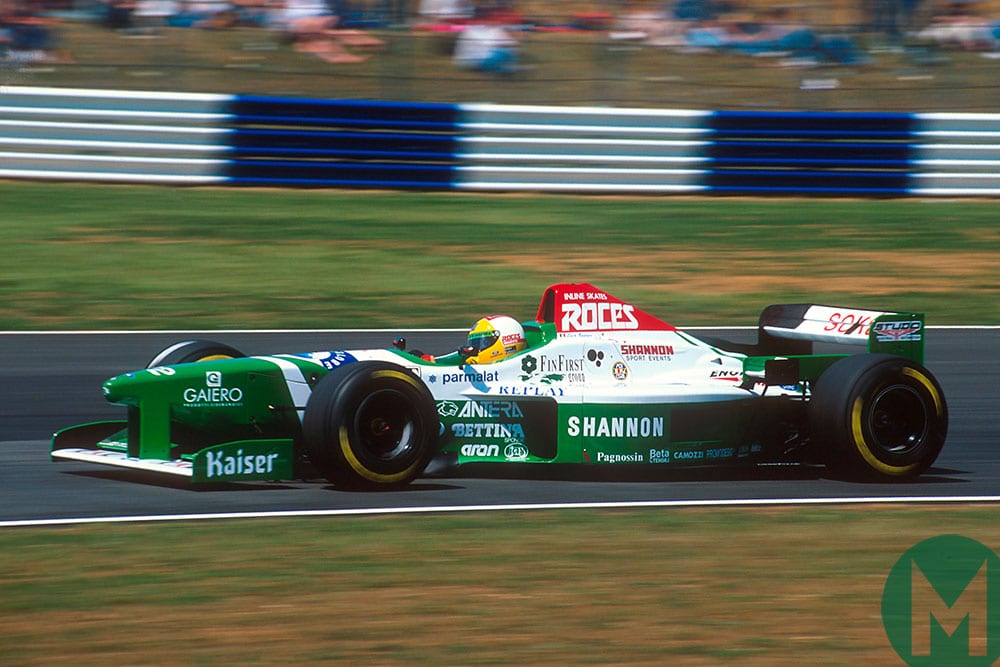 Luca Badoer in a Shannon-sponsored Forti at Silverstone in 1996 Photo: Motorsport Images
This was a company registered in Ireland, and funded with Italian money. It backed about half the German Formula 3 field seemingly in 1995 and '96, then spread its tentacles into F3000 – where it lasted two races, though it did have the kudos of Tom Kristensen driving for it.
Then, as night follows day it, it surfaced in F1, with title sponsorship of habitual struggler Forti Corse in 1996. The deal was announced in the early-season Spanish round, though no money subsequently came forth.
Forti couldn't pay its engine bills – one of its driver's managers used to tell people before the race how many laps each car would do before pulling off to avoid any risk of a blow-up – and by the German round the cars were unable to run at all. Forti was never seen again.
Moneytron
This was a supercomputer kept behind a locked door. No, really. And it was owned by the flamboyant Jean-Pierre van Rossem, who convinced investors that the said computer was able to predict the movements of the stock market and therefore deliver them untold riches.
Funnily enough, that wasn't exactly the case. But still, van Rossem did well by it for a time, accumulating clients, money, and even apparently some 108 Ferraris.
And he first sponsored then owned the Onyx F1 team in 1989, where the whirlwind figure certainly left an impact, for better and worse. The team did though take a podium finish, with Stefan Johansson finishing third in the Portuguese round. But it all unravelled and in 1991 van Rossem was sentenced to five years for fraud. He later resurfaced in politics. Again, really.
---
More: Jean-Pierre Van Rossem: F1's wildcard backer
---
Andrea Moda
Andrea Sassetti in 1992 established his own F1 team, named after his shoe brand. He bought the assets of the failed Coloni team, then added to the mix a three-year-old design study that BMW had commissioned from Simtek.
As that might suggest, the car wasn't a good one. Roberto Moreno somehow put the thing on the grid in Monaco, but otherwise it was only failures to pre-qualify – that was, packing up for home on a Friday morning. Perry McCarthy barely managed a lap in the second car – and the team even sent him out with a damaged steering rack in Belgium.
The squad was eventually turned away from the gates at Monza when the FIA ruled on its "(failure to operate a) team in a manner compatible with the standards of the championship". Game over.
Essex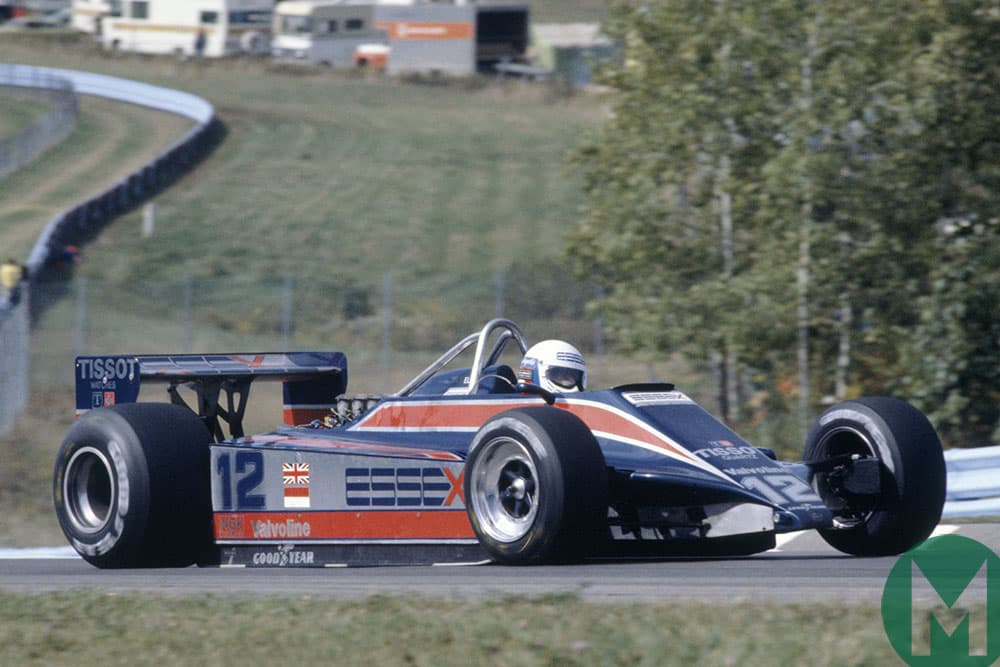 Elio de Angelis in Essex branding for Lotus in the US Grand Prix at Watkins Glen in 1980 Photo: Motorsport Images
David Thieme was another sponsor who was hard to miss, bedecked as he was permanently in square sunglasses, a fedora and goatee. He first made his money in executive aircraft interiors, then in the early 1970s he set up the Essex oil firm. It proved exactly the right moment to do so.
Even wealthier by the end of the decade, Thieme backed works Porsches at Le Mans in 1979 and Essex logos appeared on the Lotus in F1 in 1979; it then became title sponsor in 1980. And everything Thieme did therein was extravagant, including lavish launches at the Royal Albert Hall plus a Michelin-starred chef to cook for motorhome guests, at a time when motorhomes were exactly that.
It all came to a sudden stop when he was arrested at Zurich Airport in April 1981 as part of a fraud investigation. Thieme was never implicated but vanished from public view thereafter.
Leyton House
This one started so well. Leyton House was a real estate conglomerate – and one of several Japanese consortiums to land in late 1980s' F1 – headed by Akira Akagi.
Akagi was another to go for the 'first sponsor the team then buy it' approach, in his case with the March team. And in more than one sense this brought colour, with fine Adrian Newey-penned turquoise-liveried cars challenging the big names.
Amid internal turmoil though the team somehow resolved to sack Newey in mid-1990 – when he had in effect the 1991 Williams on his drawing board – then in '91 Akagi was swept up in the Fuji Bank scandal. The team stumbled on only until the end of 1992.
---
More: Marching to civil war
---
MasterCard
As the profile of this particular firm indicates, this was not so much an interesting sponsor. More it was an interesting arrangement.
On a couple of levels this had plenty going for it. For 1997 Lola at last entered F1 with its own team, and its car was resplendent in title sponsor MasterCard colours. The set-up though was unusual – revenue would in theory come from MasterCard holders paying to join an 'F1 Club', to get various forms of F1 access.
Plus the effort was last-minute, MasterCard insisted the team enter in '97 not '98, leaving only nine weeks to build the car. The hardly-tested machine was 11sec off the pace in Australia's season-opener.
The team was called home from round two after Lola's Eric Broadley chose to cut his losses and pull the plug. The escapade nearly did for Lola altogether.