The RBR move represents a huge opportunity for Perez, who was denied the opportunity to race for Aston Martin this year after seven solid seasons with Force India/Racing Point.
However, it's not his first crack at the big time – and unfortunately the previous one with McLaren in 2013, which much like the Red Bull deal came out of the blue, went badly wrong.
Perez was snapped up to replace the Mercedes-bound Lewis Hamilton alongside Jenson Button after just two seasons with Sauber.
A year earlier McLaren wasn't even on his radar. As a member of the Ferrari Driver Academy he was being quietly groomed by Maranello as a potential replacement for Felipe Massa, if not in 2013, then perhaps 2014.
However, when McLaren sensed that Hamilton might have other plans, Perez was in the right place, and at the right time.
Following a solid if unspectacular rookie season with Sauber in 2011 – compromised by a huge crash in Monaco qualifying – he started 2012 in style, putting in a storming performance in the wet Malaysian GP to chase home winner Fernando Alonso. Indeed had circumstances played just a little more in his favour he could have pulled off a spectacular victory.
He followed that up with another charge to third place in Canada as his strategy played out, and others stumbled. It was at the next race in Valencia that the first seeds of his move were sown, thanks to former McLaren team co-ordinator Jo Ramirez.
Having grown up with Pedro and Ricardo Rodriguez, Ramirez had dreamed for decades of finding Mexico's next F1 star. Indeed a few years earlier he had introduced a young Perez to Martin Whitmarsh, although for the McLaren boss it was just a courtesy chat.
In Valencia Ramirez again did some networking, introducing Whitmarsh to Sergio's then mentor, former Champcar racer Adrian Fernandez. This time Martin paid more attention. With the Montreal podium fresh in the memory, he was intrigued to find out that far from being tied to a future with Ferrari, Perez was a free agent.
At the end of July Whitmarsh and Perez had a secret meeting in a Budapest hotel. Rejecting the likes of Paul Di Resta and Nico Hulkenberg, McLaren began to line up Perez as a replacement for Hamilton, should one be required.
Before the Italian GP the possibility of Hamilton going to Mercedes became more serious, and with impeccable timing Perez had another great race to second place at Monza.
In fact he'd already signed a contract – although a 2013 race seat was not yet guaranteed. That came a little over two weeks later, when Hamilton rang Whitmarsh to say he was off to Mercedes. Perez was announced shortly afterwards,
It was a golden opportunity. Between them Hamilton and Button had won seven races in 2012, and while they finished fourth and fifth in a championship fight dominated by Sebastian Vettel and Fernando Alonso, there was no reason to expect the Woking team to fall off the pace. In fact, Hamilton was widely seen as having drawn the short straw by opting for Mercedes.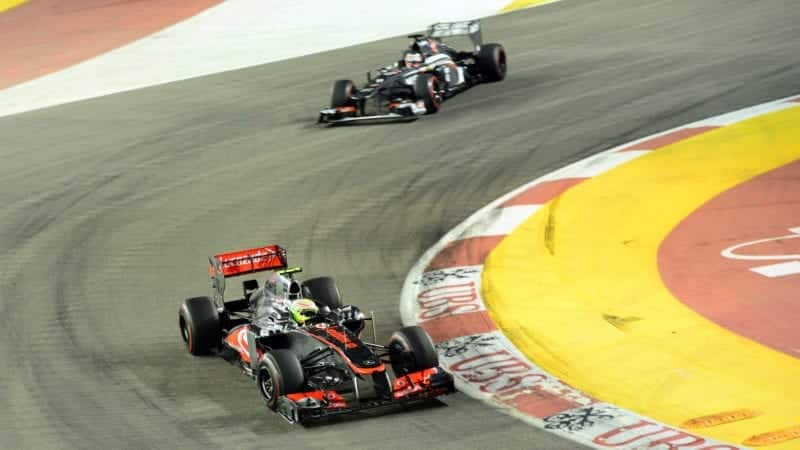 In January 2013 I caught up with Perez at the Tower Bridge Hilton in London, and it's easy to forget just how bullish he was at the time about his prospects.
"I'm just focusing on winning the championship, that's my target," he said. "Apart from that, it's what every driver dreams. It's a big package, it's a lot of work, it's a lot of sacrifices, but everything is worth it. It's the opportunity that every driver dreams to have. So I will give my maximum to win championships with McLaren.
"It will not only be the target to beat Jenson in qualifying but beat everyone, because now I will have the car to fight for pole position every weekend.
"The toughest thing is you will be under pressure, you will have a lot of attention, a lot of media, a lot of work, but all this is what every driver dreams to do.
"It's been a very painful year, there's no secret about it."
"If they tell you, 'You will do this, but you are in McLaren,' then I think most of the field will do it!"
Unfortunately that optimism was not repaid. No one could have predicted how badly McLaren would stumble in 2013, a year that saw the start of a slump from which the team is only just emerging. Not only did it not win a race that year, it failed to log a podium finish for the first time since 1980.
When I caught up with Perez at the end of that season his mood was very different.
"It's been a very shocking year," he said. "And I'm disappointed and frustrated, not only for myself, but for McLaren. I joined a team that was pretty much on top the years before and throughout their whole history. This is F1, things change too quickly.
"We thought we could improve during the season. It was my first season with McLaren, and all I knew was the history, that they had to recover from bad cars. I think we did very big steps, the only issue was we started so much further behind, and other teams improved as well. And then we had to stop development on the car to focus for next year.
"We did that sooner than other teams. It's been a very painful year, there's no secret about it. We got it wrong, basic parts of the car were wrong, and to recover that was very difficult.
"As much as it has been painful for me, it has been painful for every single guy that works back at home and in the track, coming here knowing that we would be fighting just to get into Q3, fighting the midfield teams. This is not McLaren and it's not where we wanted to be."
Outscored by 73 points to 49 by Button, Perez was far from to blame for the downturn, and he deserved another chance. However, the team's latest protégé Kevin Magnussen had momentum on his side and was duly drafted in for 2014, leaving Sergio to reboot his career at Force India.