In 1964 he raced both a Jaguar E-Type and Lotus Elan but the following season he bought the assets of Team Elite including their Brabham BT8. With this sports car he won 7 club races – with Mallory Park as his happy hunting ground. But the car was doing double duty . He also entered the car in major international sports car races for Denny Hulme. At the time Hulme was already an established Formula 1 driver but Taylor's gift of the gab somehow persuaded the Kiwi to drive for him. Despite winning the world championship during the period Hulme found time to race for Sid Taylor for five years, the latter four in a series of Lola T70s . he won a total of twelve races for the team including three RAC Tourist trophies.
For much of the time Taylor also raced the T70s, winning at Ireland's Phoenix Park in 1966 and in 1968 he dominated the club racing sports car series winning seven races and picking up the BRDC's prestigious Nigel Moores Trophy.
He then hung up his helmet while continuing to run T70s both in the UK and internationally but also turned his attention to the emerging Formula 5000 category. He first ran an early tube frame Lola T142, then a T332 followed by a succession of McLarens and a Trojan throughout most of the 1970s. The Taylor cars competed with success on both sides of the Atlantic and his drivers included many with Formula 1 pedigrees including Tony Brise (who came so close to winning the inaugural Long Beach GP for Sid), Vern Schuppan, Peter Gethin, Reine Wissell, Brett Lunger and Brian Redman. Gethin was to win two successive European F5000 titles for the team and was runner-up in the 1971 Interserie in a McLaren M8E Can-Am car. For his part Redman won 13 races for Taylor across F5000 and sportscars. He also finished runner-up in 1972 European F5000 series and third in the US series in 1972.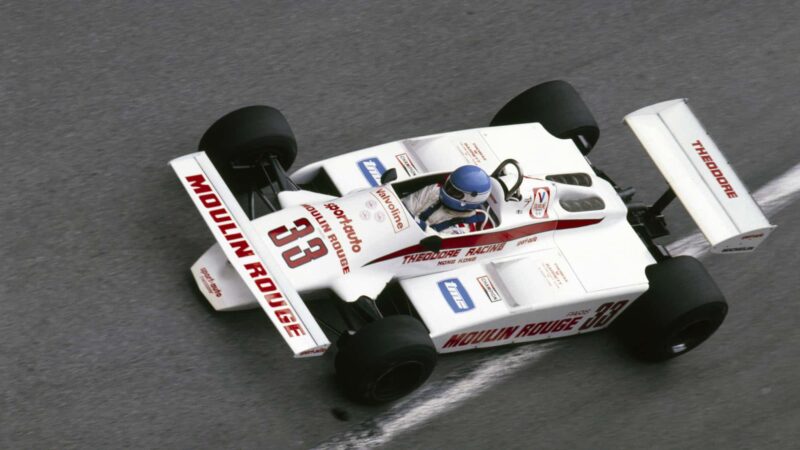 It was the Australian Le Mans winner Schuppan who introduced Sid to the Indonesian-born Theodore "Teddy" Yip, who had made a fortune developing casinos in Macau. It quickly became a symbiotic relationship. Taylor's racing, despite the success ,was coming at a cost while Yip needed someone who knew everyone and could organise and follow up on his diverse racing aspirations which included the Indianapolis 500, Formula 1 and winning the Macau GP. Initially Yip sponsored the Taylor F5000 cars but the association quickly blossomed.
Ultimately the Taylor-run Theodore team competed in 51 Grands Prix starting with an Ensign in 1976, then building their own Ron Tauranac-designed Theodore TR1 in 1978 , switching back to Ensign in 1979 before Yip brought the failing Shadow team in 1980. In 1981 they returned to constructing their own car – the Tony Southgate TY1 which raced in 1981 and 1982 until a " merger" was arranged returning between Theodore and Ensign in 1983 when they raced the excellent Nigel Bennett designed Ensign N183 .Taylor had a loyal band of technicians, most notable Julian Randles.
Against the likes of Lotus, Ferrari and McLaren, Yip had little to celebrate but there was the victory in the non-championship 1978 rain-soaked Silverstone International Trophy with an inspired Keke Rosberg at the wheel. There had been early promise in 1977 when Patrick Tambay had three late season top six world championship finishes with the Ensign. After that were a succession of DNQs with the only bright spots being sixth places at the Long Beach GP – Tambay in 1981 and Johnny Cecotto in 1983. After that Yip pilled the plug on his F1 aspirations.
Taylor and Yip also supported Desire Wilson in the 1980 Aurora British Formula 1 Championship, the South African "lioness", of course, winning at Brands Hatch and becoming – and remains – the only woman to have won a Formula 1 race.
Over in the States for a period of five years Sid arranged for Theodore to sponsor various Indy teams, most noticeably Dan Gurney's Eagle organisation, although in 1981 Theodore fielded their own McLaren M24 for Vern Schuppan and later there were associations with teams such as Bignotti-Carter and Bob Fletcher. The best result was in 1980 when Mike Mosley took the Eagle to fourth in the Indy 500. Other drivers selected by Taylor and supported by Yip at Indy included Desire Wilson, Clay Regazzoni, Rick Mears and Jim Crawford.
But probably more important to Teddy was winning the annual Formula 3 Macau Grand Prix and Taylor forged associations with many of the top European teams which led to six victories, most noticeably Ayrton Senna in 1983. In fact two further wins have come since Yip's son resurrected the tradition – but without Sid.
Yip died in 2003 at the age of 96 and by then Sid had moved away from his long racing career although he was still a regular at Silverstone and other BRDC events, latterly in a wheelchair after a stroke. He leaves behind his wife Mary, who was a handy racer herself mainly in a Mini, and daughter Tracey. Sid Taylor was definitely a one-off and leaves behind a veritable raft of memories and sometimes hardly believable stories – they would have filled a very entertaining book.
Motor Sport extends its condolences to the family