"You're a Formula 1 driver, Kev, you can do a lot better than that. You can meet him. I'll organise it. We can have lunch with him at his house in Mayfair."
I duly emailed Stirling, and back came one of his trademark all-caps replies, saying that he would be delighted, and to arrange it with his PA. That I duly did, and so it was that a few weeks later, one Friday shortly after midday, Kevin and I rang the doorbell at 44 Shepherd Street, the Mosses' famously hi-tech home, and were ushered in by Susie, who passed away just over a month ago and is so sadly missed. 'Stirling's upstairs,' she said. 'Go and join him.'
'The boy' was then 86, was still troubled by his 2010 lift-shaft fall, but was full of vibrant energy. He offered us beer and Twiglets – a combo that I fancied must have been a Shepherd Street staple for the past half-century, for Moss had the house built to his own exacting specification on a World War Two bomb site that he bought for £5000 in 1961. Twiglets were invented in 1929, the year of Stirling's birth, and beer is beer.
"What does that article say, boy?"…"It says you won again"
Out came the famous scrapbooks. "I thought you might be interested in seeing a few articles from Danish papers. I did quite a few races in Roskilde, you know," he said.
"That's where I was born," Kevin replied, visibly star-struck.
"I know, boy. It was a peculiar circuit, Roskilde. Banked corners. No real straight. Here, look, I raced there in 1959 in a Cooper Monaco. I don't know what the article says."
"It says you won."
"Oh good. Oh and here I am at Roskilde again, in 1961, this time in a Lotus 18/21. What does that article say, boy?"
"It says you won again," said Kevin, and flashed a luminous smile at the old man, who chuckled contentedly.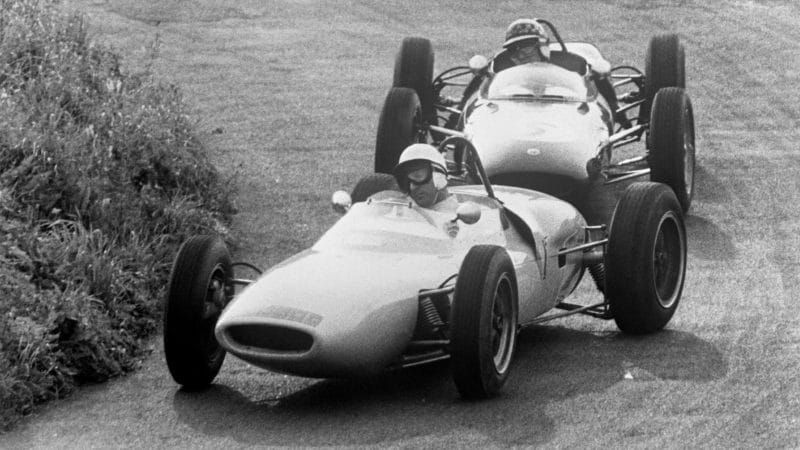 Magnussen wanted to see more scrapbooks, so Moss asked his wife to fetch the albums from 1955, 1956 and 1957. She did so. The gold-standard quotes kept flowing:
"Here's me and Fangio. I could usually beat him in sports cars, but in Formula 1 he was too damn' good."