However it isn't the largest Scalextric layout ever seen: that is thought to be a 45-metre-long creation, made for Sky Sports, and featuring 44 corners chosen by Martin Brundle from his favourite sections of tracks from around the world.
The Silverstone set will host time trials and tournaments over the two-week period, but that may not be the last you see of slot cars racing through Becketts and Copse. There was a hint that a more compact living-room size set could go on sale in future.
"For generations, Scalextric has been a beloved brand among racing fans of all ages," said Owen. "Now, with our collaboration with the Silverstone Museum, we're taking that love to a whole new level. With our collective passion for racing together with the museum's unparalleled collection of artefacts and racing memorabilia, we're creating an experience that's not just fun and exciting, but also informative and educational."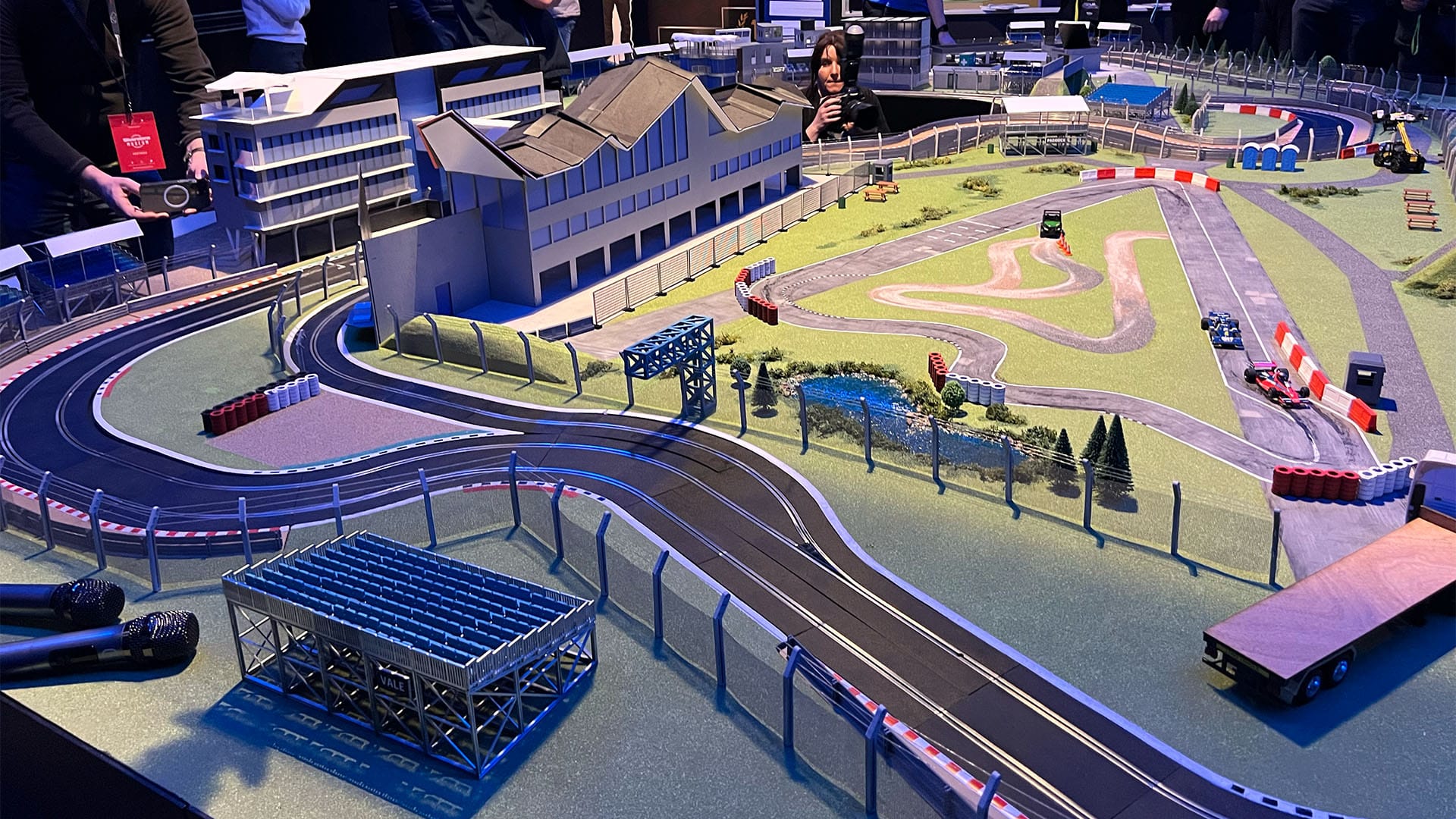 The exhibit features a range of full-size cars also on display alongside slot car replicas, including Damon Hill's Williams FW16B-07, which won the 1994 British Grand Prix. Visitors will be able to build their own Scalextric circuits as well as compete in a 'Design your own livery' competition, with one entry being recreated on a model car.
The 'On Track' exhibition also includes a tour through the Silverstone museum, which covers the circuit's origins and evolution, as well as showcasing legendary cars which come to life during the 'Starting Grid' cinema experience –  walking viewers through years of circuit's history before the lights go out and 75 years of motorsport heritage races toward Turn 1.
"To see the incredible iconic Silverstone Circuit recreated in such detail by the Scalextric team is fantastic," said Rachel James, head of marketing at Silverstone Museum. "And we know the new attraction will be a winner with motorsport addicts, families and car fans alike. Having the original full size vehicles, including Damon Hill's Williams race car making its debut as part of the our Easter exhibition, is fantastic and there will be so much for families and visitors to see and do."