After Red Bull showed impressive pace on the final day of testing in Bahrain the team headed into the race weekend as clear favourite, although it was obvious that Ferrari was also very much in the mix.
Indeed come the race weekend Verstappen appeared to have the edge, topping the times on Friday and again in FP3. In qualifying however, Ferrari's Leclerc beat Verstappen to pole.
The first signs of possible worries for Red Bull came on Sunday when the routine FIA bulletin about parts swapped under parc fermé conditions indicated that both RB18s had changed their "rear brake friction material." It was thus obvious that there were some concerns about the brakes over 57 punishing laps.
Indeed, having been unable to jump Leclerc at the start within a few corners Verstappen was already reminded to look after his brakes.
Over that whole first stint, brakes and the engine braking element of slowing the car were a constant topic of conversation.
GP: "Forward on your brake bias offset now, straight into management."

GP: "Just focus on that management, beginning of stint, as discussed."

VER: "Engine braking is doing funny things mid-corner."

GP: "Understood, increase torque if you need it."

GP: "We're looking at the engine overrun Max, we'll get back to you with an update."

GP: "Increase lift off as well Max, just while we're behind Leclerc. Increase lift-off for the brakes."

GP: "Increase lift off please Max, just increase lift off."

GP: "How's the engine braking Max?"

VER: "Yeah more normal."

GP: "Increase your lift and close a little bit more please, Max."

VER: "Mate, I'm barely braking…"

GP: "Things improving on the brake side Max, so good job with that, so continue doing what you're doing for the moment, and I'l let you know when you can reduce it."

GP: "Ok Max, just think about lifting and going to partial throttle slightly earlier at Turn 12 and less of a lift. You're just leaning on that front left a bit too much so bring your throttle lift earlier."
Despite all the brake saving, he remained in touch with Leclerc. As the end of the first stint approached Verstappen made it clear that he was losing his tyres, and thus wanted to pit.
VER: "I really have zero traction."

VER: "My traction is completely gone."

VER: "Front wing is fine, I don't know, I just need more traction."

GP: "Box and pit confirm."
Verstappen came in for the first time at the end of lap 14. It was a late call as the team could not give Ferrari and Leclerc any warning or they would have jumped into the pits too. Indeed Ferrari did tell third-placed Sainz to follow the Red Bull in. As Verstappen left the pits he was given a clear instruction to look after his brand new set of softs.
GP: "OK, do not hit these tyres hard Max."
As Verstappen headed past the pits for the first time on his new tyres he could see the leader emerge from own his stop.
GP: "So Leclerc ahead of you at pit out…"
Verstappen arrived at the first corner right with Leclerc, but there was no way past. If he had any frustrations at this point at having been told to take it easy on the tyres on his outlap, only to just come up short, he kept them to himself.
Verstappen followed Leclerc through lap 16 and he set the then fastest lap of the race as he towed up behind the Ferrari. Given the brake issues, the team issued a clear instruction.
GP: "Max, I think we'll have one go at it before we have issues with the brakes again."
Verstappen duly had that go, getting down the inside of Leclerc to seize the lead – only for the Ferrari man to drag past him on the left on the next straight. He was then given tacit encouragement to have a second go after all.
GP: "He is down on SOC [state of charge] Max, he is down on SOC."
Next time past the pits Verstappen was right with Leclerc, and he once again got by at Turn 1. This time Leclerc re-passed on the right on the following straight. Having potentially taken too much out of the brakes by making that second attempt, he received a reminder.
GP: "Eyes on dash for the brakes Max, we need lift off at this stage."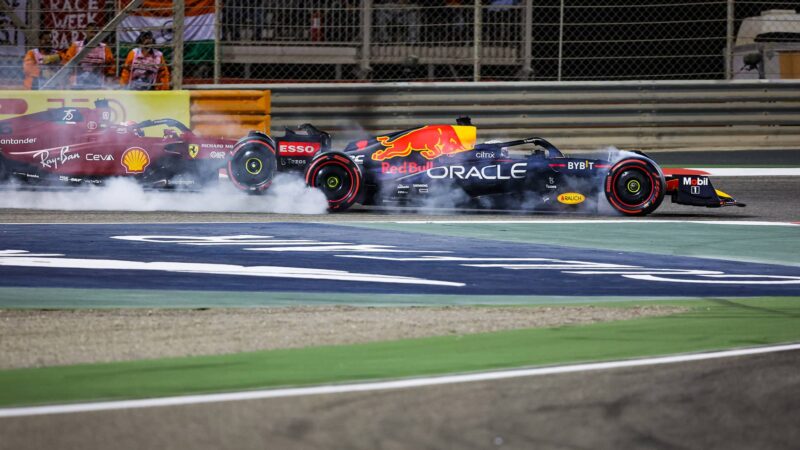 Nevertheless at the start of lap 19 he made a third attempt, but this time he locked the right front and ran wide, allowing Leclerc straight back in front. Later there was more chat about possible overtaking attempts
GP: "Max the overtake to Turn 4 is available as well."

VER: "Yeah, but mate I can't stay close to him."
Then brakes became a worry once again.
GP: "Ok, increase lift off please, Max."

VER: "Ah, it's really impossible to race like this with these brakes."

GP: "Let me know if you have any issues with engine braking."

GP: "Brake info – under control again."
Verstappen had been happy with the car in the opening stint, but as the second went on he clearly wasn't – possibly that right front lock-up had put things out of kilter.
VER: "It's such a shit balance everywhere, on entry I'm understeering, and then on full throttle I have no traction."

VER: "I'm completely stuck with my tools, I can't get a balance in the car."

GP: "Box and pit confirm."
Verstappen came in for a second time on lap 30, this time taking the medium. Once again it was a late call to keep Ferrari in the dark, with no chat about pushing and using up the tyres prior to the stop. And once again he was given a 'take it easy' on the out lap message as he left the pits.
GP: "You have to bring these tyres in gently this stint, please Max. We're expecting Leclerc to pit as well."

VER: "What was the gap to him?"

GP: "Too big for the undercut."
Once again Verstappen came down the pit straight next time round to see Leclerc emerge in front, although this time he was a little further ahead than after the first stops. Having kept silent at the first stop, he couldn't hold back. After following the Ferrari for a few corners he let rip with a shouted message.
VER: "Ok, this is now two times that I take it easy on the out lap, and I could easily have been in front. I'm never, ever doing it again."
There was no reply. After a while he was given some words of encouragement.
GP: "You are free to push Max, free to push."

VER: "How many laps are there to go?"

GP: "Twenty three, including this one."
The stint on the middle tyres was relatively short, and saw virtually no chat until it was time to stop again.
GP: "Box and pit confirm."
On lap 43, he came in for a third time. The pitwall had got the hint, and this time he wasn't told to take it easy.
But shortly after leaving the pits he reported a steering problem. Later team boss Christian Horner said it was due to track rod damage as a result of a hard landing when the car was dropped off the jacks in the stop, clearly an extra issue to add to the list that the team has deal with.
VER: "Mate, my steering wheel is suddenly very heavy, oh my God, it's almost locked!"

GP: "Standby."

VER: "I almost can't steer."

GP: "Let me know if you need to box, Max."

VER: "Just f**king tell me what's wrong and I'll have to handle it."

VER: "Tell me if something is loose or not."

GP: "Negative for the moment. Stay out one more lap."

GP: "Max, is the wheel heavy in both directions, so both left and right?"

VER: "Everywhere, it's not even smooth, like I have to f**king… Even on the straight."
He then received another warning to take care of his tyres.
GP: "Max, this is a 14-lap stint, so just look after these."
At this stage leader Leclerc had stayed out for a couple of laps, so it was now a question of when the Ferrari would stop, and how the strategy would play out.
Then three laps after Verstappen pitted, the sister AlphaTauri of Pierre Gasly stopped in flames. A virtual safety car period was confirmed, which quickly turned into a full safety car.
Verstappen now knew that Leclerc would get a free stop – in effect it was the opposite of what happened in the lead battle with Hamilton at the Abu Dhabi GP.
VER: "Ah, for f**k sake…"

VER: "What position are we?

GP: "Currently P2, Sainz and Checo pitted."

VER: "How did my lap time look with that steering?"

[Pause]

GP: "It looked fine, for the moment pace looks okay."

VER: "Just keep checking what it could be, if something is stuck or whatever."
The chat continued as the field circulated behind the safety car.
GP: "Use this opportunity to bring your brake temperature down."

GP: "Steering update, we are staying out, we don't believe that it's a reliability concern at this stage, we can go through it a bit later. I'm not saying it's not affecting your performance or balance, but we do believe it to be…"

VER: [interrupts] "It's simply hard to drive because of the inputs I'm doing, it's like a robot."

GP: "So that's 47 laps complete, 10 laps remaining."

GP: "Brake temperature coming down nicely."

VER: "It's more and more difficult to steer with speed."

GP: "Max, from what we can see the situation is stable, so nothing is getting worse, but it is what it is. If it becomes undriveable, then obviously you know the situation."

GP: "Lapped cars may now overtake, expect six cars to come through, so just stay on your racing line."

GP: "Safety car in this lap, Max."

VER: "How many to go?"

GP: "Seven racing laps. Front tyres on are on the cold side so just think about your bias offset before Turn 1."
The safety car came in at the end of lap 50 – and into the last corner Verstappen nosed up alongside Leclerc, just as he did with Hamilton in Abu Dhabi. The Ferrari man got the drop, and led easily into Turn 1.
Then out of the blue just two laps after the restart came the first signs of yet another issue as Verstappen could feel a loss of power – although his initial diagnosis from the cockpit was wrong.
VER: "What's the gap behind?"

GP: "0.9"

VER: "Hey, what's going on with the battery?"

GP: "Gap at 1.2 behind, battery fine."

VER: "No it's not, what the f**k is this?"

GP: "Standby Max."

VER: "It's shitting itself!"

GP: "Copy Max, it's not battery related."

GP: "We can see the issue Max, it's not battery related."
At this stage Verstappen was left helpless as first Sainz and then other frontrunners swept past with five laps still to run.
VER: "We what do you want me to do?"

GP: "There is not a lot we can do…"
With the engine audibly spluttering Verstappen slowed until it cut out completely. The last message he received was to get back to the pits if he could, and he did manage to coast in.
The evening would only get worse for Red Bull. In the first corner at the start of the last lap, and while holding off Lewis Hamilton for third, Sergio Perez spun to a halt. There was no warning, but he made it clear that his engine had simply stopped on him.
"I lost the f**king engine," said the Mexican. "F**k this shit. Unbelievable."