"This is a total surprise – I was on the way to Disneyland and took the wrong road," he joked, perhaps keen to mirror some of the surprise at his unveiling. He has unfinished business at Le Mans, having raced an LMP1 car in 2018 which retired after 315 laps.
Garage 56 entries are not able to compete for victory at Le Mans, and Button went on to say that he would "jump at the chance" to compete in the Hypercar category for the overall win in subsequent races, if the right drive was available.
He has been targeting a place in the centenary race for several years, telling Motor Sport in 2021: "If you don't see me on the grid for Le Mans in 2023, there's something wrong!"
Speaking at the NASCAR announcement, he said: "Before I went there, I thought Formula 1 was the pinnacle. But Le Mans is such a special race. It's such a big team event. We all have to work together to perform and to get a result out of it."
The trio shared numerous jokes at the announcement, arguing about who's youngest (it's Rockenfeller, at 39), suggesting there's convivial team spirit already. Button's involvement began when Rockenfeller invited him along to a test session of the Camaro at Sebring.
"I haven't driven the car yet," the Brit acknowledged. "But I was at the test in Sebring watching and listening to all the information that the drivers were feeding back about the car. The big steps forward that they were making was very impressive."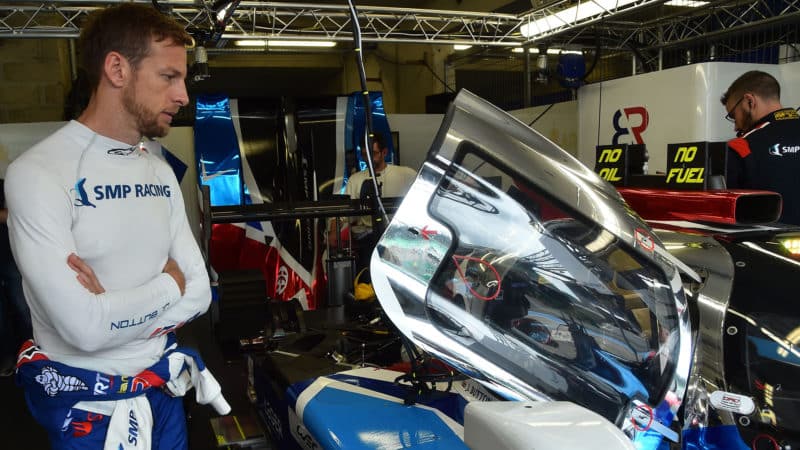 Button's first stint in the car will be at Daytona Speedway on January 31, which will also be the first appearance for the Camaro's head and taillights. It'll be heavily modified over its Cup car base to help it transfer from ovals to the 8.5 miles of La Sarthe; the replacement of stickers with bulbs is perhaps its most prosaic change, but an obvious one for onlookers.
"I'm not used to the cars running so nose-up and now with the underwing on the car and trying to charge the underwing itself for downforce, it's just a different animal," said Johnson, though he's adamant the Camaro's not going to lose its core character in its new role.
"We're taking every effort we can to really carry the NASCAR DNA over to Le Mans. That's really the design and the intent for this program. Even that big V8 engine; everybody in France is going to love hearing that thing scream down the straights.
"I couldn't resist the opportunity. It's been a big dream of mine to go to Le Mans and experience what it's all about."
Mike Rockenfeller will occupy a different slot on the grid than he's used to. "Every driver wants to fight for overall victory," he said. "We won't be able to. But it's just amazing to see all these manufacturers coming to Le Mans."