How and where to watch the 2020 Le Mans 24 Hours
- Last updated: September 17th 2020
Timings, channels, social media. Where, when and how to watch the 2020 Le Mans 24 Hours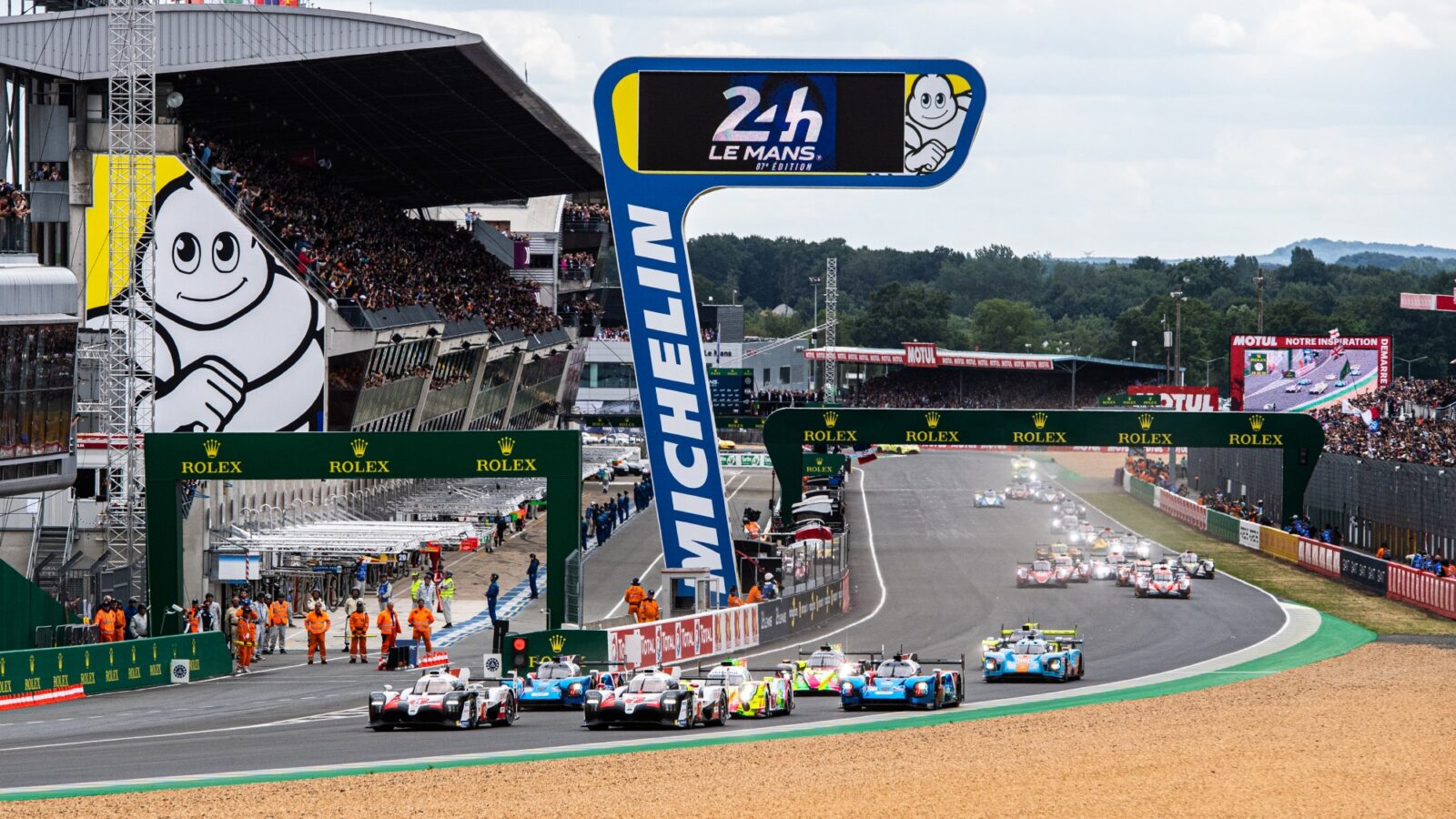 The Le Mans 24 Hours was delayed until this coming weekend but the 19-20 September race still comes too early for fans to attend.
As in previous years, live coverage of the race will be available worldwide via TV and apps; free of charge in some countries, but requiring a subscription in others.
The Tricolour will drop at 2.30pm local time at the Circuit de la Sarthe with a 60-car field taking off for the 2020 Le Mans 24 Hours, but you can begin the build-up to the race from Thursday, with coverage of the first practice and qualifying sessions.
Whether you're planning on recreating the atmosphere of the race weekend via Zoom with friends; studying the tactics in detail with a multi-screen setup, or simply dropping in over the weekend, here is a guide on where and when to tune in for the 88th running of the Le Mans 24 Hours.
Scroll down for full details or click below to jump to each region
(Local time unless stated)
How to watch the 2020 Le Mans 24 Hours in the UK
Eurosport will be showing the race in full, as well as the earlier practice and qualifying sessions, while BT Sport will have highlights of the race.
Scroll down for more viewing options via streaming services.
Eurosport
17/09 – Practice 1: 13:00 – 16:00 | Qualifying: 16:00 – 17:00 | Practice 2: 19:00 – 23:00
18/09 – Practice 3: 09:00 – 10:00 | Hyperpole: 10:30 – 11:00
19/09 – Warm-up: 09:30 – 10:00 | Race: 12:30 – (20/09) 14:00
BT Sport
Highlights
2020 Le Mans 24 Hours online streams
Eurosport Player
Europe & Asia, £6.99 per month
Full coverage of practice, qualifying and the race
FIA WEC Official App
Worldwide, €9.99 (£9.29)
Live streaming of qualifying and the race; live timing of all sessions
Text updates, clips and driver conferences
Watching the 2020 Le Mans 24 Hours in the rest of Europe
France
Eurosport
17/09 – Practice 1: 20:00 – 24:00
18/09 – Qualifying (delayed): 00:00 – 00:45 | Practice 2: 10:00 – 11:00 | Hyperpole: 10:30 – 11:00
19/09 – Warm-up: 10:20 – 11:00 | Race: 14:00 – (20/09) 15:00
France 3
18/09 – Race: 14:16 – 17:06; (20/09) 00:15 – 11:45; 12:55 – 14:55
france.tv
19/09 – Race: 14:16 – 17:06; (20/09) 00:15 – 11:45; 12:55 – 14:55
Germany
Eurosport
17/09 – Practice 1: 14:00 – 17:00 | Qualifying: 17:00 – 18:00 | Practice 2: 20:00 – 24:00
18/09 –  Practice 3: 10:00 – 11:00 | Hyperpole: 11:30 – 12:00
19/09 – Warm-up: 10:30 – 11:00 | Race: 13:30 – (20/09) 15:00
Sport1
26/09 – Highlights: 08:00
Belgium
rtbf.be
19/09 – Race: 14:28 – 15:28
rtbf auvio
22/09 – Highlights: 23:00
Denmark
TV2
19/09 – Race: 21:00 – (20/9) 15:00
Finland
Viasat Sport

Full race live on Viafree
Norway
Viasat Sport
Full race and Qualification live on Viasport+
Sweden
Viasat Sport
Full race and Qualification live on TV10
Netherlands
RTL 7
19/09 – Race: 13:30 – (20/9) 15:00
Pan-Europe
Eurosport
17/09 – Practice 1: 14:00 –17:00 | Qualifying 17:00 –18:00 | Practice 2: 20:00 –24:00
18/09 – Practice 3: 10:00 –11:00 | Hyperpole: 11:30 –12:00 | Warm-up: 10:30 –11:00
19/09 – Race: 13:30 –(20/09) 15:00
22/09 – Highlights: 23:00
Asia-Pacific
Australia
Eurosport (CET)
17/09 – Practice 1: 20:00 –24:00
18/09 – Qualifying (delayed)  00:00 –00:45 | Practice 2: 10:00 –11:00 CET | Hyperpole: 11:30 –12:00
19/09 – Warm up: 10:30 –11:00 | Race 2 14:00 – (20/09) 15:00
22/09 – Highlights: 23:00
Fox Sports
Highlights
New Zealand
Sky
19/09 – Full Race Live
23/09 – Highlights: 19:00 (multiple repeats)
Japan
JSports
19/09 – Race: 21:00 – (20/09) 22:30
23/09 – Race replay
01/10 – Highlights: 22:99 (multiple repeats)
Americas
US
MotorTrend TV/App (ET)
17/09 – Practice 2: 07:45 (MotorTrend App) | Qualifying: 11:05 (App)
18/09 – Practice 3: 13:35 (App) | Practice 4: 03:35 (App) | Hyperpole: 05:15 (App)
19/09 – Warm-up: 04:15 (App) | Pre-race coverage: 07:45 | Race: 8:15 (App + MotorTrend TV – *Exclusively in the U.S.)
Canada
Discovery Velocity
Live + Highlights
Central & South America (CET)
17/09 – Qualifying Live
18/09 – Hyperpole Live
19/09 – Race: 14:00-16:00; 21:00-00:00
20/09 – Race: 05:30 -07:30 & 12:30 –15:00
26/09 – Highlights: 13:30
Pan-Africa
SuperSport
19/09 – Full Race Live
24/09 – Highlights: 18:00 (multiple repeats)