Video highlights – February 25
- Last updated: December 4th 2019
Watch highlights of an action-packed NASCAR weekend at Atlanta, as well as a few records broken and champions crowned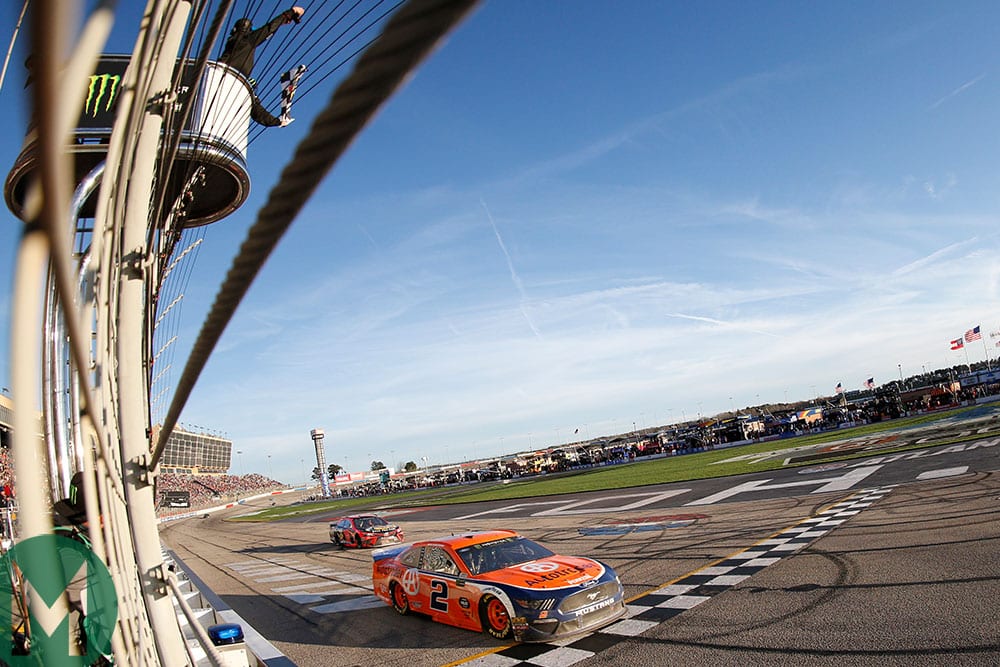 NASCAR Cup
Atlanta, Georgia: Brad Keselowski held off a charging Martin Truex Jr to win the NASACR Cup Series race at Atlanta. The Penske man had to overcome more than that in prevailing though, as he shrugged off the effects of stomach flu, which meant he lost six pounds in 10 hours and couldn't practice on Saturday. With the win Keselowski also now has the most wins in Penske equipment across all series, pipping Mark Donohue, and it also was the first win for the new Ford Mustang in only the car's second race.
NASCAR Xfinity Series
Atlanta, Georgia: Christopher Bell dominated the Atlanta Xfinity race, leading 142 of the 163 laps in the new Toyota Supra, for Joe Gibbs Racing. It still was a tight finish for him however, as a late caution left a three-lap sprint to the flag. Bell – who took seven Xfinity wins last year in his rookie campaign – held off Cole Custer in the Stewart-Haas Racing Ford to triumph by less than two tenths.
NASCAR Trucks
Atlanta, Georgia: Another record fell at Atlanta, in the truck race, as Kyle Busch took sole possession of the accolade of most Truck Series wins ever, with his 52nd race triumph. It wasn't simple though as with Busch in the lead the race was stopped due to rain with not long to go, and against some expectation was then restarted leaving a late sprint to the chequered flag to negotiate. On the floodlit track and with rain still spotting Busch then managed to hold off Johnny Sauter to the finish.
Asian Le Mans Series: 4 Hours of Sepang
Sepang, Malaysia: Ex-Formula 1 man Paul di Resta paired with Phil Hanson clinched the 2018/19 Asian Le Mans championship for United Autosports with a second place in the season-closing Malaysian race, their fourth podium finish in the four-round series. Di Resta and Hanson in their Ligier found themselves in the lead of this final race after the no8 Spirit of Race Ligier was penalised for jumping the start, though the no24 Algarve Pro car then jumped ahead during a safety car period for a lead it wasn't to lose.
F3 Asian Winter Series
Sepang, Malaysia: Rinus Veekay held on to clinch the F3 Asian Winter Series championship for Dragon Hitech in the season-closing triple-header. Ye Yifei's two dominant wins from the first two meant the Absolute Racing driver had trimmed Veekay's title lead to just 12 points with one title-deciding race to go. However a clash with Jack Doohan in that final race ended his chances.
Ama Supercross
Detroit, Michigan: It was trebles all round in Detroit. In the 450SX category Eli Tomac picked up where he left off the last time the supercross series visited Detroit, by dominating from early on with his Kawasaki and taking all three race wins. In the 250SX East category Austin Forkner continued his winning streak by also taking all three wins, also on a Kawasaki.