October Goodwood Track Day
Friday 9th October 2020
Goodwood Motor Circuit, Chichester PO18 0PX
Brought to you by Peter Best Insurance Ltd
Grand Prix winner Jochen Mass, along with so many professional drivers, is a huge fan of the Goodwood Circuit: "It's wonderful because the flow of corners is good. It's a real driver's circuit as you need to be very precise and small mistakes can cost you a lot of time. I especially like Fordwater, it's super nice. It depends on the car, but a quick one on narrow tyres is great because you're always drifting, always sliding, and it's great fun." Want to find out how you fare on one of Britain's fastest and most challenging circuits? Then come and join us in October when we host a special Motor Sport track day at the Sussex track.
Motor Sport have teamed up with Peter Best Insurance to host this track day at Goodwood and it will take place on Friday 9th October. With a limited amount of spaces, this day has everything you need in a track day to thrill all your senses. From racing around the historic track, to the bespoke Goodwood buffet menu to keep you well fuelled, you will be kept entertained all day whilst being based out of one of the original circuit buildings.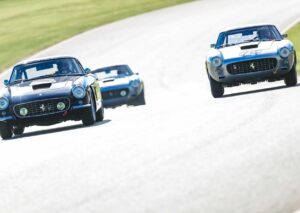 ---
Your Day Includes
Exclusive hire of Goodwood Motor Circuit
Up to three Paddocks available with a total of 143 shelters
Exclusive use of the Jackie Stewart Pavilion or Race Control Building, including lounge and dining area with decked terraces overlooking the Paddocks and Pit Lane.
Buffet Lunch and refreshments
Barista tea & coffee service throughout the day and iced water
Noise Testing (please note all cars must pass a static test lower than 105dBA)
Helmet Hire
Drivers welcome and Track Day briefing with Chief Instructor
Motor Circuit Operations Stewards & Flag Marshals
Access to the Motor Sport Team
---
Event Details
Date: Friday 9th October, 2020
Time: 9am to 5pm
Location: Goodwood Motor Circuit, Chichester PO18 0PX
Refreshments: Buffet lunch & barista tea & coffee service throughout the day
Price: Track Day Ticket £399 | Additional Driver Ticket £80 | Hospitality Ticket £50
---
Goodwood Motor Circuit 'Corona Secure' Measures
The Motor Circuit will remain closed to the general public, only attendees of the track activity will be given access.
A marshal will be positioned at the Main Gate, on arrival drivers / riders should give their name and access will be given.
Drivers / riders should proceed straight to the paddocks area. Alternate paddock shelters will be cordoned off to ensure attendees can maintain social distancing whilst preparing their cars / bikes.
The sign-on desk will be positioned so attendees can sign-on without needing to enter the Jackie Stewart Pavilion. A queuing system will be in place to ensure social distancing.
All briefings will take place outside, either in front of the Pit Lane Office or under the pit lane depending on weather.
Toilets for guests will be available by the Richmond Lawn. Toilets are thoroughly cleaned prior to each day commencing and throughout each day.
All communal areas will be cleaned thoroughly prior to attendee's arrival and throughout the day.
Passengers from the same household are permitted.
Car helmets are available for hire. They will be provided with cleaning equipment and a disposable helmet liner; however, attendees are strongly encouraged to bring their own helmet.
Multiple drivers can use one track vehicle provided attendees follow current guidelines on vehicle cleaning between drivers.
Social distancing must be maintained at all times to ensure the safety of all guests and staff at Goodwood Motor Circuit.
---
Peter Best Insurance is an independent UK insurance broker specialising in classic car insurance, classic motorcycle insurance, as well as insurance for other collectible classic vehicles. Established in 1985, working in connection with Classic car  clubs and their members, Peter Best Insurance has grown to become one of the UK's leading and most trusted Classic Vehicle Insurance providers.
---
Enquiry
For all enquiries please fill out the form below.