Lewis Hamilton's 10 greatest F1 wins
From almost 300 Formula 1 starts spanning 15 seasons for the all-conquering British driver, Mark Hughes now leads us to the grandstand finish of our victory countdown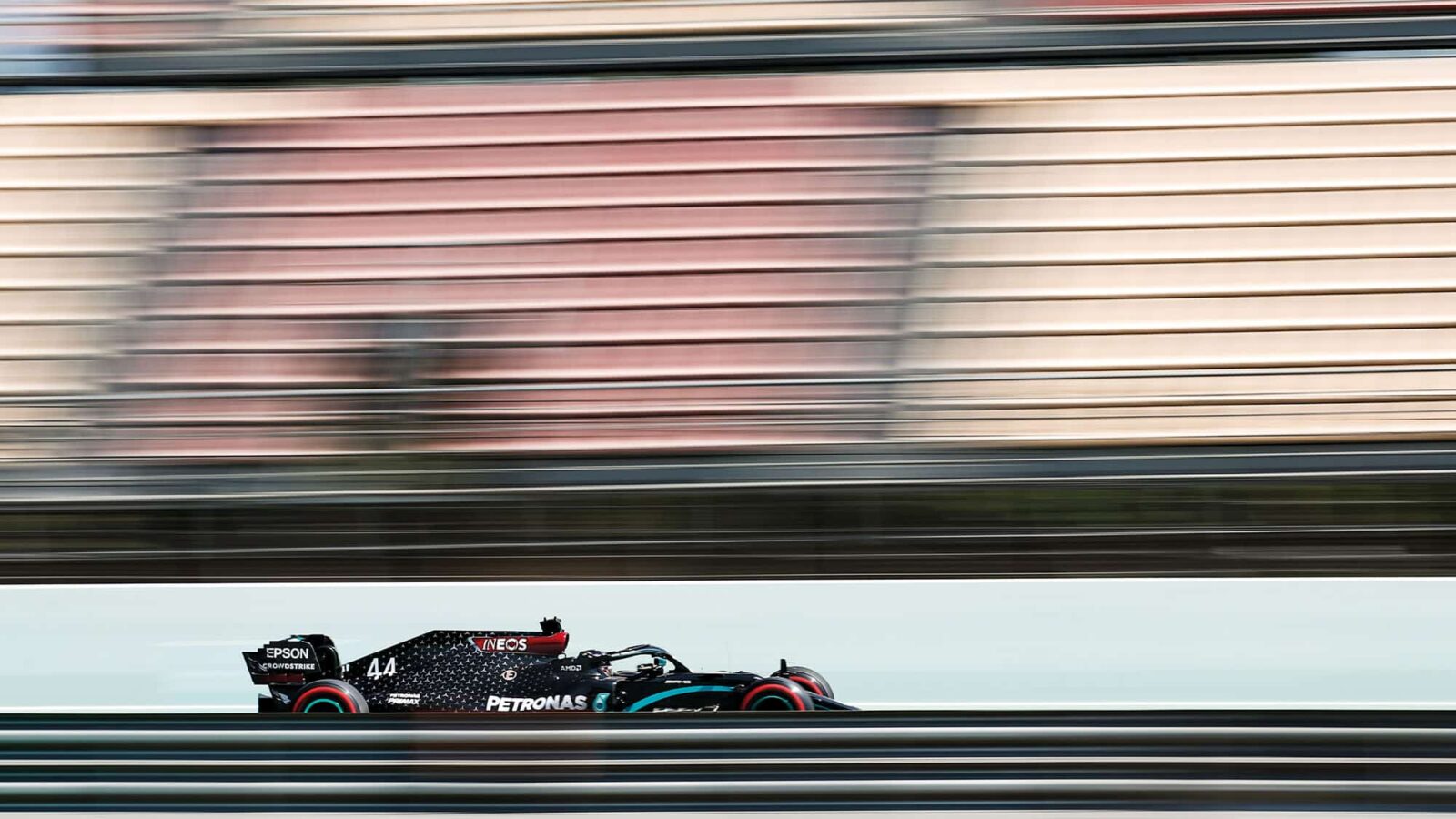 We have already counted rated Lewis Hamilton's F1 wins from 100 to 90 in order of greateness, and now comes the top 10: the finest victories from Hamilton's grand prix career.
10
Spanish Grand Prix 2020
Hamilton reckoned this drive was as close to technical perfection as any he could recall. The tyre demands of the track on the day precluded a flat-out race. Instead, pace had to be judged against tyre deg and the strategic demands of the competition. In solving this puzzle, Hamilton put himself into a rare zone of personal performance.
The Mercedes was much the quickest car in qualifying but tended to use its front tyres a little heavier than Max Verstappen's Red Bull which, during the team's race simulations in practice, had looked every bit as fast as Hamilton.
Although Hamilton won the start he was disappointed to see it was Verstappen in his mirrors and not the protective presence of team-mate Bottas, who'd qualified alongside Hamilton on the front row. It was too early to press on; the tyres needed to be eased into their stint, especially in these heavily fuelled early stages. So for the first 10 laps or so everyone just drove to whatever lap time was reckoned sustainable for that car. This deferred any would-be gunslinger duel between Hamilton and Verstappen.
It was on the 10th lap that Hamilton decided the time was right to make a break for it. He stepped up the pace by 1.5sec. Verstappen was left breathless. "That's when I thought, 'OK, that's it for the day,'" said Max, who was left behind by around 0.5sec per lap. From there, Hamilton drove as if in a trance of heightened performance, perfectly judging the multidimensional juggle of pace, tyre usage and traffic to win by 24sec.
"We all try for perfection," he said afterwards, "but today for me I was ecstatic. I didn't even realise when it was the last lap. I was like a horse with blockers on… Weekend in, weekend out, we move on but I need to appreciate this moment because I don't know when I'll have another. I'll definitely have a glass of wine tonight to celebrate. I can't quite pinpoint why, but it felt like I was in a clear zone, there was a clarity. I'm sure I've had it before, but I don't know even how to get into that zone, to get in that space.
"And I felt fantastic in the car, lap after lap. I was in the perfect zone, the zone I dream of being in. Even catching traffic I was gaining time rather than losing time. That never happens! I was very centred in my core. I am going to try to get there every day."
9
German Grand Prix 2018
A burst power steering seal in qualifying left Hamilton starting way back in 14th. But the circumstances of race day allowed him to weave his magic to the front for a great victory, made all the more poignant as his title rival Sebastian Vettel crashed his Ferrari out of the lead as Hamilton was bearing down on him.
On harder-compound tyres than those in the top 10 were obliged to use, Hamilton was able to do a long first stint, during which time he comfortably passed the midfield contenders to be within striking distance of the Ferrari/Red Bull/Bottas group ahead, though with Vettel looking set for a dominant performance at the front.
After everyone had made their first stops Hamilton was in fifth place but on the fast ultra-soft tyres with all those ahead of him on harder compounds. This was perfect for the conditions as light rain began to fall.
"I knew my time had come with the rain," said Hamilton afterwards. "The ultra was a much better tyre for the damp, much quicker to get heat into. So I could see how much quicker I was going than the others" (on lap 45 he was doing 1m 17.5sec as the Ferraris and Max Verstappen's Red Bull were in the midhigh 1m 19sec). Once Verstappen made a failed inters gamble, Hamilton was up to fourth and chasing down Bottas at 3sec per lap. In seven laps he'd halved the 23sec deficit to leader Vettel, his speed quite sensational regardless of the suitability of his tyres.
When Vettel crashed out on the slippery surface, putting Bottas into the lead, it created a safety car. Bottas and second-place Kimi Räikkönen each pitted for fresh rubber. Hamilton, having made a much later first stop, didn't need to and so vaulted into the lead. The new-tyred Bottas then engaged Hamilton in battle until being called off – leaving Hamilton to take a quite sensational victory.
8
Hungarian Grand Prix 2009
The initial 2009 McLaren was an absolute dog, the team having totally misjudged the best solution to the new aero restrictions. The switch to an outboard front wing halfway through the season (bringing it into line with what everyone else had done) transformed the MP4-24 into a respectable performer.
In Hungary Hamilton qualified it on the second row but armed with a more powerful KERS system than Red Bull, he was able to out-accelerate Sebastian Vettel ahead of him and fight out second place (behind Fernando Alonso's fuel-light Renault) with the other Red Bull of Mark Webber and Kimi Räikkönen's Ferrari. Emerging from the corner in third, ahead of Räikkönen, his competition was now Webber because Alonso had taken pole through a strategy-compromising light fuel load and his early stop would take him out of contention.
The McLaren shouldn't have been able to race on level terms with a Red Bull but Hamilton hung in for long enough to be able to use his KERS advantage (the Red Bull had only half-size batteries) to slipstream alongside on the fifth lap and going around Webber's outside. He then proceeded to pull out enough of a gap to retain the place after the first round of stops. From there, Hamilton was in control.
7
Spanish Grand Prix 2017
A perfectly timed safety car gave Mercedes and Hamilton the strategic opportunity to ambush Sebastian Vettel's Ferrari out of what had looked a nailed-on victory – but it took all of Hamilton's tenacity to make it work.
Hamilton had taken pole only because of a small error on Vettel's part, for the 2017 Ferrari was working superbly around this most aerodynamically demanding of tracks. After getting past Hamilton into the first turn, Vettel proceeded to show the Ferrari's form in the opening minutes with a devastating sequence of laps, the car all urgent direction changes with great rear stability. Vettel was already 2.2sec in the lead at the end of the opening lap. From there he had control of the race, opening out the gap as required.
By lap 34 Vettel had a 7.7sec lead on the Mercedes. The first stops had been made in what the tyres demanded was a two-stop race, but it was still a little early to make the second stop. Then Stoffel Vandoorne collided with Felipe Massa's Williams, putting the McLaren in the Turn 1 gravel trap and triggering a VSC. This was agonising timing for Ferrari, a possible opportunity for Mercedes. If Ferrari brought Vettel in, Hamilton would stay out, pit later and maybe win the race through Vettel's tyres being too old towards the end. But if it left Vettel out, then Mercedes would bring Hamilton in, he'd get to make the time-cheap pitstop and Vettel's margin would be wiped out. Unless the VSC remained in place long enough for Vettel to make a responding pitstop on the next lap.
Ferrari left Vettel out, Hamilton pitted, Ferrari pitted Vettel in response – but just as the VSC was rescinded, meaning they didn't get the cheap pitstop as the rest of the field was up to full speed. Hamilton and Vettel were neck and neck down to Turn 1 as the Ferrari exited the pitlane. Vettel kept the lead but now his second problem became apparent. He'd been obliged to fit medium-compound tyres for this final stint but Hamilton, having already used his mediums, was able to fit softs. These were expected to be faster for about 10 laps and Hamilton maximised that grip advantage. Vettel hung on, using backmarkers to get DRS tows until he ran out of backmarkers – and Hamilton pounced for an odds-defying win against a faster car.
6
Italian Grand Prix 2018
The powerful Ferrari was the quicker car at Monza this year, but the Scuderia for some unfathomable reason had not prioritised the championship chasing Sebastian Vettel in co-ordinating its slipstreaming plans in qualifying. Instead Kimi Räikkönen – supposedly Vettel's support – took pole, with Hamilton only third behind an all- Ferrari front row.
Ferrari also chose race morning to inform Räikkönen that his services would not be required in 2019. This set in place a sequence of events down to Turn 2 on the opening lap whereby Räikkönen didn't co-operate and Vettel collided with Hamilton and spun, which defined the race as a battle between Räikkönen and Hamilton.
Hamilton briefly took the lead on lap three after a safety car restart only for Räikkönen to slipstream back ahead up to the Roggia chicane. Thereafter Hamilton just stayed in the faster car's tow, far enough back not to damage the tyres. As the pitstop window opened, Mercedes told Hamilton to push into the gap – and as he did so Ferrari was obliged to pit Räikkönen to prevent Hamilton undercutting. Mercedes then left him out there for a further eight laps.
Räikkönen pushed hard on his new tyres to ensure he remained ahead after Hamilton stopped – but for more laps than was necessary. In doing so, Räikkönen initiated blistering of his left-rear tyre and Hamilton, upon rejoining after his stop, could sense opportunity. He chased the Ferrari down and with nine laps to go got a better exit from Parabolica and DRS'd his way into the lead by the first chicane. Ferrari had made several errors but Hamilton's relentless performance had prised their weaknesses apart.
5
Japanese Grand Prix 2007
Hamilton arrived at F1's return to Fuji as a rookie leading the world championship by two points. His main rival was Fernando Alonso, driving an identical car from the other side of the McLaren garage. Imagine the pressure. In damp qualifying Hamilton took pole, around 0.1sec faster than Alonso, with the Ferraris of Kimi Räikkönen and Felipe Massa on the second row.
Come race day, the rain was of biblical proportions, almost a re-run of the 1976 titledecider here when Niki Lauda decided the risk wasn't worth the win. This time around it would start behind the safety car – for 19 laps.
When racing finally got underway Hamilton pulled out a gap over Alonso. This advantage increased at the first stops as Hamilton managed to clear traffic that Alonso couldn't quite.
Heavily fuelled to run to the end, Hamilton was trying to make way for the much lighter, yet-to-pit BMW of Robert Kubica when they collided, giving Hamilton a spin, but without losing position. Then Alonso made contact with Sebastian Vettel's Toro Rosso, damaging the floor of the McLaren and dropping him to 10th. He would later crash out after aquaplaning, as Hamilton just remained in his groove. He was unchallenged to the flag, the rookie looking like the world champion elect.
4
Japanese Grand Prix 2014
This race is rightfully only remembered for the Jules Bianchi tragedy. But before it was red-flagged nine laps short of its allocated distance, Hamilton was delivering a special performance, having caught and passed teammate Nico Rosberg and, in the damp conditions, pulled away from him at up to 2sec per lap.
The Mercs were the only show in town in this season, totally dominant, something only enhanced in the rain. All weekend the race was under threat from a passing typhoon which eventually kind of skirted around the side of the area but left plenty of rain around the edges, which included Suzuka. After a false start, the race began behind the safety car on full wets, with Rosberg's pole ensuring him the lead. But as soon as the safety car pulled aside Hamilton was visibly keen to be past, constantly filling Rosberg's mirrors, repeatedly ducking in and out of the ball of spray.
As Rosberg pitted for inters on lap 13, Hamilton was let off the leash for the first time. His in-lap was shaping up to be three seconds faster than Rosberg's before he had a moment over the exit kerbing of Spoon corner. Even with that, he was over 1sec faster. But that little moment had prevented him from taking the lead at the stops. He would now need to do it on track.
On his first attempt he forgot to manually disable DRS (which the unusual no-braking approach of that corner makes necessary) as they raced into Turn 1 together, Hamilton having to abandon the passing attempt to rescue a big twitch. He finally pulled the move off into that corner, Rosberg powerless to defend and out of ideas as to how Hamilton was able to power away at the rate he did. Once his lead was out to 9-10sec Hamilton just monitored the gap back to his team-mate. To have this level of superiority over as fast and combative a driver as Rosberg spoke of a very special performance.
"I had too much oversteer," Rosberg related later, "but my settings were exactly the same as Lewis's, so I think he was just doing a better job today."
3
Monaco Grand Prix 2016
This race showed a couple of new facets of the Hamilton diamond. The way he tyrewhispered his wet-weather rubber to last for 31 laps allowed him to miss out the 10-12-lap intermediate phase everyone else did and to get straight onto slicks. This saved him a pitstop and – in combination with a mix up in the Red Bull pits for Daniel Ricciardo – won him the race. It showed the sort of from-thecockpit calls he was now capable of making, the sort which could have won him his rookie title if he'd made them in China 2007.
The Red Bull was clearly the fastest thing around Monaco in 2016, with Ricciardo and Max Verstappen heading the times until the latter put it into the wall in Q1, leaving the way open for Ricciardo's comfortable pole ahead of the two Mercedes of Nico Rosberg and Hamilton. In the wet early phases of the race Ricciardo disappeared into the distance as second-placed Rosberg could not get heat into his tyres and brakes and was a long way off the pace, with Hamilton stuck behind him.
By the time, on lap 16, Rosberg complied with Merc's instructions to let Hamilton by, Ricciardo was 13sec up the road. Hamilton proceeded to pull away from his team-mate at up to 2.5sec per lap and to gradually eat into the Red Bull's lead. But it wasn't going to be enough. As the track began to dry Ricciardo pitted for his intermediates from 11sec in front. At this point Mercedes was instructing Hamilton to come in too – but he had other ideas. "I told the team, 'I got to stay out.' The team were saying we should [pit] but I knew I would drop behind Daniel so I eked it out as far as I could."
Doing the same as Ricciardo would only have ensured he remained second. He had the bold idea to stay on the full wets even as the track dried. Ricciardo on his much fresher tyres soon caught right back onto Hamilton's tail, but couldn't get past and both would now need to stop again. When his wets were absolutely finished Hamilton was forced to pit for his slicks on lap 31. On his fresher rubber and freed from following Hamilton, Ricciardo's in-lap was hugely faster than Hamilton could go on his cold tyres and looked set to comfortably get him out back in the lead. Except there were no tyres ready for him because of a miscommunication. As Ricciardo sat fuming and waiting, Hamilton was gifted the race victory, but it was a remarkable performance to have got himself in a position where he was able to take advantage.
2
Brazilian Grand Prix 2016
Max Verstappen made all the headlines here with his brilliant but incident-filled drive to third place in the Interlagos rain. But it was Hamilton who completely commanded the race. Through five safety car periods and two red flags, Hamilton remained serenely in his own groove in conditions which constantly hovered between full wets and intermediates.
Verstappen was making all the eye-catching moves – passing Kimi Räikkönen and Nico Rosberg in swashbuckling style, notably using very different wet-weather lines to his rivals – to go second. A lap later he took half a second out of Hamilton's lead and it looked like the beginning of an epic contest between the two. Hamilton disabused everyone of that notion once he'd been informed of Verstappen's progress, and simply stepped up the pace. Verstappen gave chase but had an enormous moment at the top of the hill, half-spinning and doing remarkably well to save it and lose only 4sec. But Verstappen's dramas were just interesting colour behind Hamilton's drive of masterful control. His Mercedes was the fastest car in the field, sure. But even the wet-weather genius of Verstappen in a car not so far away around this track could make no dent on his imperious progress.
"I was in the zone the whole time," he said, "and quite relaxed. I even had time for something to eat during the red flag period. It was a very easy race, probably one of the easier ones. Silverstone 2008 was way harder than this."
1
British Grand Prix 2008
This has to go top simply because of the sheer dazzling virtuosity of Hamilton's performance in the very wet conditions of the day, which brought obvious comparison to Ayrton Senna's drive in the 1993 race at Donington. From fourth on the grid he was second by the first corner and took the lead from team-mate Heikki Kovalainen on the fifth lap. No-one saw which way he went after that as some of the world's best drivers spun and skated off in his ever-more distant wake.
The 2008 McLaren-Mercedes was nip and tuck with the Ferrari as the fastest car of that season, but Hamilton's margin of superiority in Silverstone's appalling conditions verged on ridiculous. It even made the McLaren pitwall nervous. "The team were telling me the gap was 40 seconds, 48 seconds, you're five or eight seconds faster than the guy behind," Hamilton recalled, "and I'm thinking, 'Hold on, what's going on?' I'm not even pushing. I'm driving to a comfortable pace. I didn't want to slow down because the moment you slow down, you perhaps lose concentration, so I just said, 'I'm comfortable at the pace I'm going,' and even then I was a silly amount quicker."
After asking the team how much they wanted him to slow down by and them giving him a lap time that he struggled not to beat – but which was still comfortably faster than the rest – he won by the margin of half a minute. But it could easily have been much more.