1961 Dutch Grand Prix race report: Ferrari take triumphant 1-2-3
Ferrari announce themselves at second race of season by locking out podium
Once again there was a mad scramble to get from Monte Carlo to Zandvoort and to repair the Grand Prix cars, for the Dutch Grand Prix was held on Whit-Monday, the weekend following the Monaco race. The organisers of the race decided to have no argument over qualifying times or such methods of selecting the entry of 15 cars and drew up the list by invitation, asking along those teams and drivers they liked and ignoring the complaints of the rest.
They invited two entries from each Grand Prix manufacturer, and as there was a preponderance of green cars, they permitted the Scuderia Ferrari to have three entries. So we had Phil Hill, von Trips and Ginther in Ferraris, Brabham and McLaren in Cooper-Climax cars from the Surbiton factory, Clark and Trevor Taylor in Team Lotus-Climax cars, Graham Hill and Brooks in BRM-Climax and Bonnier and Gurney in works Porsches. Team-Walker were invited to send along Stirling Moss in Lotus or Cooper-Climax, John Surtees was invited to bring along a Yeoman Credit Cooper-Climax, and the only Dutchman currently taking part in Grand Prix racing was invited out of National courtesy. This was Godin de Beaufort and as he races under the title of Ecurie Vlaarsbergen, his home town, this Ecurie was given two entries. He arranged to borrow a works Porsche for himself and entered another works Porsche for Herrmann to drive under the cover of his Maarsbergen entry. The result was that there were four works Porsches running to help Ferrari battle against the British.
Qualifying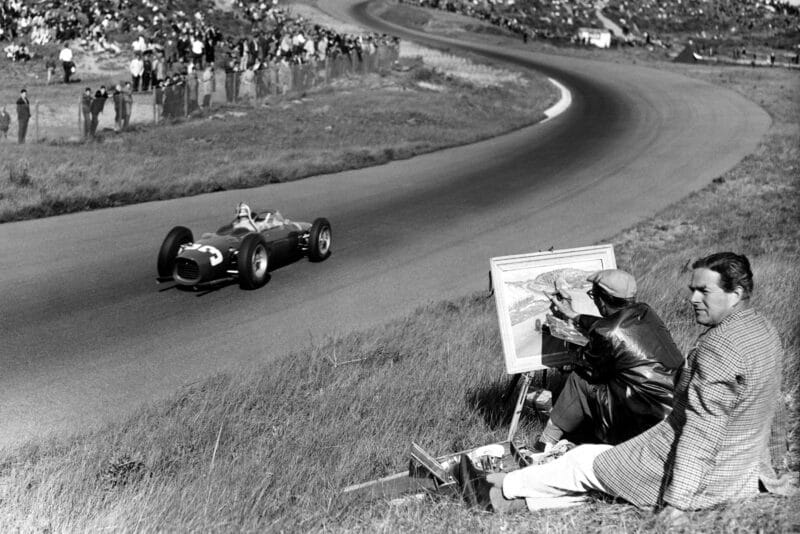 Practice began on Saturday morning and there was an icy headwind blowing along the straight, while in addition there were occasional showers of rain, so altogether practice was a miserable affair. After the challenge by Ferrari at Monte Carlo everyone was resigned to taking a back seat on this faster track, but there was unconcealed pleasure shown when the Ferrari team did not turn up for this first practice session. Zandvoort track during practice is never a very joyful place, for there is never any music to cheer up the dull pauses, and the loudspeakers give away nothing in the way of official lap times, in fact one often gets the impression that the cars are circulating unnoticed by officialdom.
With biting cold winds blowing this unhappy atmosphere became sheer misery, and how mechanics used spanners, and team-managers operated stopwatches was something of a triumph of mind over matter. The only time the drivers were warm was when they got in the racing cars and did some practice. Just in case anyone was eliminated by the practice periods the organisers invited Camoradi International to send along Gregory with their Cooper-Climax, and Burgess with their Lotus-Climax, though only the former was out on the Saturday morning.
Moss was trying the Walker Cooper with old-type Climax engine and Surtees had Yeoman Credit's standard Cooper-Climax, the Mark II engine having been repaired after it blew up at Monaco in practice. The BRM team seemed happy enough with their cars, both now having Mark II Climax engines, and Graham Hill was going well. The lap record for the Zandvoort circuit stood to Moss with a Lotus, set up in last year's race at 1mm 33.8sec, though he had done 1min 33.2sec in practice last year, and it seemed very unlikely that these times would be approached with the new Formula x cars, but surprisingly enough times well under 1min 40sec were soon being recorded by the better drivers, and it was Brabham who was fastest of all with 1min 36.6sec.
During the lunch break the Ferrari transporter arrived from Maranello and brought three rear-engined cars with 120deg V6 engines, Ginther having the car he had used at Monte Carlo, von Trips having a new one and Hill having his Monte Carlo chassis with the new-type engine in it. That Ferrari had turned up anyway caused a gloom among the other entries, but the tact that they all had the new more powerful engines did nothing to alleviate the forebodings. Weather conditions were unchanged for the afternoon practice, though the icy winds had turned slightly and was blowing more across the straight than along it but there was no cause to be joyful.
However, the drivers were really getting in their stride and times below 1min 40sec came thick and fast, while many were below 1min 37sec and this warm pace was the only comfort to stave off the North Sea wind. Surtees had two Yeoman Credit Coopers to choose from, the standard one and the special bodied one, while Moss had brought along the Monte Carlo winning Lotus, still with Mark II Climax engine, as well as the dark blue Cooper.
"The drivers were really getting in their stride, this warm pace was the only comfort to stave off the North Sea wind"
Burgess also arrived, both Camoradi cars having old type Climax engines, but even so Gregory was in amongst the fast boys, spirited driving making up for an inferior engine. Lotus were not in the picture, Clark in the new car with the engine from Ireland's Monte Carlo crashed car, and 5-speed gearbox, was going well but not outstandingly, while Trevor Taylor, deputising for the injured Ireland was going quietly round learning, with a Mark II engine in one of last year's Team Lotus cars.
The Zandvoort circuit being very smooth and having elevated corners and no nasty twitches or wiggles like you get on a natural road circuit, it is possible to tune the roadholding to get handling characteristics that are not called for elsewhere, so that most people were adjusting camber-angles, toe-in, springs and shock-absorbers to suit the drivers' personal requirements. Having missed the morning session Ferrari were working feverishly to catch up, altering tyre pressures, changing springs and altering wishbones as fast as they could. Coopers seemed content with their cars, and Brabham and McLaren had spent the first part of practice making a film instead of getting on with the job in hand. Either they were completely confident or they had given up all hope.
Porsches were getting along alright and making little fuss about it, Gurney with a new long-chassis car with wishbone front end, being much faster than Bonnier with an identical car, the one he had used at Monte Carlo in fact. Herrmann was driving the short or old type chassis with wishbone front end, and all three were using fuel-injection engines, while de Beaufort had one of last year's cars, and was using carburetters. Interesting times were now well below 1min 37sec, and Moss had done 1min 36.2sec with the Lotus, but whether this was due to the Lotus handling or the Mark II Climax engine he was unsure, but he could not approach this time with the Cooper.
Brabham, Graham Hill, Brooks and Surtees were all down below 1min 37sec, and so was von Trips, but he was not convinced about the way the Ferrari was handling. Ginther finally got down to 1min 36.7sec and von Trips to 1min 36.6sec, the German still describing the car as horrible and Ginther saying that it was improving. Everyone else was hoping they would not get them right, for in this unsatisfactory state they were the equal of any of the British cars.
The final practice session took place on Sunday afternoon and the weather was warm and sunny, but the icy wind was sill there though the sunshine did something to alleviate the suffering. The wind was still head-on down the straight, but even so everyone got really worked up and there was some very furious motoring going on, many of the drivers waiting for a Ferrari, or Moss, to tuck-in and match them for speed.
The Ferrari team had been out in the morning for an unofficial practice, to make up for the time they had lost, and it had been very obvious that they had got the cars fairly well sorted out. Moss had had the Mark II Climax engine removed from the Lotus and put in the Cooper, and vice-versa with the Mark I engine, but the Cooper was not behaving itself and he could not approach his Lotus times of the previous day. The Ferraris were fitted with 6.50 x 15inch rear tyres instead of 6.00 x 15inch and found these to he a great help in sorting out their tail-happy attitude on some of the corners, while they had more than enough power to pull these bigger section tyres.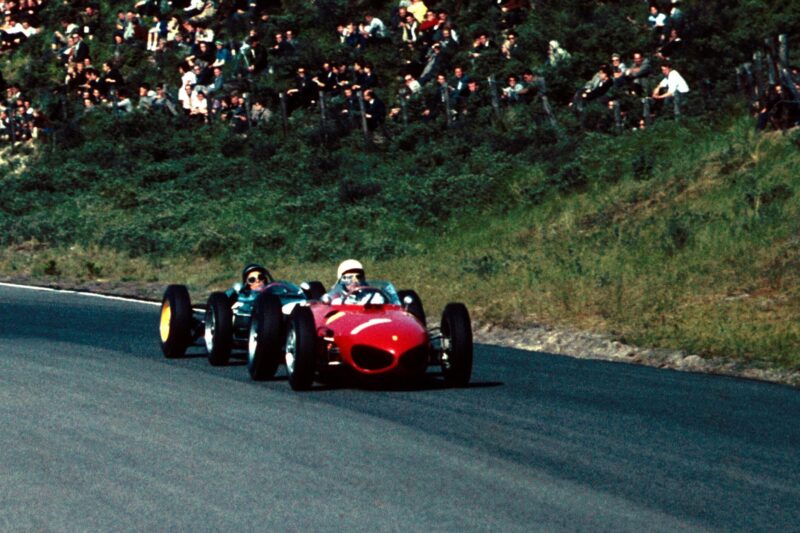 The Porsches seemed to be going very well and Gurney was driving very hard indeed, lifting his inside front wheel on corners, though the spring rates fore-and-aft did not look right, the car developing a curious pitching motion under hard acceleration out of a corner. Graham Hill and Brooks were both enjoying themselves, the BRM cars looking very steady and sounding crisp, but Brabham did not look outstanding and McLaren's car was definitely off colour.
Although everyone seemed to be driving much harder than the day before the lap times did not show this, no doubt due to the strong head wind, but as the afternoon wore on improvement began to appear, notably amongst the Ferraris, for both von Trips and Ginther broke 1min 36sec. Everyone had got below 1min 40sec, even Trevor Taylor and de Beaufort, while Burgess had done 1min 38sec.
In the final 30 minutes of practice it became increasingly obvious that the Ferraris were now showing their true paces for all three were well below 1min 36sec, Hill and von Trips being best with 1min 35.7sec, and the nearest approach to the red cars was Graham Hill with the BRM Climax in 1min 36.3sec, and the best of yesterday had been Moss with 1min 36.2sec. Just as practice finished Burgess had the throttles jam open on the Camoradi Lotus and went straight-on past the pits and hit the bank heavily, luckily getting away completely unscathed but the Lotus was bent.
A very contented Scuderia Ferrari retired to prepare for the race with their complete team on the front row of the grid, while the British could not really see what there was to do about it, and the Germans were not convinced that their cars had gone as well as they should have done. Moss decided to go back to his Monte Carlo set-up, which was the 1960 Lotus with Colotti gearbox and the Mark II Climax engine, so his mechanics had another long night session lifting engines in and out.
Race
Race day weather conditions improved enormously, there being bright blue sky and warm sunshine and the air temperature had risen by quite a number of degrees, though there was still a headwind along the straight. The start was not due until 3:15pm though all the cars were in the paddock before lunchtime, and as the weather got warmer there was some hurried enlarging of main jets in the Weber carburetters on some of the Climax engines, while Porsche were worried about their fuel-injection pump metering screw adjustments, for obviously this sudden rise in air temperature demanded an alteration but they were still lacking in experience with the injection system and were not convinced about the amount of enrichment to give.
"The organisers took the drivers round the circuit in open Austin Healeys, to please the truly gigantic crowd that had paid to come in, there being at least 80,000 people"
The organisers, the KNAC, first took the drivers round the circuit in open Austin Healeys, to please the truly gigantic crowd that had paid to come in, there being at least 80,000 people spread out around the 4.193 kilometre course, every sand-dune looking like an ant-hill. Then they sent the drivers off in the racing cars to do a warming-up lap before assembling on the starting grid. Just after leaving the paddock Phil Hill found his clutch pedal was not operating so he streaked round the circuit as fast as he could and the Ferrari mechanics whipped the nose cowling off and found a pivot pin had fallen out.
While the other 14 cars were lining up a suitable bolt was found and fitted in place of the missing pin, so that the pedal worked the hydraulic cylinder, albeit in a rather wobbly fashion. At last everyone was assembled, the solid row of Ferraris at the front looking most unusual to modern eyes, but bringing back happy memories of a past era when Ferrari was dominant; all three cars were fitted with engine side panels, making them look very sleek. Although Masten Gregory had made eighth fastest time overall in practice he was a non-starter, as the Camoradi cars had come along purely as reserves to fill any vacant places, and as there were none the blue and white cars were non-starters.
As the flag fell to start the 75-lap race, Ginther nearly stalled his engine and in his excitement he slipped the clutch, got too many revs on and went away with far too much wheel-spin when he did get the clutch home; as a result he arrived at the first corner surrounded by green and silver cars, but meanwhile von Trips and Phil Hill had gone along side by side and squeezed out Moss who was trying to get his Lotus between them.
As the field sorted itself out along the short winding section behind the pits von Trips was leading from Phil Hill, but Graham Hill and Clark were close behind. Even as they started on the straight back to the pits to end lap one von Trips had quite a considerable lead, but the BRM and the new Lotus were right up with Phil Hill.
They were followed by Gurney, Moss, Ginther, Bonnier, Brabham, Brooks, McLaren and Surtees all coming by in quick succession. There was no change among the leaders on lap two, and von Trips turned 1min 36.0sec, but by the next lap the pattern of the race was fairly obvious. In only three laps von 'I'rips had pulled out a 3sec lead over Phil Hill, who was patiently lingering to stave off any attacks from the opposition. Graham Hill's sprint at the start seemed to be fizzling out and Clark was getting set to take third place from him.
Moss and Ginther were sorting out Gurney in the leading Porsche, and Bonnier had Brabham, Surtees, Brooks and McLaren pressing him hard, while Taylor was leading the remaining two Porsches. At five laps von Trips was confidently in the lead, followed by Phil Hill, but Clark and Graham Hill were closing up on the second place Ferrari, and Moss and Ginther were side-by-side going into the hairpin after the pits straight. The rest of the field were dropping back, the Porsches being very much down on power as their engines became warmed right through, so presumably the readjustment of their injection pumps was not correct.
On lap seven Jimmy Clark was credited with the fastest lap, in 1min 35.5sec, a time he could not approach in practice, but the incentive of racing against the BRM of G Hill and trying to catch the Ferrari of P Hill had obviously urged the young Scot on to greater things. At 10 laps von Trips still had his comfortable 3 seconds lead, but Clark was now leaving the BRM and getting nearer to Phil Hill's Ferrari. Ginther was having trouble with an engine that was not giving its best, but he managed to scrape past Moss in the Lotus, but could not get rid of him, and Brabham had moved up to seventh place, then came Gurney, Surtees, Bonnier, Brooks and McLaren, the second works Cooper having a rather tired engine.
The remaining three runners, led by Trevor Taylor, driving smoothly and unflurried, were now well behind, and Herrmann and de Beaufort were running in close company viewing for last place. Between lap to and lap 20 there was no change at the front, von Trips looking very comfortable in first place and Phil Hill doing his best to hamper any attacks by Clark and the new Lotus.
"The gap between the leading Ferrari and the Lotus-Climax varied between four and five seconds, but there never seemed any likelihood of von Trips being challenged"
The gap between the leading Ferrari and the Lotus-Climax varied between four and five seconds, but there never seemed any likelihood of von Trips being challenged. Ginther's Ferrari was not going anything like as well as the other two, cutting out occasionally and being down on power as if there was something wrong in the ignition department. This allowed Moss to go past again, and as it got worse Brabham caught and passed the red car. Surtees moved ahead of Gurney, to take eighth position, and McLaren overtook Bonnier to put him at the back of the field as far as the main race was concerned, for on lap 19 von Trips lapped the tail-enders.
On lap 21 Clark was 4sec behind the leading Ferrari, with Phil Hill's car between them, but on lap 22 the young Scot stirred things up by getting past the American and taking second place, and only 31 seconds covered the three of them. This completely upset the Ferrari team plan, for Hill was supposed to set a slightly slower pace for the opposition, thus letting von Trips get well ahead. Clark was forcing too hard for the Ferrari team, and though Hill did his best to keep Clark well occupied he could not control their pace and von Trips could not get away. Everytime Hill eased back a little Clark would slip by and the Ferrari driver would have to rush after him and get in front again, all of which meant they were both going faster than the Ferrari tactics wanted.
There was little danger of von Trips being caught but the situation was not as comfortable as he would have liked and he could not relax: for a number of laps Hill and Clark would be side-by-side as they came. down the straight and as they braked for the large-radius hairpin at the end the Lotus would dive by on the inside and lead round the back swerves. Meanwhile Moss had got by Graham Hill, the BRM getting slightly slower as the race went on, and Ginther's engine improved and he shot past Brabham, only to have one of his son supports break so that he flopped about in the cockpit on the corners. After adjusting himself to this new trouble, he caught Graham Hill and now that the engine was working properly he rapidly caught Moss.
At 35 laps von Trips was holding a steady 5sec lead over the battling Ferrari and Lotus, for Clark was not giving up the unequal struggle with the faster car and everytime Hill relaxed a little he would nip by, so that this patting and repassing went on continually. The pace of the first three cars was fast, being very nearly equal to last year's race, and already they had lapped McLaren and Bonnier once, and Taylor, de Beaufort and Herrmann for the second time.
Graham Hill had a slight excursion onto the grass and was now in seventh place, behind Brabham, and a remarkable thing was becoming apparent, which was the fact that no-one as yet had stopped at the pits or retired, and the race was nearly half-way through. Slowly but very surely Phil Hill was achieving his aim and the gap between him and Clark and the leader extended, first to 6sec, then 6.5sec and gradually it crept up to 8sec by lap 42.
Clark was still worrying at the tail of Hill's Ferrari and for one lap got in front, but von Trips in the leading Ferrari was safely out of harm's way, his engine sounding perfect. Ginther had got by Moss but he could not shake him off, and there was the sight of two Ferraris each with a Lotus worrying at its tail. The Coopers and Porsches were nowhere in the running, nor were the BRMs and it was clear that the new Lotus was keeping up on road-holding and hard driving by Clark and the older car of Moss was, keeping up by virtue of the skill of its driver, but all the efforts of these two Lotus drivers seemed in vain, for there was something solid and relentless about the way the Ferraris were going, with von Trips. out in front leading the way.
McLaren was having a very dull race, his engine being down on power for no obvious reason and he was even lapped by Brabham who himself could do no better than a poor sixth place. The leading Ferrari continued to circulate unchallenged at lap times around 1min 38sec, with the gap between it and the Lotus varying from 7.5sec to 8.5sec.
On lap 54 von Trips was 7sec ahead of Clark, who was right behind Phil Hill, but on the next lap Hill drew away slightly and then rapidly caught up his team mate, so that by lap 58 the gap between von Trips and Clark was still 7sec, but Hill was only 1.5 seconds behind the leader. It was now very clear that Phil Hill had been holding back, and obviously considered that von Trips was now securely in the lead, so he had left Clark behind and joined the leader all in the space of four laps, while Clark kept his same position. Without the incentive to attack the Ferrari Clark now dropped back bit by bit, so that the gap increased from 7sec to 11sec and the race as such was now a foregone conclusion.
"The gallant Lotus driver had done his best to upset the Italian team but even he now realised that they had only been playing with him"
The gallant Lotus driver had done his best to upset the Italian team but even he now realised that they had only been playing with him. Ginther was holding fourth place but he could not get rid of the tenacious Moss, and that was a bad situation to be in, for it only needed the suspicion of an error of judgment on Ginther's part and Moss would have been through in a flash. The gap between these five cars at the front of the field, and Brabham who was leading the rest was now enormous, and Graham Hill had slipped down yet another place, behind Surtees. For the final 15 laps Phil Hill was right up with von Trips, and the two Ferraris cruised round confidently nose to tail, while Clark dropped back as far as 12 seconds.
Four laps before the finish Ginther's task was not made any easier when his main throttle return spring broke, so that the butterflies did not snap shut properly and he had to lift the pedal with his foot each time he braked for a slow corner. As he and Moss approached the hairpin behind the pits on the last lap he misjudged his throttle closing and arrived just a bit too fast, getting into a tail slide and running wide as he left the hairpin, and this was what Moss had been waiting for. In a flash he cut through on the inside and led Ginther up the hill and into the fast corners on back of the circuit.
In barely 5 seconds longer than Brabham had taken to win the race in 1960, von Trips was flagged in the winner of the 1961 Dutch Grand Prix. closely followed by Phil Hill, it being a convincing Ferrari victory, but all eyes were on the final straight even as Jimmy Clark crossed the line to gain a brilliant third place for Lotus. In the distance appeared two cars,
the dark blue Lotus still leading the red Ferrari and as they approached the finishing line Ginther used the slipstream of the Lotus to gain more speed and then pulled out to flash past, but he misjudged it by a few inches and Moss won fourth place by an official tenth of a second, but it was actually closer than that, for 30 yards after the finish Ginther was ahead of the Lotus by the length of the king Ferrari nose, but it was too late.
As all the cars were flagged off, the remarkable realisation came over everyone that. r5 cars had started and 15 cars had finished and this in a two hours Grand Prix, and even more remarkable not a single car had visited the pits during the race. The enormous crowd flooded onto the track and for sortie reason best known to the Dutch there was no National Anthem played to celebrate the Italian victory, nor to honour the German driver, and yon Trips received no garland of flowers and the usual after-race acclamations. In fact, the 1961 Dutch Grand Prix just fizzled out, which was a great pity after such sliest class motor race.
ZANDVOORT ZIGHS
Porsche were rather non plussed by the sad performance of Their cars, blaming their lack of experience with the fuel-injection system. The Dutch method of selection of the starters obviously is not the answer, for Salvadori, Gendebien, Trintignant, Gregory or Henry Taylor, could well have replaced Trevor Taylor, de Beaufort and Herrmann. Not that these three did anything wrong, they were just in the wrong class,
Ferrari were still using r8 volts for their ignition systems but had removed the small "pancake" dynamos from the offside of their 120 degree engines.
John Surtees did not shine in his usual way, his Yeoman Credit Cooper-Climax not being fast enough. After years of "the best in racing motorcycles" it must come hard to have an inferior car.
If anyone thinks the exits from Brands Hatch or Oulton Park are inadequate they should have been at Zandvoort, and it was a Grande Epreuve, not a small event. RAC please note, when refusing GP status to our two best road-racing type circuits.
Masten Gregory's practice time of 1min 36.8sec, using a Mark I Climax engine in the Camoradi 1965 Cooper, made a lot of drivers realise they were not trying properly. The best Mark II Climax time was by Moss in 1min 36.2sec.
In practice the public address system was a riot; after virtual complete silence it first gave an incorrect FTD to Phil Hill, and then when Burgess wont off the road gave OW the wrong driver in the wrong car! Silence can be Golden.
WHEELS AND OVERALLS
Motor Books & Accessories are expanding the latter aspect of their business in St. Martin's Court, W.C.z. They do a very neat line in wood-rimmed steering wheels for various popular ears, from L9 tot. upwards, and can supply high-quality Italian Reggiani Ideale racing overall suits at prices ranging from La 45. to £6 Gs.