Two of the fast boys were having a little scrap and went by him, whereupon he tucked in behind them and thus inspired turned a lap in 1min 42.0sec with the old standard Lotus. This was well over a second quicker than he could hope to do on his own and he only did one lap with them, but it was all that he needed to get to the forefront of the qualifiers. The Porsche engines on fuel injection were going well, pulling hard from 2,000rpm up to 9,000rpm, but they were handicapped by not having enough gears, the 4-speed arrangement being tried out not being too successful.
Phil Hill was really working hard and almost equalled Ginther's time and von Trips was not far behind, and for a while the three Ferraris were fastest of the morning, but then Graham Hill went out and broke things up with a lap in exactly 1min 40.0sec, thus taking third place in the morning's times. Clark was still second fastest overall and he, Ginther and Phil Hill were the only ones to get below 1min 40sec, and this had now become the target figure.
Ireland caused the Lotus mechanics more work by ramming the back of Gendebien and crumpling the nose of the new Lotus, and later, for another reason altogether, the left rear suspension on Gendebien's Emeryson later collapsed and he arrived at the pits with the wheel leaning at a most unorthodox angle. The ENB were having a bad time for, apart from neither car being fast enough, Bianchi stopped with oil pouring out of everywhere. After this second practice session the four qualifiers looked like being Ginther, Surtees, May and Allison, but there was still another practice period.
Saturday afternoon, at 2 pm, conditions were perfect, being warm and dry but with a cloudy haze over the sun which reduced glare and prevented excessive heat. Brabham had missed practice on the Friday having flown back to Indianapolis in order to take part in the qualifying trials and he was naturally enough still absent for this final session, but his car was at the pits for McLaren to try and make sure all was in order.
On Friday Moss had tried the Cooper briefly and soon realised that the Lotus was much easier to drive on the twisty circuit, so he only had one car out for this final period, as had Surtees, but whereas the Walker Lotus was going well, having twin Bendix electric pumps now fitted in its fuel system, the Yeoman Credit Cooper did not do many laps and the motorcycle Champion became a spectator, along with Jimmy Clark, whose Lotus was still being rebuilt.
Ireland's fibreglass nose cowling had been repaired and was now painted yellow and Ferraris were wiring an additional 6-volt battery in with the normal 12-volt in order to increase the current at the coils at high rpm. McLaren in his usual quiet and unflurried way had been getting on with the job in hand, going progressively faster, and it was not long before he got under the target figure of 1min 40.0sec, this being evidenced by the way he was gaining on Ginther in the new Ferrari while they were both out on the circuit.
Ireland was not happy with the gear change on the new 5-speed box and bits were being filed off the gear gate, but Moss was now going very fast in his older Lotus. Michael May borrowed the spare works Porsche for a few laps and the Belgian drivers swapped cars for a time, and Allison still had the new Climax engine as Herrmann had ousted him from the qualifiers' list. Surtees was still well placed among the qualifiers with his Friday's time so did not bother to wear his car out, though his pit were keeping a watchful eye on Laystall in case either of their drivers looked like approaching 1min 42.0sec.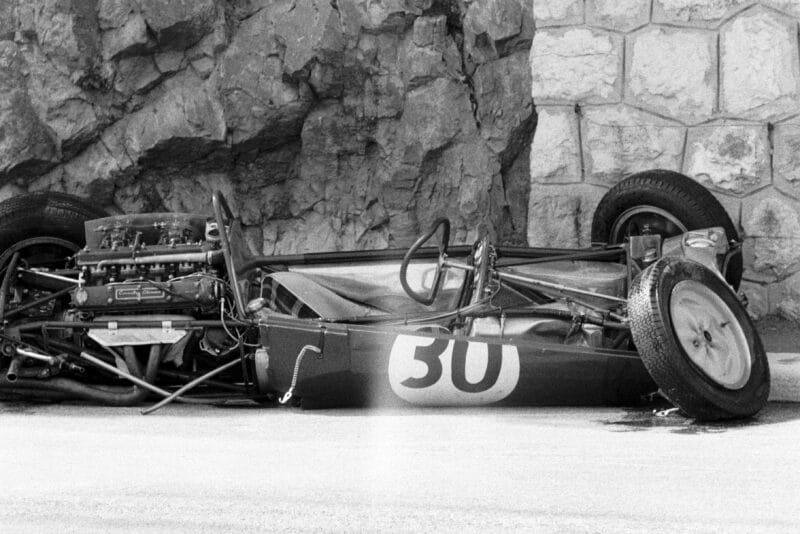 The Walker Lotus was now going beautifully and Moss was making full use of it; suddenly putting all the Ferraris in their place with a lap in 1min 39.1sec, gaining pole position on the grid. The third Ferrari, driven by von Trips, had got below the target time of 1min 40.0sec, but so had Graham Hill who was well content with his BRM, equalling Clark's very fast lap of the first day. While practice was at its height Ireland muffed a gear-change while in the tunnel and spun, bouncing along the guard rails, demolishing the Lotus as he went and injuring a knee cap as well as suffering numerous cuts and bruises. Considering the speed, which was over 100mph, and the conditions, he was very lucky to escape so lightly, but it put him into hospital for a time.
The organisation took an absurdly long time to clear up the wreckage and pronounce the circuit ready for practice again, so that when it resumed there was only 10 minutes left, but meanwhile cement dust had been sprinkled on some of the corners where the road was looking oily, so that it was impossible for any more very fast times to be recorded. UDT-Laystall changed numbers and sent Taylor out in the Mk II-engined car in an attempt to qualify but it was to no avail. On times the four qualifiers were Ginther, Surtees, Herrmann and May, but as Ireland was now out of the race Allison was brought in.
Following this final practice the Formula Junior race took place and the total of 40 cars were divided into two heats by ballot, 20 cars to each heat. Both groups raced over 16 laps and then each first eleven went to the final, irrespective of their speed or race time and the 22 in the Final raced for 24 laps for the III Grand Prix "Monaco-Junior." In the first heat an immaculate Trevor Taylor in an immaculate 1961 Lotus-Ford drove an immaculate race, in a class by himself, while Heat two, which had only 19 starters, one Lotus failing in practice, saw the works Lola-Fords of Ashdown, Prior and Hine trying unsuccessfully to catch Maggs in Ken Tyrell's Cooper-BMC, this heat being won at a slightly slower speed than the first.
The finalists lined up on the grid according to the time they took in their respective heats, so that Trevor Taylor was in pole position with Maggs and John Love alongside him. What would probably have proved to be a runaway win for the yellow-overalled Taylor in the gleaming Lotus 20 was spoilt when he spun on the opening lap and came round next to last with water coming out of a split radiator.
"Formula Junior drivers can be grouped into those who are going to make good racing drivers and those who will never be racing drivers"
On lap two he set up the fastest lap but then he saw his temperature gauge rising and stopped before he blew up. This left Arundell and McKee in the other Team Lotus cars to do battle with Love and Maggs in Ken Tyrell's Cooper-BMC cars so that the race took on an interesting Dagenharn v Longbridge aspect and they both took turns at leading, Arundell and Love changing places and the average speed rising steadily to more than that in heat one. The outcome was finally settled when Love spun at Ste Devote corner and though this let Arundell go on to an easy win it did not lose second place for BMC.
Formula Junior drivers can be grouped into those who are going to make good racing drivers and those who will never be racing drivers whether they race Formula Junior, sports cars or saloon cars and some try all three, so that it was interesting to see two newcomers keeping up with the established Junior drivers these were the Swiss driver Josef Siffert in a 1960 Lotus-Ford and Philip Robinson in the Alec Francis-built very sleek Alexis, the former finishing fifth and the latter having the misfortune to lose a certain sixth place when his engine seized just before the end of the race.
Race
The Grand Prix of Monaco was all set to start at 2:45pm on Sunday afternoon and the weather was perfect for racing, being warm and dry with haze and clouds partly obscuring the sun. Jack Brabham had arrived at lunch time back from Indianapolis where he had averaged 145.14mph for his four qualifying laps, and everyone was preparing for the 100 laps of the Monte Carlo circuit.
Surtees was using a Mk I Climax engine in his Yeoman Credit Cooper in place of the new one he had used in practice and Moss had the cockpit sides removed from his Lotus, anticipating a hot race, also having a drinking bottle fitted on the left of the seat. Clark's Lotus had been completed, fitted with a 5-speed gearbox but it had barely been run since the rebuilding was completed. Allison had the UDT-Laystall Lotus-Climax with the Mk II engine and altogether there were six of these new engines in the race, Ireland, of course, being a non-starter.
At 2:30pm the sixteen starters lined up on the grid with Brabham in the unusual position of last, due to having done only one practice for the race. While warming-up it was found that Clark's engine was oiling the plug on one cylinder, presumably due to faulty or broken piston rings, so he was wheeled on to the grid with three hard plugs and one soft one in the engine and he waited until 10 seconds before the fall of the flag before he pressed the button and started the engine. Naturally the other 55 engines were running by this time and as the starter stepped to one side to indicate the last 5 seconds Clark's engine blew out a great cloud of smoke, a sure sign that all was not well in one of the cylinders.
The start was perfect and all sixteen cars rushed down to the Gasworks Hairpin with Ginther's Ferrari leading. The little American was first out of the hairpin and the red Ferrari fairly streaked away past the pits and up the hill towards the Casino, with Clark and Moss following. At the end of the opening lap Ginther was already many lengths ahead, followed by Clark, Moss, Gurney, Brooks, Bonnier, Phil Hill, McLaren, Graham Hill, von Trips, Suttees and Brabham, the World Champion having already gained four places. Ginther's start had left everyone gasping and wondering where he had gone, for he gained 5 seconds lead in three laps.
On lap two Moss had gone through in second place and Clark was missing, though he coasted towards the back of the pits long after everyone had gone by. A wire to the fuel pump had been hurriedly assembled in the rebuilding and had become trapped under a frame tube and had worn through and started the pump. This was fixed and Clark motored round the hairpin to the proper side of the pits and had a plug changed for the troublesome one had oiled again. He did one more lap and it oiled yet again, so a very soft plug was put in and he finally joined in the race on all four cylinders when the leaders were on lap seven. Ginther's meteoric start with the 120 degree Ferrari had really shaken everybody and it took Moss five laps to recover and get into his stride.