Formula 1 operated on very different principles during the early years of the World Championship, when much of the technology had pre-WW2 roots, but in the late 1950s a revolution dawned. Led by British powerhouses Cooper and Coventry Climax, it altered the face of motor racing forever.
Climax-engined Coopers had won the opening two races of the 1958 Grand Prix season in Argentina (Stirling Moss) and Monaco (Maurice Trintignant), the first World Championship successes for cars with their engine behind the driver. Mike Hawthorn lifted that year's title in the front-engined Ferrari 246 – and Vanwall was champion constructor – but the warning signs were there for those adhering to racing tradition.
And in 1959 – almost exactly 60 years ago – it was Cooper's T51 that confirmed the effectiveness of this fresh philosophical shift.
The seeds for the machine that would win both 1959 World Championship titles were sown some years earlier. Charlie Cooper was a tough, competitive mechanic working, occasionally, for some of the great British racing names. Walter Hassan – co-creator of Cooper's Coventry Climax FPF engine – was a tall, gangly mechanic with Bentley Motors.
In 1946-47, Surbiton garage proprietor Cooper helped son John and his school friend Eric Brandon to build their first 500cc single-seaters, cobbling an all-independently-suspended chassis from two Fiat 500 Topolino front ends, united back to back. That launched the Cooper marque and the rear-drive element came about from its grass roots.
500cc Formula 3 mainly used air-cooled motorcycle engines. Direct chain-drive to the rear wheels was deemed simplest, so placing driver ahead of both power unit and driven axle was logical. The Coopers and Eric ended up with one of the best-balanced and most drivable combinations in the class. For 1948 the Cooper Car Company Ltd was founded to supply budding racers.Subsequently, their little factory in Hollyfield Road, Surbiton, added front-engined sports and F2 cars to their basic F3 production.
It wasn't until 1955 that Cooper's first serious rear-engined sports-racing design emerged as the Type 39, using a water-cooled Coventry Climax four-cylinder engine. The transom tail on its bodywork earned it the 'Bobtail' (or 'Manx') Cooper nickname.
Two years earlier, with the new 2½-litre F1 looming, such British specialists as Cooper, HWM, Connaught and Kieft sought suitable engines. Leonard Lee's engineering company in Widdrington Road, Coventry, developed ambitions to supply them. His Coventry Climax units had powered Crossley, Morgan, Swift and Triumph cars until the early 1930s, when that market shrank. Lee compensated by building Swift-type engines for Government pump and generator contracts. Soon he tendered to build a fire-fighting pump, borrowing expertise from the American Hale Fire Pump Company. Coventry Climax fire pumps performed heroically throughout World War II, before in 1950 Korean War tensions triggered new Government contracts. The existing Swift-originated Climax pump engine was an 800cc 20hp cast-iron side-valve unit. Now the Government required a portable replacement with twice the pumping capacity and half the weight…
"Brabham pushed his Cooper the final yards, as World Champion"
Hassan had just joined Climax as chief engineer and in September 1950 he looked at the pump contract with ex-ERA man Harry Mundy. The fire-pump's requirements – light weight, efficiency, good power-to-weight ratio – matched those of a racing engine.
Hassan and Mundy were both true racers and, in just three weeks, Harry schemed an all-aluminium, one-litre, single-overhead- camshaft, four-cylinder engine with inclined valves in wedge-shaped combustion chambers. One target was 35bhp at 3500rpm. Upon its first run in April 1951, the new unit delivered 37bhp.
This Coventry Climax FW – for 'Feather Weight' – won a Home Office order for 5000 engines. The company had a stand in the marine section of the 1952 Earl's Court Motor Show, where Wally and Harry met many old racing friends. John Heath of HWM, Rodney Clarke of Connaught and Cyril Kieft all wrote to Lee, imploring him to build them a new 2½-litre F1 engine. He agreed, so Hassan and Mundy produced the Climax 'Godiva' V8 only to take fright at Ferrari and Maserati's power claims, causing the project's unraced demise. Kieft, then Cooper and Lotus, focused instead upon the little single-cam Climax FW, for 1100cc sports car racing. Stock-block MG and Ford units were fragile and costly, once race-tuned. Responding again to demand, Lee directed Hassan and Mundy to adapt the FW.
The standard Climax FW engine displaced 1020cc. The 'FWA' – short for 'Feather Weight Automotive' – was overbored to 1098cc. In mid-summer 1954 the first FWA powered the Alan Rippon/Bill Black Kieft at Le Mans. Climax began small-scale FWA production – and Cooper used it, rear-mounted, in its new 'Bobtails'. With only 75bhp available, the target 125mph demanded minimum weight and frontal area. The 'Bobtail' Cooper's sleek bodywork wrapped a 65lb tubular chassis with transverse leaf-spring suspension front and rear. F3 tuner Francis Beart suggested a Citroën Traction Avant gearbox turned about-face to drive the rear wheels, with close-ratio gears and shafts made by ERSA of Paris, who marketed a popular four-speed conversion of Citroën's standard three-speed 'boxes.
The 'Bobtails' became a huge force in 1100cc – and later 1500cc – sports car racing. Using the factory jig, Australian newcomer Jack Brabham built an F1 special along 'Bobtail' lines – using a six-cylinder Bristol engine under lookalike 'Bobtail' bodywork. He made his F1 debut in it at the 1955 British GP, and won the Australian GP.
Seven prototype 1100cc FWAs were delivered through 1954, followed by 100 for 1955 and more in 1956, plus 24 enlarged 1460cc 100bhp FWBs, while Hassan and Mundy were developing a twin-cam heads for '57. A few pilot 1500cc F2 races ran in 1956. Cooper dominated – and for international F2, 1957-60, the new dry-sump, twin-OHC Climax FPF became available. Schemed largely by Mundy, then developed by Hassan, Peter Windsor-Smith, Gray Ross, Ron Burr and Hugh Redington, the FPF had five main bearings against the FWA/FWBs' three – and developed 141bhp at 7000rpm. F2 Cooper-Climaxes were quickly dominant.
The 1957 F2 Cooper was the Type 43 or 'F2 Mark II' design – with all-transverse leaf-spring suspension. Famously, during Goodwood testing, works driver Roy Salvadori suggested to John Cooper and private entrant Rob Walker that such a chassis fitted with an enlarged FPF engine would be ideal at Monaco. "It was so agile I thought it really could compete there…" He was right. Jack Brabham drove the 1.96-litre 'interim F1' Walker Cooper there – ran third and finally pushed the broken car home sixth. Such little '2-litre' hybrid Cooper-Climax cars raced on in F1 that year. And few amongst the front-engined establishment foresaw their threat…
What advantages did rear-engined configuration offer? With no propeller-shaft to pass beneath – or around – the driver, he (or she) could sit lower, minimising the car's frontal area. Power-wasting prop-shaft angularities – and weight – were saved. One square foot less frontal area was considered worth 25bhp. With engine and final-drive mounted in-unit, torque reactions cancelled out, permitting lighter support structures. Lighter weight enhanced acceleration, permitted smaller brakes – and so on in an always-beneficial spiral. Concentrating a car's major masses within the wheelbase promoted rapid direction-change response. Without the extravagant power excess of the 1930s cars – in which drivers could change the car's attitude by breaking rear tyre adhesion – Cooper-Climax agility could outrace most front-engined rivals.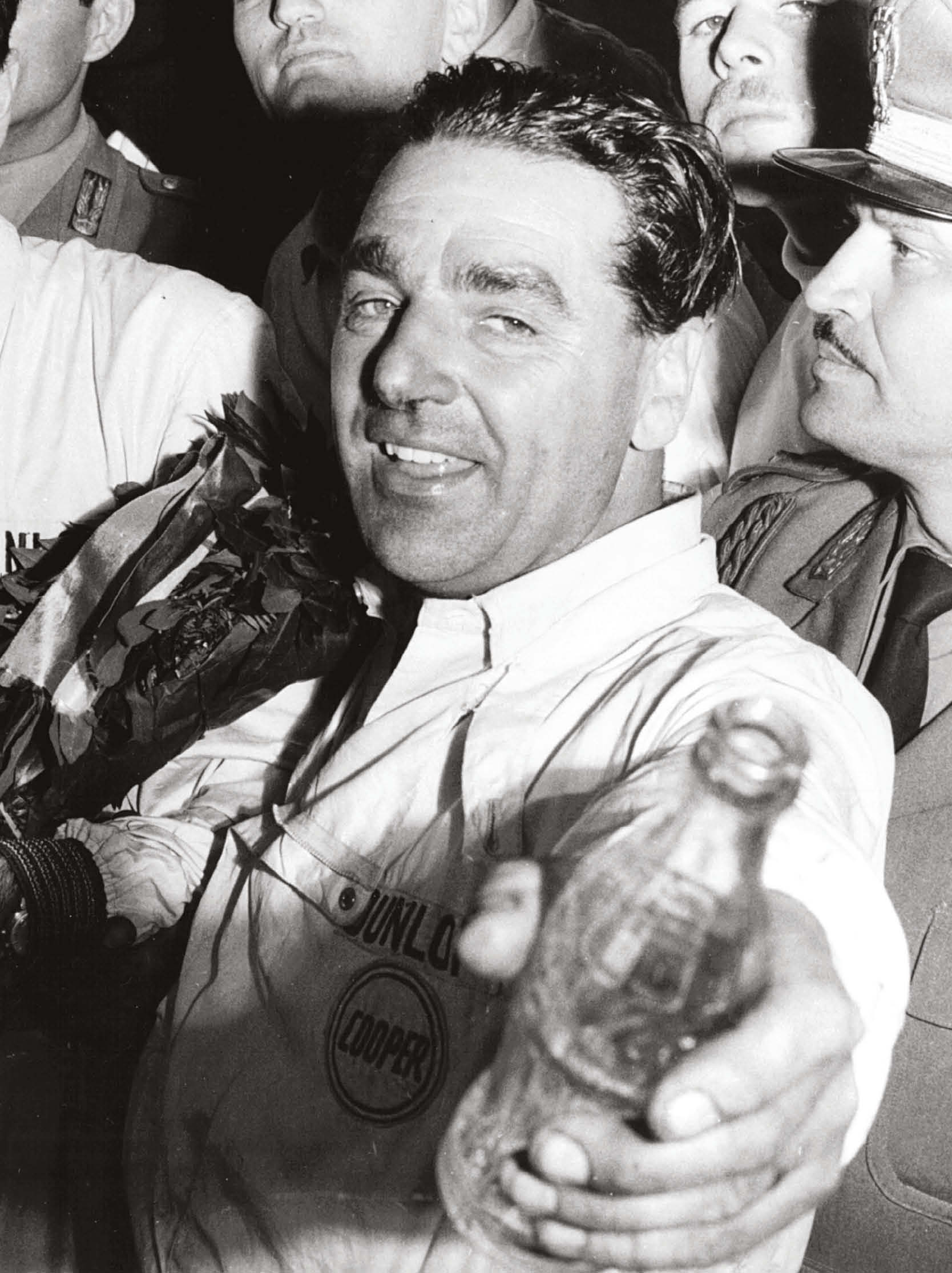 For 1958, an FIA rule change helped. While the 2½-litre F1 ceiling was extended to 1960, alcohol fuels were banned and replaced by 100/130-octane AvGas aviation spirit. Simultaneously, Grand Prix race distances were slashed from a minimum of 500km/three hours to only 300km/two hours. Fuel consumption on AvGas was inherently better than on methanol, so even without the shorter races, fuel tank capacity would still be reduced. Cars could now be considerably smaller and lighter – yet the Coopers already were, and their engines were also outstandingly economical…
The 1958 F1/F2 Cooper was the T45 or 'Mark III'. New coil-spring front suspension provided better control than the transverse leaf-spring, which was retained at the rear, with double rear wishbones – in place of single – geometry. Jack Brabham had become expert at setting-up his cars' geometry, spring and damper settings. He was in constant contact with his Australian engineer friend Ron Tauranac, who recommended developments which Jack forced through, with John's ready connivance in face of Charlie's conservatism…
Increasing power was punishing the basic Citroën-ERSA transmission, and in the 1958 Cooper 'Mark III', working upon a Tauranac recommendation via Jack Brabham, ERSA and transmission specialist Jack Knight developed a pair of step-up spur gears within the clutch bell-housing. This enabled both a 2½-inch lower engine mounting, and easy final-drive ratio changing for differing circuits. Jack also "flew to Germany one day to get us some ZF diffs old Charlie wouldn't pay for. John fixed the money. I got the bits. We'd never have won a race without 'em…" And win Cooper did in 1958 – though not with the works cars.
Powered by a 1.96-litre FPF, Moss won the season-opening Argentine GP in Rob Walker's Cooper. With a further enlarged 2015cc Climax engine Maurice Trintignant won the very next round, at Monaco, in another Walker Cooper.
Lee had authorised four 2207cc units for 'interim F1' use; two for Cooper, two for Lotus. Once the faster circuits demonstrated these FPFs' power deficit against the full 2½-litre front-engined finest, Cooper and Colin Chapman asked Lee to sanction full 2½-litre FPFs for 1959. This demanded new block castings. Windsor-Smith detailed the 94.0mm x 89.9mm, 2495cc, definitive FPF engine for F1, detail design only beginning on December 1, 1958 – barely 16 weeks before the engine's debut.
For 1958 the Cooper order book recorded 28 1959 Type 51 – or 'Mark IV' – cars for F1 and F2, scarcely changed from the 'Mark III'. The new 245bhp FPF made a real difference. Moss won for Walker at Easter Goodwood. New Cooper works driver Masten Gregory qualified on pole for the Aintree 200 – but front-engined Ferrari V6s finished 1-2. At Silverstone in May, Brabham won easily…
At Monaco, the first World Championship round of the year, Jack won his and the Cooper works' first Grande Epreuve. Jack placed second in Holland and third in France before winning the British GP. Moss won in Portugal and Italy in Walker's Cooper – and at Monza Cooper and his tiny team could celebrate clinching the constructors' title (on Ferrari's home soil, too).
Moss's Walker Cooper then won the Oulton Park Gold Cup, Jack finished second in Snetterton's F1 race – and then came the title-deciding US GP at Sebring. Jack and team-mate Bruce McLaren dominated, leading 1-2 until the last lap… Jack: "I was about a mile from the finish when the car started to run on two cylinders. I was shocked. I just couldn't believe it…" He was out of fuel.
While Bruce went on to score his maiden GP victory by just 0.6sec from Trintignant's fast-finishing Walker Cooper. Jack pushed his car the final 400 yards in stifling heat.
Sweat-soaked, heart-pounding, Jack levered his Cooper past the flag – and flopped to the ground – but he was now World Champion driver.
So, 60 years ago – game, set and match to Cooper-Climax.
---
Cooper pioneered the post-war shift to rear-engined Formula 1 cars, setting the trend via Formula 2 in 1956-58. The 1959 T51 landed the firm, and the configuration, its first World Championship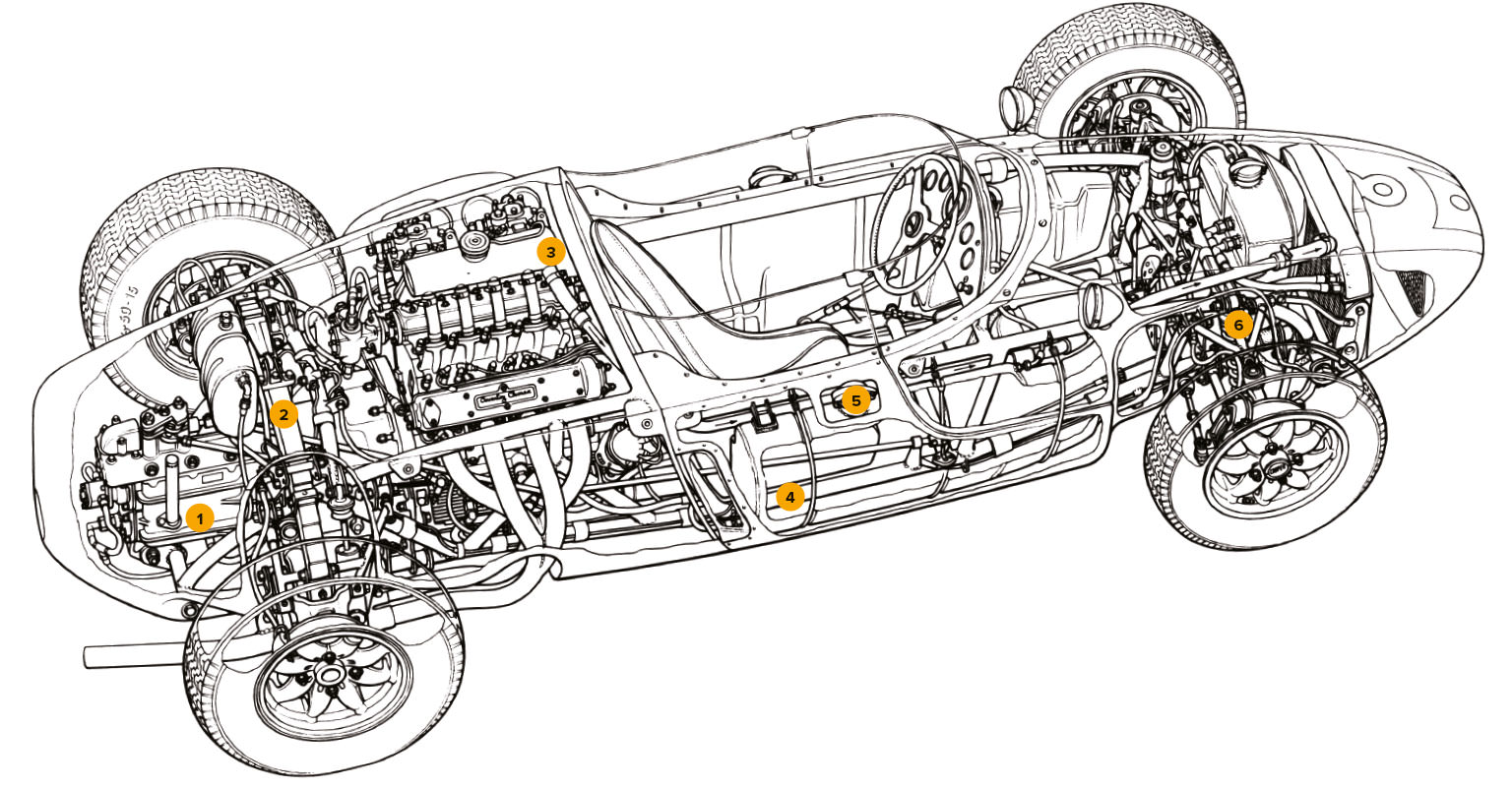 1

GEARBOX

Cooper designer Owen Maddock recalled the Citroën-derived Jack Knight-ERSA transaxle gearbox as taking "…one hell of a pounding with the 2½-litre engine twisting it under load, despite the strengthened casings we'd adopted the previous year… after every race we'd have to replace the lot, gears, dogs, selector forks – and as they got hot most of the oil would come out of the breather anyway…". The Walker team Coopers used Colotti gearboxes – and had as much (if different) trouble
2

REAR SUSPENSION

The rear suspension's transverse leaf spring was clamped in the centre while a measure of free-end adjustment was achievable via trunnions attached to the top chassis tube each side. The wheel upright was located top and bottom by welded tubular wishbones. Bump and rebound control was by Armstrong telescopic dampers
3

ENGINE

Coventry Climax FPF 4-cylinder twin-overhead camshaft aluminium block, crankcase and head engine with two inclined valves per cylinder in hemispherical combustion chambers, five main bearing crankshaft and dry-sump lubrication
4

CHASSIS

Curved-tube welded chassis frame in mainly 1½-inch diameter steel tube, carrying stamped 'Bradnack lug' brackets to which detachable aluminium body panels were attached by Dzus fasteners
5

FUEL TANKS

Welded aluminium pannier fuel tanks were slung along each side of the chassis frame amidships, extending from in line with the driver's seatback almost to the front suspension bays. They were fashioned in-house at Cooper's Hollyfield Road, Surbiton, works by the car-body building Beddings, a veteran father and son panel-bashing duo
6

FRONT SUSPENSION

Independent front suspension featured co-axial coil-spring/damper units interposed between welded-tubular upper and lower wishbone members. For years Cooper used a threaded Chorlton ball-joint at the front wishbone apex, plus stock Alford & Alder front uprights and stub axles – the upright derived from the Standard 8 production saloon's, and the stub axle from the Triumph TR3… Cooper was Formula 1's arch practician. And the recipe worked brilliantly