No.11 NEWPORT PAGNELL
Aston has had something of a peripatetic existence, but for more than 50 years was based at Newport Pagnell. Its presence added lustre to a town that might otherwise have been known only for lending its name to a tawdry M1 service station.
No.12 GORDON SUTHERLAND
If you need proof that the motoring world is heaven, just look at the number of angels that came to Aston's aid over the years. This time it was the son of a shipping magnate who in 1932 persuaded his father to buy the firm. Sutherland proved a serious force, getting a decent production run under way, backing the increasing competition efforts, steering the firm through the rocky 1930s and conceiving the highly advanced Atom. But the investment required to restart after the war was too much, and he placed a small ad in The Times. It was seen by David Brown…
No.13 LOLA T70 MK3-ASTON MARTIN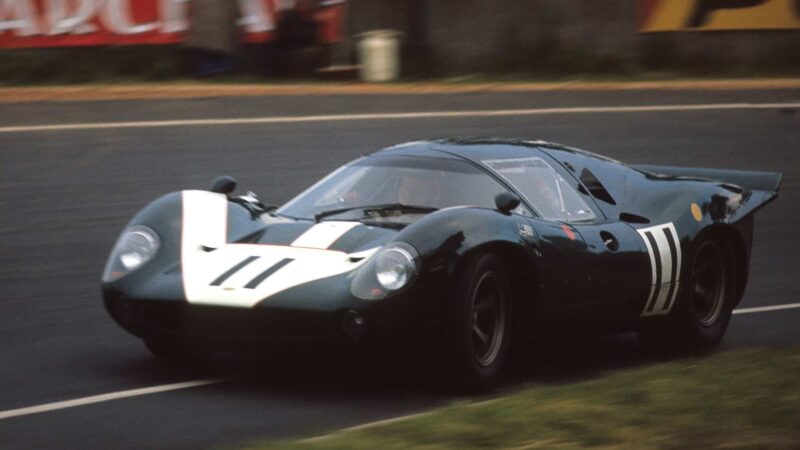 A flop, yes, but gloriously so and it's also a good excuse to run a picture of the Lola T70, not that any should ever be needed. The T70 was conceived to accommodate any V8 and Aston Martin saw this as an opportunity to market its new overhead-cam 5-litre. It proposed to enter three cars for Le Mans in 1967, but in the end sent only two and both dropped out within a matter of laps, the engine having been short of development funds and, as a consequence, reliability. It still looks sensational, though…
No.14 MAREK V8 ENGINE
Mainstay of the Aston range from the late '60s right into the '90s, Tadek Marek's big alloy quad-cam V8 appeared first in 5-litre form as a race engine, unsuccessfully, but finally hit the road in the DBS for which it had been designed. Each engine was famously hand-built by one man whose name appears on a small plaque affixed to the block. Started at about 340bhp, soaring to 600 in Vantage versions, and was even turbocharged for an experimental Lagonda (inevitably dubbed 'Turbolag') and the outrageous Bulldog which claimed 700bhp. Also a class winner at Le Mans, and even powered the Group C EMKA.
No.15 ST JOHN RATCLIFFE STEWART "JOCK" HORSFALL
Forged his reputation as a racing driver during the 1930s, at the wheel of his Aston Martin 2.0 Special, and also worked for Britain's secret service during WW2 (a prototype James Bond, then, if a little more real). His landmark victories included the 1938 Leinster Trophy at Brooklands and the 1948 Spa 24 Hours, sharing an Aston with Leslie Johnson. Horsfall died in an accident at Silverstone in 1949, but to this day the Aston Martin Owners Club names events in his honour.
No.16 PRINCE CHARLES'S DB6 VOLANTE
These days, the royal family is assigned three days of rolling news as soon as one of its Corgis develops a sniffle. The real story is that there's a sense of soul beyond the public facade — not least the fact that HRH still owns this rather lovely DB6 drop-top, given to him as a 21st birthday present in 1969. It has been converted to run on E85 bioethanol, which makes it both regal and (vaguely) green.
No.17 SPEED MODEL TYPE C
Relied on the very traditional Speed Model chassis, developed for Le Mans, but the 1939 Type C struck out for the future with its streamlined curves. With wings integrated into the body and headlights tucked within the grill, it looked fast — if you discounted the extra windscreen, projecting rad cap and other excrescenses designers hadn't yet learned caused drag. Pioneered Claude Hill's new body-building method of alloy over square tubes — his own version of `Superleggera'.
18 ASTON MARTIN LAGONDA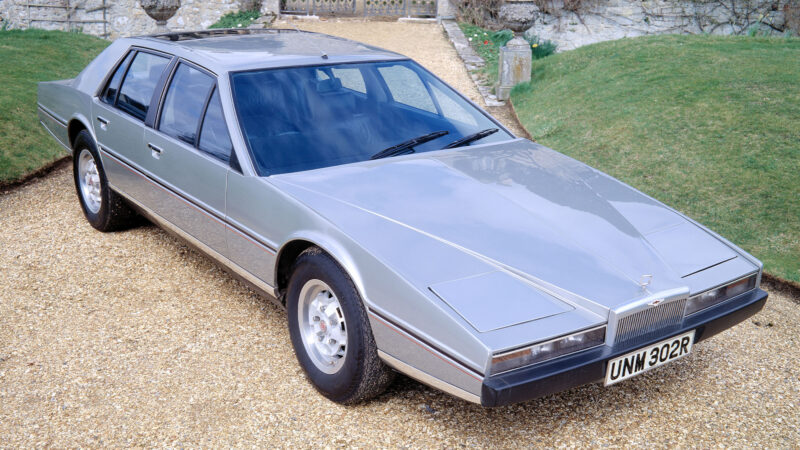 Opulence has rarely looked so quirky. From a company that crafted some of the world's most handsomely proportioned grand tourers, the William Townspenned Lagonda was an object lesson in acquired taste. Still, full marks for having the brass neck to build it. Stayed in production for a lot longer than people realise — 1974 to 1990, through four iterations — and about 30 remain taxed today. That makes it only slightly less rare than the Aston Martin Cygnet…
Proof that there are opportunities beyond F1 and an inspiration to anyone whose single-seater career appears ever on the cusp. Seems to have been part of the Aston Martin set-up since James Bond was a twinkle on Ian Fleming's typewriter, but it's done him no harm: cult figure with two Le Mans class wins to his name.
No.20 INSTRUMENT BINNACLE
Brilliant stroke of design thinking. With the appearance on the new Mk III of what would become Aston Martin's signature radiator grille shape, someone had the neat idea of repeating it inside. The clocks nestle inside a hooded binnacle reflecting the three-section grille you can't see when you're at the helm.