1966 German Grand Prix race report: Brabham goes forth
Jack Brabham makes it four wins in a row as the Australian's domination in his own car continues; John Taylor badly injured in crash
The Automobile Club von Deutschland, who organise the German Grand Prix at the Nurburgring, were rather afraid that they would not get enough Formula One cars to make up a good starting grid and to keep the 22.8-kilometre circuit occupied for 15 laps sufficiently to satisfy the spectators, so they invited eleven Formula Two entries.
These could not compete in the Grand Prix itself as the cars did not comply with the Formula One rules, and at first it was thought that they might start as a separate race after the Grand Prix field had started, but finally it was agreed to let them take their position on the starting grid with the bigger cars, according to practice times.
A full entry of Grand Prix cars was received, the only omission being the Rob Walker-Jack Durlacher Cooper-Maserati, as they could not agree to the starting money terms of the AvD, so Siffert was without a drive. McLaren had an entry but failed to arrive; so at the last minute the Brabham-BRM V8 of David Bridges was accepted as a replacement, with John Taylor driving.
Team Lotus were unchanged from Zandvoort, with Clark driving R14 with 2-litre V8 Climax engine and Arundell driving R11 with 2-litre V8 BRM engine. After having had the rubber and steel vibration damper on the front of the crankshaft break up at Brands Hatch and Zandvoort, Coventry-Climax decided to run their engine without the damper. Jack Brabham should have had a new chassis, built on the same lines as the number 2 car driven by Hulme, but as it could not be got ready in time, Brabham retained the original car, so that he and Hulme were as they had been at Zandvoort. The 2.5-litre 4-cylinder Climax-engined car was in the transporter in case of emergency.
Graham Hill and Stewart were still driving the old 2-litre BRM V8 Tasman cars, as the H-16-cylinder cars were still giving gear-change problems and one thing that is needed at Nurburgring is a perfect gearbox that the driver can use without any conscious thought. The Cooper team had number 6 chassis for Surtees, number 3 for Rindt, and number 7 in reserve, the 12-cylinder Maserati engines being unchanged.
Ferrari sent three cars and three drivers, Bandini and Parkes with the 12-cylinder 3-litre cars and Scarfiotti with the 2.4-litre V6 car. Dan Gurney had his lone Eagle, still with 2.7-litre 4-cylinder Coventry-Climax engine, and the rest of the entry was made up by the regular private teams and private owners, Bondurant in Bernard White's 2-litre BRM V8, Spence in Parnell's Lotus 25-BRM V8, now back to its original green colour, Bonnier and Ligier with their Cooper-Maseratis, Anderson with his Brabham-Climax, Chris Lawrence with the JA Pearce Cooper-Ferrari V12, and John Taylor with Bridge's Brabham-BRM V8.
The Formula Two entry was carefully selected and arrangements were made for some German drivers to borrow cars for this race within a race. The Ken Tyrell Matra team had two cars, one with Cosworth engine for young Ickx and one with BRM engine for Hubert Hahne, the German BMW saloon-car driver, Winklemann Racing loaned Rindt's Brabham-Cosworth to Hans Herrmann and Alan Rees drove the other one, the Ron Harris Team Lotus cars were driven by Gerhard Mitter, Pedro Rodriguez and Piers Courage, all three having fuel injection Cosworth engines. The works Matra team had a Cosworth-engined car for Beltoise, a BRM-engined car for Schlesser, and a spare car with Cosworth engine. The remaining two Formula Two entries were Ahrens with his own Brabham-Cosworth and Moser with a similar car.
Qualifying
Practice began at 12 noon on Friday and the first session was for 1.5 hours in fine sunny weather. At the Nurburgring there are so many interesting corners and sections of the circuit to watch, with first class spectating facilities in the public enclosures, that I prefer to watch driving ability rather than the technical, political and personal problems in the pits. Spring rates and roll bars, Firestone versus Goodyear or Dunlop tyres, Champion versus Autolite or Marchal plugs, and drivers who need more bungy rubber stuck in the cockpit or an inch cut off the windscreen, can begin to become repetitive, but drivers who really can drive are well worth watching on the Nurburgring.
For the first practice period I watched at the Hatzenbach series of downhill bends where drivers who know what they were doing and where they were going would be very fast into the series, maintain speed all through them, and leave the last left-hander at very high speed and only just under control, needing all the road and some right lock. A driver entering slowly would not get into a rhythm through the right-left-right-left sequence and lose speed all the time, so that he left the last corner at a lower speed than he might have done. Other drivers would enter too fast, or on the wrong line, get all crossed-up and flounder through untidily, while some were so bad that they had to change down and start all over again halfway through.
Surtees in the Cooper-Maserati looked good, but did not do many laps, whereas Anderson seemed to be lapping continuously, driving smoothly but not very fast. Stewart, Clark, Bondurant and Scarfiotti were all impressive, while Brabham and Rindt only appeared once, very late in the session, and Gurney, Hulme and Taylor did not appear at all. The Brabham team did not arrive in their usual efficient manner, for Brabham's car was still being re-assembled when practice began and Hulme's engine blew-up before he even started on a lap. The cars of Gurney and Taylor were not ready and Ligier's car had not arrived, but all the F2 were running.
Last year, in a 1½-litre Lotus-Climax, Clark set a lap record of 8min 24.1sec in the race and during practice he had lapped in 8min 22.7sec, so it was something of a surprise to find that the fastest lap in this first practice was only 8min 26.0sec, but not a surprise to find that it was Stewart who recorded it. Clark was second fastest and Scarfiotti third fastest, which all tied up with the way that they had been going at Hatzenbach, and they were the only ones to get below 8min for a lap. The F2 cars were finding the steep hills hard going, a 1-litre engine not really being powerful enough to combat the Nurburgring, but some of the drivers were making up for the handicap on the downhill bits and through the sharp corners.
At 4pm the second practice started, and for this I went to the Flugplatz where the faster cars aviate over the brow of the steep hill, to see how they landed, and in the same area you can watch the fast ones over the brow of the next hill and on the fastest part of the circuit, which is the long descent on a steady left-hand curve to Schwedenkreuz and the tight right-hand bend at Aremberg.
Unfortunately, just as practice began rain started to fall and though it did not rain for the full 1½ hours of practice the roads were wet all the time, and all one could appreciate was just how impossibly slippery the surface was; even Formula Two cars twitched sideways given any throttle opening. Surprisingly, everyone was out for practice, but nothing in the way of times worth recording were accomplished. However, Gurney made certain of doing his qualifying laps with the Eagle, as did Hulme using the 4-cylinder Brabham-Climax that he used to race. Ligier set off on his first lap in his blue Cooper-Maserati V12 and spun off into the woods only a short distance from the start. He was flung out and suffered a broken knee and other minor injuries, this putting him out of racing for some time to come.
"Young Ickx had been very spectacular and Brabham and Parkes gave the spectators some heart-stopping moments"
 On Saturday morning conditions were fine and sunny once more, and with practice from 11:30am to 1:45pm everyone got down to some serious motoring. At the Schwalbeswanz area, which includes a very fast approach into a right-hand bend over a humped-back bridge, followed by a climbing left-hand bend over a blind brow, there was some good driving to be seen. After a short descent there is a blind left-hand bend, the inside of which has a concrete banking, and through here Stewart was most impressive to watch, as were Gurney and Beltoise.
On the previous bends young Ickx had been very spectacular and Brabham and Parkes gave the spectators some heart-stopping moments. Surtees was obviously well on his way and for two laps Brabham was following him and working very hard to stay with the Cooper-Maserati. Hulme was out again in his V8 car, running in the new engine that had been fitted, and when Brabham's car had trouble in its gearbox the team chief did some laps in Hulme's car: Clark disappeared for some time, while his mechanics changed the gearbox on his Lotus to one with different ratios, and though he was always impressive to watch he did not give the impression of being fastest.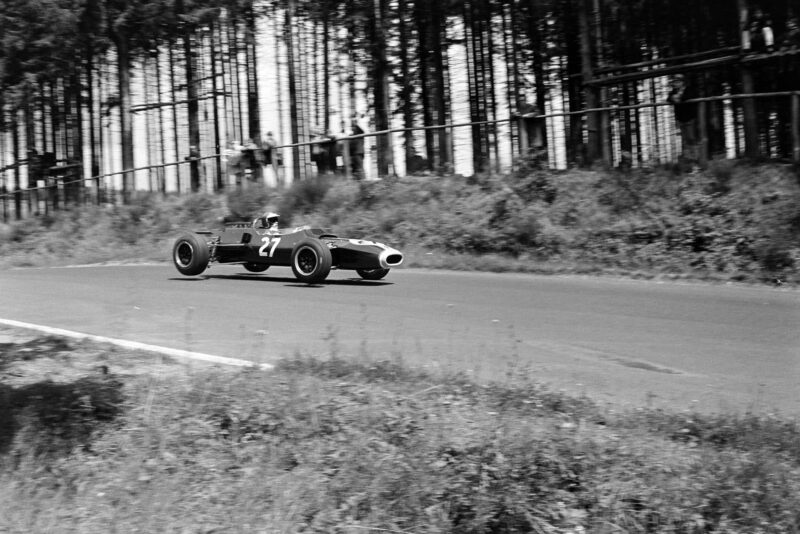 The Formula Two cars were leaving the hump-back bridge with all four wheels off the ground, and of these the Matras seemed to be the best balanced for landing. Most of the heavier Grand Prix cars were rising to the limits of their suspensions, but few of them were airborne. The 12-cylinder Ferraris were landing with a horrible thump, and the V6 that Scarfiotti was driving was clearly not handling as well as the more modern Ferraris, and it was keeping him very busy. Beltoise was out in the training Matra-Cosworth, as well as his own car, and-at all times was impressive with the way he was pressing on.
The pace of this last practice session was very furious and car after car would go through on the limit of adhesion, the drivers working overtime, with front wheels off the ground, coming out of the concrete ditch, rear wheels clipping banks and engines being used to the full. It was no surprise to find that ten drivers had got well below 8 min. 30 sec. and that eight of them were below the existing lap record. Clark had been his usual outstanding self, with 8min 16.5sec, followed by Surtees, Stewart, Scarfiotti, Brabham, Bandini, Parkes and Gurney.
It was all most satisfactory but one could not help wondering what Clark would have done with a real 1966 Grand Prix car with 400bhp, or what Gurney would have done in the Eagle with only 300bhp instead of his woolly old 4-cylinder engine, and what would Surtees have done in a Ferrari? Of the other drivers, Bondurant's time did not match up with the way he was cornering and in Formula Two Beltoise was slower than he looked. Jacky Ickx was head and shoulders above the rest of the F2 runners. Just before the end of practice Scarfiotti went off the road in the V6 Ferrari, without too much damage, and Graham Hill had a camshaft break in his BRM engine, so Saturday night saw a lot of work going on in the garages.
Race
Race day morning was dull and wet and though the rain stopped during the lunch hour it started again before the start was due at 2pm. In consequence there was a lot of juggling with tyres and the Ferrari team arrived at the pits on Dunlops instead the more usual Firestone, and the Team Lotus cars were also Dunlop-mounted, but just before the start they changed to Firestone. BRM were divided, Hill being on Goodyear and Stewart on Dunlop, while the Cooper team remained faithful to Dunlop.
The Brabham team and Gurney had no problems; they were signed up with Goodyear and have never shown any inclination to try anything else, being well satisfied with the tyres supplied. Gurney had some tyres hand-cut to provide more drainage, but decided after all to stick to the standard pattern. Twenty-seven cars lined up for the start, Moser and Mitter being non-starters in the F2 section, the German Lotus driver still suffering from a foot injury and found the strain of practice was too much.
"Somebody caught the front of John Taylor's car and he spun off and crashed in flames"
It was the 3-litre cars that won the drag-race down to the South Curve and back along behind the pits to start the first of what were going to be 15 very treacherous and difficult laps, for rain was falling steadily. It was Surtees leading from Brabham, Bandini and Rindt, and as the field streamed out of the Hatzenbach woods to the bottom of the dip at Quiddelbacher-Hohe somebody caught the front of John Taylor's car and he spun off and crashed in flames, being badly burnt. Ickx had to take violent avoiding action, being just behind, and he went off the road, but managed to get going again after helping the unfortunate Taylor, while Anderson ran over some of the bits of the wrecked car.
Rain was falling steadily as the leaders completed the first lap, and though Surtees led for most of the way it was Brabham who appeared first over the brow of the Tiergarten, hotly pursued by Surtees and Rindt. Then came Clark on his own, followed by Gurney, Stewart, Bandini, Parkes, Hill, Hulme and Bondurant, with Beltoise leading the Formula Two cars and already ahead of Bonnier, Arundell and Lawrence.
At the end of the field came Anderson, having been delayed by the Taylor accident, and long after everyone was well on the second lap Ickx arrived at the pits to retire, his Matra-Cosworth de-arranged by the excursion off the road. Some idea of the slippery conditions could be gained by Brabham's standing start lap which took 9min 28.2sec, more than a minute longer than an average dry track time.
Surtees sat close behind Brabham for the second lap and they were both given 9min 16.1sec, and now the rain was intermittent, which is far more treacherous on the Nurburgring than a continual downpour. Gurney was closing on Clark, who obviously was not happy on his Firestone tyres, and Hill passed Parkes and Bandini and closed up rapidly on Stewart, the young Scot not looking too confident on the wet track.
On lap three Gurney passed Clark and Hill passed Stewart, and the following lap Hill also passed Clark, while the lead remained the same with Brabham setting the pace and Surtees ever-present just out of the range of the spray from the Brabham-Repco V8. Rindt could not keep up with them and his Cooper-Maserati was on its own, well ahead of Gurney and the rest, and retirements were regular.
Bondurant stopped at the pits after three laps, with his BRM engine running rough and with one of the inlet tracts on the nearside bank of cylinders rapidly filling with petrol; a sure sign that the valve was permanently shut due to a broken camshaft, so that was the end of his race. Anderson disappeared out on the circuit with transmission trouble, Ahrens retired at the pits with gearbox trouble, and when Bonnier was lapped by Brabham and Surtees on lap four he gave up.
On this same lap Courage slid off the road in his F2 Lotus-Cosworth and for once the Winklemann F2 Brabham-Cosworth of Rees did not run perfectly and retired with valve-gear trouble. Beltoise was so far ahead of the F2 race that he might well have been in a Formula One car, and a long way behind him came Hahne and Schlesser, the latter in the spare Matra-Cosworth, that Beltoise had used in practice, instead of his Matra-BRM.
For a lap the situation seemed to have settled down, but on lap six Hulme began to get into his stride and moved up ahead of Stewart, and next lap caught Clark who had been striving desperately to stay with Graham Hill, the BRM being more controllable on Goodyear tyres than the Lotus on Firestone tyres. By eight laps Hulme was ahead of Hill and looked set to catch Gurney, who was still in a very fine fourth place, but on lap nine Hulme's Repco engine died on him, through ignition trouble, and he came to rest by the roadside. Rodriguez had retired on lap eight and the field was getting very thin, but still Brabham was in command of things and it did not look as if Surtees was going to be able to do anything about it.
It seemed as if the rain was being switched on every fifteen minutes and it could have been no fun trying to drive fast under such conditions. Rindt was still a lonely third, Gurney fourth, and a long way back was Graham Hill, still followed by Clark, then Stewart and then the complete Ferrari team in a very dejected eighth, ninth and tenth place, in the order Parkes, Bandini and Scarfiotti. It did not improve matters for the Maranello team to see Maserati-engined cars in second and third places. Beltoise came next, his little Matra-Cosworth running superbly, and he had passed Spence, whose clutch was slipping.
"It seemed as if the rain was being switched on every fifteen minutes and it could have been no fun trying to drive fast under such conditions"
As Scarfiotti started his 10th lap his V6 Ferrari engine sounded rough and woolly, as though the fuel-injection system was not working properly and he failed to complete that lap, as did Parkes, who slid off the road into the bushes. Lawrence put the brakes on for the South Curve and had a ball joint on a top front wishbone break on the Pearce Cooper-Ferrari V12, and skated to rest after some anxious moments, and on the next lap, which was lap 12, Clark lost control on the slippery track and went off the road, without hurt, but out of the race. Spence was running out of battery as his alternator driving belt had broken, and his engine eventually died on him, and so the tales of woe went on.
Apart from the very difficult job of staying on the slippery road and never knowing where he was going to meet the next fall of rain, Brabham was having no drama, his car behaving perfectly, but Surtees was anything but happy. The Cooper clutch had long since ceased to operate, the pedal staying right down, so he had to make clutchless gear-changes, and as the fuel was consumed the centre of gravity of the car changed and the handling became worse and worse, so that he could no longer stay with Brabham and the gap went from 5sec after 13 laps, to 17sec at 14 laps and 44.4sec at the finish, as a jubilant Brabham won the German Grand Prix.
Rindt had plugged along solidly in third place and when all seemed set for Gurney to finish fourth his engine cut out and he stopped on the descent to Adenau. This was heart-breaking for the Eagle team and everyone was sorry to see Gurney's car fail so near the end. It let the BRM team into fourth and fifth places, but not very meritorious places, and Bandini was the last to finish on the same lap as the leaders.
As everyone was packing up Gurney suddenly arrived, the Eagle sounding all right and completing the 15 laps to be placed seventh, though the timekeepers had stopped their watches by this time. The clip holding the condenser inside the ignition distributor had broken and let the condenser come adrift. It had taken Gurney a long time to find this fault and re-earth the loose part, but he had succeeded and finished his last half lap, but his seventh place in the results does not tell the true story of a first-class drive which should have resulted in fourth place.
The young French driver Beltoise had dominated the Formula Two race, which had not proved as good as the organisers had hoped, perhaps because all the star drivers who normally monopolise Formula Two were at work in Grand Prix cars.
Jack Brabham was naturally pleased to have won his fourth GP in a row, in France, England, Holland and now Germany, but he was more pleased to have won a race on the Nurburgring.
With new 3-litre Grand Prix cars in the first three places, the time-wasting 2-litre 1965 cars should really be put in museums.