The Merc's greater power – its advantage over the others has increased significantly since the end of last year – allows it to carry more drag and that power advantage is used to carry more wing. At the Austrian venue it was therefore faster through the high-speed sweeps of the middle sector, faster down the straights despite the higher wing angle and looked after its tyres better.
Despite the lower wing angle, the Red Bull was consistently faster through the relatively slow Turns Three and Four. There is something which allows it to change direction faster in slower, high-lock turns. But that something can also make it a bit of a handful and Max Verstappen and Alex Albon were regular slow corner spinners in the practices, just like last time.
But around the lap there was no contest: the Merc was just faster by a significant amount. This against a Red Bull which in turn finished almost a minute clear of the Class B battle. Albon is struggling to get on with the car's tricky traits, especially when it is heavily-laden with fuel. He fell back from the Hamilton/Verstappen/Bottas trio in the race's early laps by as much as 1sec per lap, once Bottas and he had passed the over-qualified McLaren of Carlos Sainz (as ever, brilliant in the wet and third-quickest there).
Merc's strategic pincer on Verstappen
So Red Bull was strategically fighting a two-car Mercedes team with just Verstappen. Once Hamilton had beaten Verstappen away from the lights, his day was set to be very routine, just rationing his gap out against the tyres, trying to go as long as he could on his softs so as to get onto the mediums (rather than the much slower hards) for the remaining stint.
Mercedes was confident of using Bottas (who had qualified only fourth, two behind Verstappen, with a glazed brake and a nasty snap out of the final turn) to apply undercut pressure on the Red Bull, forcing Verstappen to pit earlier than ideal, then staying out long so as to be on much faster tyres than him when he rejoined many laps later. So that only increased Hamilton's advantage over the Red Bull, by forcing it onto a less efficient tyre strategy.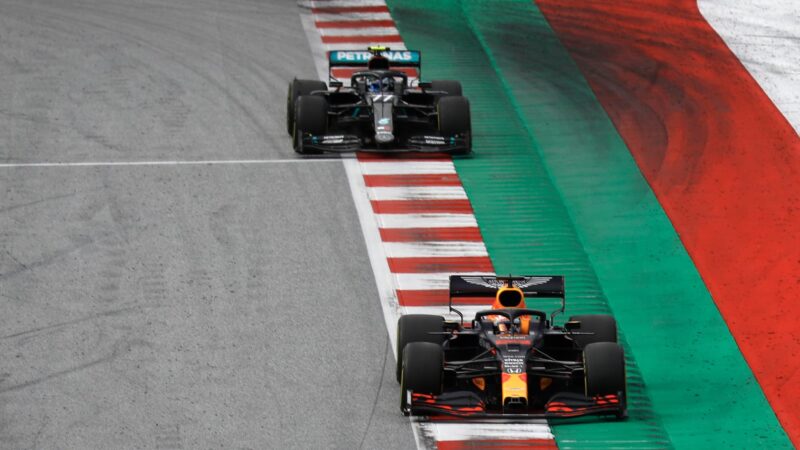 Had Bottas been able to arrive on Verstappen's tail earlier, it might even have forced Max onto hard compounds. But Valtteri was delayed getting there by two things – two laps of safety car to clear up the mess from the Ferrari collision (Leclerc hard into Vettel at Turn Three in a catastrophic misjudgement that took both of them out) and having to pass Sainz. So it made Bottas slightly later than planned arriving within Verstappen's undercut range (which is around 1.4sec here) which in turn at least allowed the Red Bull onto the medium tyre for the second stint.
After the stops Bottas emerged around 8sec behind his quarry. He was delayed by the dicing Gasly and Giovinazzi for over a lap but, once clear of them, quickly closed the gap and passed Verstappen after a lap of spirited resistance and retaliation from the Red Bull driver, with his old tyres and blistered left-front.
Track Temperatures
The Red Bull might have been a closer match for the Mercedes, could perhaps even have beaten it, had the race been held on the sort of scorching track temperatures seen on Friday when the Mercs were in serious trouble with the soft tyre. That was with the track at 53-deg C. But race day it was only ever in the mid-30s and the Merc's tyre problem disappeared.
Verstappen damage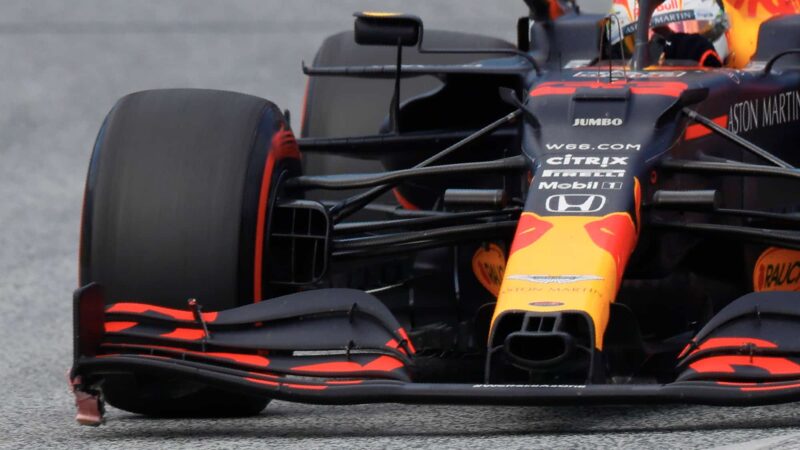 Somewhere around mid-distance Verstappen ran wide onto the Turn Seven 'punishment kerbing' beyond the routine kerbs. It ripped off the outer footplate of the front wing which became embedded in the barge boards and caused further damage to the rear wing endplate. This lost him around 10 points of downforce (around 0.2sec here). So he just kept getting slower. Even when he took advantage of the big gap behind him near the end to fit a new set of softs, he couldn't set the race's fastest lap. That had been delivered by Sainz's McLaren doing the same late stop as some consolation for a race ruined by a hefty pit stop delay with a recalcitrant wheel.
Things won't always be so easy for Hamilton.