'THE ARAMCO WORLD'S MOST EVIL GRAND PRIX' was almost a complete anti-climax, just for a second. 'When exactly are they going to crash on this death-trap track?', everyone seemed to be asking in the first few laps. Well after a short cease-fire, it seemed like the F1 field couldn't stop shuntin.
The carnage generated as much debate as the idea of having a race in Saudi Arabia itself did, which might ultimately slightly detract the from the fact that Formula 1 is only increasing, not decreasing, the number of races it holds in countries with horrific human rights records.
Still, better not let that get in the way of a good race, eh?
Here's what was what going up and very much down at the 2021 Saudi Arabian Grand Prix.
Goin' Down
Pressing the privileged human flesh
Formula 1 and the FIA have said that shining a light on countries with appalling human rights records by proffering motor sport's equivalent of the Dove of Peace – a grand prix, apparently – will help bring them out of the dark ages in this respect.
Well, if we take the example of Bahrain and Chinese Grands Prix, which have been held a combined total of 33 times, you might reasonably argue that civil rights in these countries has become a lot worse since the sporting equivalent of the UN rolled into town. Come to your own conclusions.
Still, doesn't make for particularly cheerful watching does it, seeing Stefano Domenicali and Jean Todt smarming around with a non-democratic ruler – Crown Prince Mohammed bin Salman – who allegedly orders the liquifying of journalists (amongst many, many other not so brilliant things).
Well, at least the Crown Prince looks chuffed. He's had his civil rights and eaten them.
Michael Masi's 'Deal or No Deal
Michael Masi seems to have lost complete control of the title fight, not helping himself but seeming to boil decisions down in Saudi Arabia to F1's answer to 'Deal or No Deal' in bargaining with Red Bull.
Rumour has it that Noel Edmonds is being drafted as guest steward in for the season finale in Abu Dhabi, conveniently doubling up on driver interviews (Blobby's handing out the trophies).
This would also make sense as the half-finished Jeddah Corniche development just came across as a poor man's Crinkley Bottom, quite frankly.
Slightly off British Racing Green with envy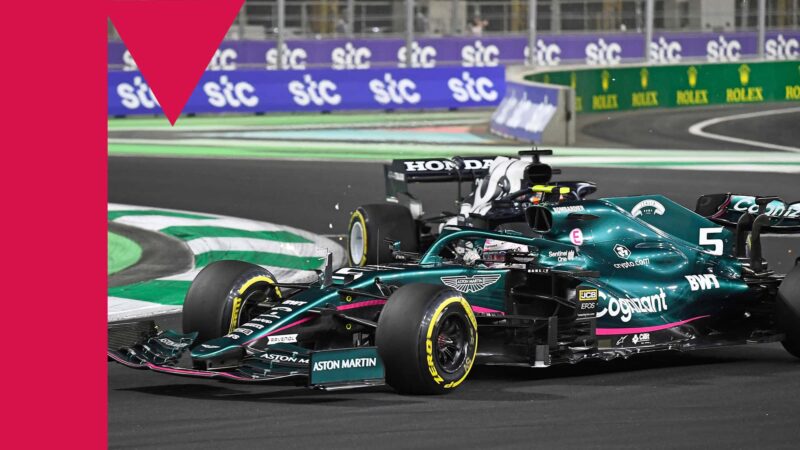 The Silverstone squad had a complete Corniche calamity – only faster than the Haas in qualifying, the advantage of being so hopelessly slow meant they only arrived at the scene of the various accidents in Jeddah two years after they had actually happened, managing to therefore steer clear of danger.
The upshot was that at one point both Astons were comfortably in the points, before they remembered they were rubbish again – Sebastian Vettel first towed the line by colliding with not one, but two cars to season the asphalt with very expensive carbon fibre, as Lance Stroll meanwhile slid quietly out of the points.
Otmar must be looking forward to leaving already.
F1 drivers' free pass
Lewis Hamilton as usual used his standing in sport and the general public's consciousness to draw attention to things that matter, such as F1 racing in a country with an appalling human rights laws.
But why were no other drivers (Vettel aside) questioned on this? As hugely wealthy athletes benefitting from the sport, their opinion is also valid and important for F1.
Just asking Hamilton in the main also belittles his position slightly, like it's a novel question to ask him but not worth it with everyone else.
Driving standards down
We understand this was a tricky circuit to drive to say the least, but at times on-the-road conduct seemed a bit lax.
"Did Perez forget I was there?" asked Charles Leclerc, quite rightly, when after running alongside each other, the Mexican bizarrely just decided to turn left, causing a huge pile-up.
Vettel and Räikkönen, a pair with 2 billion grands prix between them, then came together when there was a reasonable amount of road to use, and Verstappen…well, you know the rest…
Goin' Up
F1's smash hit
Nothing wrong with a bit of emotion. You get the feeling that Toto Wolff has now just decided to play up to being on camera constantly. Jos the boss was at it too.
Must be awfully boring for that cameraman who has to have his shooter trained on Toto all race-long.
Worth the watch
A season so captivating, even "Vernando" can't stop watching
The Vernando content we didn't know we needed 😬pic.twitter.com/Fsuc9Hku9O

— Red Bull Racing Honda (@redbullracing) December 5, 2021
Dude, where's my car?
Full credit to the optimism of Perez wanting his car back so he could get back into the soon-to-be restarted race after dumping himself into the wall. No dice though, Sergio.
Alfa Romeo
The real story of Jeddah was, as we know, the fact that a garage side that has seemed to almost wilfully mess up this year finally gave in and scored some points – and more than one!
After months of trying, Antonio Giovinazzi finally got into the points again with a magnifico 9th place.
The Yuki 500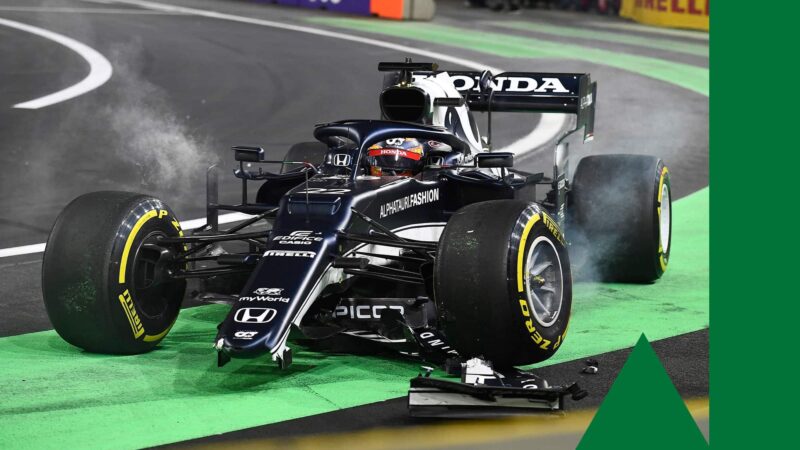 Yuki Tsunoda channelled the spirit of his countryman and two-time Indy 500-winner Takuma Sato by sweeping beautifully round the outside of Carlos Sainz at Turn 12 in Jeddah.
Unfortunately, he then 'mediumed' the other side of Taku – crashing a lot – by nosing into Sebastian Vettel at Turn 1 later, ruining both their races.