He's an interesting case study, Grosjean.
A relatively late starter in karting, the Franco-Swiss won titles at every level during his formative years – including the 2007 Formula 3 Euro Series, when his adversaries included team-mate Nico Hülkenberg (with whom there were some interesting mind games) and Sébastien Buemi. When he was promoted into the Renault F1 team during the summer of 2009, following Nelson Piquet Jr's sacking, he still had a part-time job in a Genevan bank – hardly conventional for racing drivers of the modern era, but another detail that sets him apart.
After himself being dropped at the end of that campaign, Grosjean admits he considered quitting the sport and enrolling for culinary lessons, to plan an alternative career in another domain he enjoys (he and Marion have previously collaborated on a cookery book, published in 2017). Competitive opportunities in the 2010 FIA GT1 championship (he was a race winner) and AutoGP (in which he became champion, despite missing several races) hardly looked like F1 career lifelines, but the faith of DAMS boss Jean-Paul Driot – and the offer of a free seat in GP2 – restored him to the mainstream. After winning the GP2 title in 2011, he was back on F1 teams' radars and ready to accept the rare commodity of a second chance.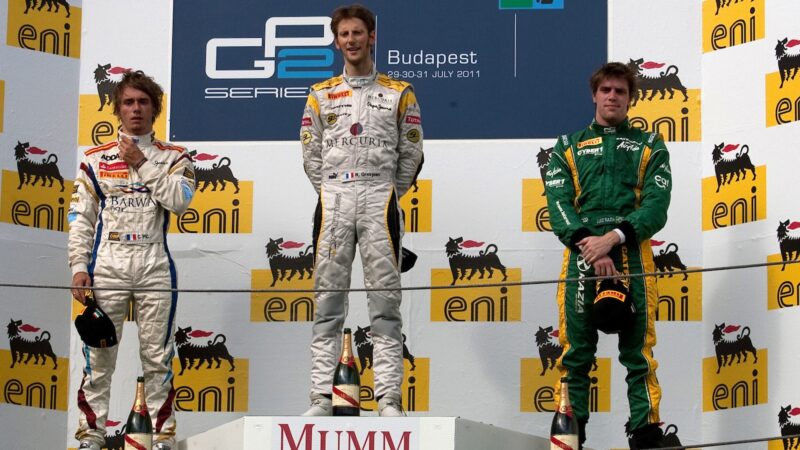 He didn't waste it. With Lotus (or Renault, or whatever it was called that week), he had a number of potential race-winning opportunities that went unconverted, sometimes through a cautious strategic approach on his team's part, but he netted 10 podium finishes – six of them in 2013. He obtained some strong results with Haas, too, as the newcomer punched above its weight during the early days of its new F1 initiative.
The Grosjeans relate the peaks and troughs of his career with good humour and include a few interesting asides – Netflix tweaking the chronology of certain events to create a stronger storyline for its Drive to Survive series, for instance – but we won't throw in any more plot spoilers.
The book concludes with his first steps into IndyCar racing, how he was taken aback by the bond between drivers (a band-of-brothers mentality long since extinct in F1), his decision to reverse an initial promise not to compete on ovals… and how Marion felt about that.
The title might be dramatic, but for the most part this is a charming series of essays about a devoted family man who happens to be quite handy behind the wheel, but who also emerged from a 67g impact – and concurrent fireball – with relatively minor injuries and a fresh perspective on life.
It's a good read and the English version – Facing Death – should be available from November 24.
---
La Mort en Face
Romain & Marion Grosjean
City Editions, €18.50
(French version)
English version expected to be available from November 24