Ferrari was slumping again, despite gutsy Chris Amon's often singular efforts in the aftermath of poor Bandini's grisly accident at Monaco, and not until persistent wooers Fiat injected money and stability in 1969 would it flourish – a relative term – once more.
Amon decided to leave after several failures in testing of the new flat-12. He was right that Cosworth's DFV was generally the better bet, but he must have been bemused as he continued without wins as Forghieri's sonorous masterpiece came good at the end of 1970.
The first piece of the puzzle, this was a big stride forward, but several faltering steps – including Forghieri's sidelining by the misplaced confidence of Fiat mandarins – still lay between Ferrari and consistent Formula 1 success.
171: The crowd has come to cheer local hero Jochen Rindt, on pole for the 1970 Austrian GP in the Lotus 72, but rookie Clay Regazzoni gets the drop from the front row, only to be passed on the second lap by team leader Jacky Ickx. The Ferraris finish 1-2 in this order, six-tenths apart – Ickx having led the remaining 59 – and shared fastest lap as they put 90sec into their nearest challenger. The potential is tangible.
Niki Lauda's arrival was a sea change – signalled by Ferrari's dumping of Le Mans. The Austrian was 1974's fastest, but neither he nor car nor team were yet ready to see it through.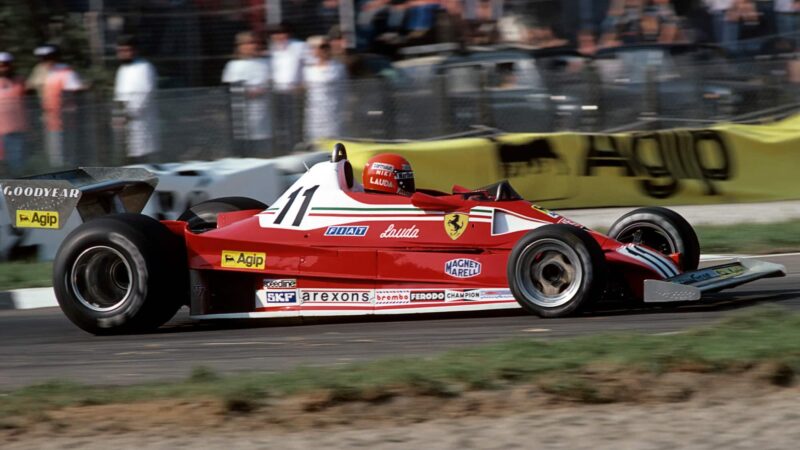 The final piece of the jigsaw was the rightfully reinstated Forghieri's transverse gearbox jewel of 1975: Lauda would win two titles and, with help from Michelin's radials, Jody Scheckter grabbed a third – in 301 admittedly – as ground effect threatened to suck Ferrari back under.
250: Lauda is seemingly cruising to a second title when his life flashes before him at the 1976 German GP. His treatment in miraculous recovery by Ferrari sours his relationship with Enzo; always feisty, it turns ugly. He wins the 1977 title almost out of spite, fires a crude verbal volley – that he regrets when finally he looks back – and slams the door. Scheckter is similarly driven and calculating by 1979, but not even he commands the Scuderia in the manner of Lauda. The long wait begins.
Ferrari reverted to type: the engine was all and Gilles Villeneuve – latest in the line of Enzo's beloved Garibaldini risk-takers – worked wonders to score a few albeit memorable wins in truck-like chassis'.
The injection of outsider knowhow by designer Harvey 'Doc' Postlethwaite united the best of both worlds in 1982 but this promise was unpicked quickly by selfishness, sudden death and self-destructiveness.
Nice guy Michele Alboreto – the first Italian to lead Italy's team since Bandini – gave epochal McLaren a run for its money for much of 1985, but the pressure was too great and the challenge collapsed in ignominious fashion.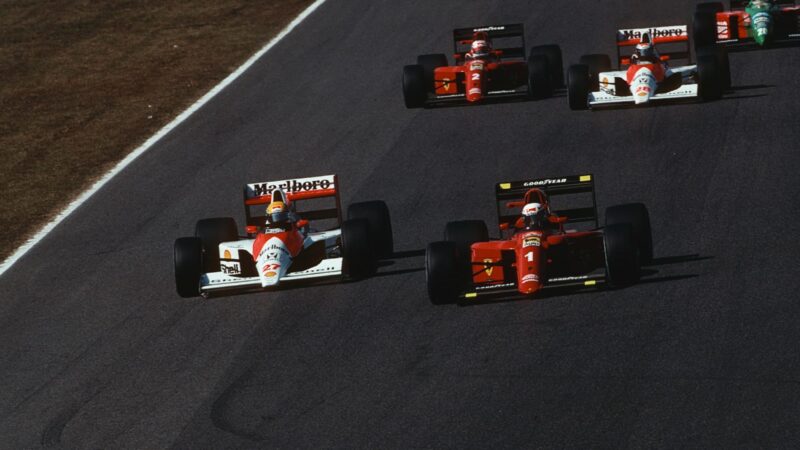 343: Patrick Tambay wins the 1982 German GP in the immediate aftermath of Didier Pironi's career-ending accident during untimed practice – his pole position lies echoingly vacant – and carrying the late Gilles Villeneuve's number 27. F1's innocence fading quickly, such emotion is becoming a point of weakness for Ferrari's operation in the short term but remains a major strength of its forever brand.
Gerhard Berger's tacking two victories to the end of 1987 proved a false eve and Enzo would not live to see the next win: an emotional 1-2 at Monza in 1988. The death of Il Drake was both a dark day and a golden opportunity.
Designer John Barnard – the man who put Guildford and Technical into GTO – handed Ferrari a paddle or two for 1989, and Nigel Mansell's early flight from Brazil had to leave without him. That victory, however, was a false dawn.
What Ferrari needed now was a Lauda 2.0
472: Alain Prost's five wins of 1990 had been Niki-esque – but inexplicably he leaves the door ajar at Suzuka and Ayrton Senna kicks it in. The subsequent icy draught of disappointment will be felt long after the Frenchman is sacked for speaking cold, hard truths in 1991.
How bad does it have to become before Ferrari is willing to listen? Give it another 170 GPs or so…