Assessing this 'GOAT' season judgement requires proper proportion.  The first 10-race F1 Championship season was not run until 1958, the first 20-race season in 2012.
The comparative rarity of qualifying rounds even into the 1970s minimised the chances for a Championship lead to swing to and fro. And yet it did, and several seasons saw many more drivers and teams share winning.
And consider the level of media focus upon Formula 1 until the 80s/90s. 'Focus'? Forget it. Grand Prix racing was a minority interest. Many in the media – most notably to a UK audience within BBC Sport – did not regard motor racing as a sport at all. Mass media coverage was modest, unless some awful tragedy had occurred when the hacks relished the horror…
So what years could compete for the greatest F1 season of them all? Discounting the last-race dramas of years like 1956, when the deciding Italian GP saw Peter Collins surrender his chance of the World title by handing over his Lancia-Ferrari to team-leader Fangio to clinch the fourth of his five drivers' championships, there are some serious candidates.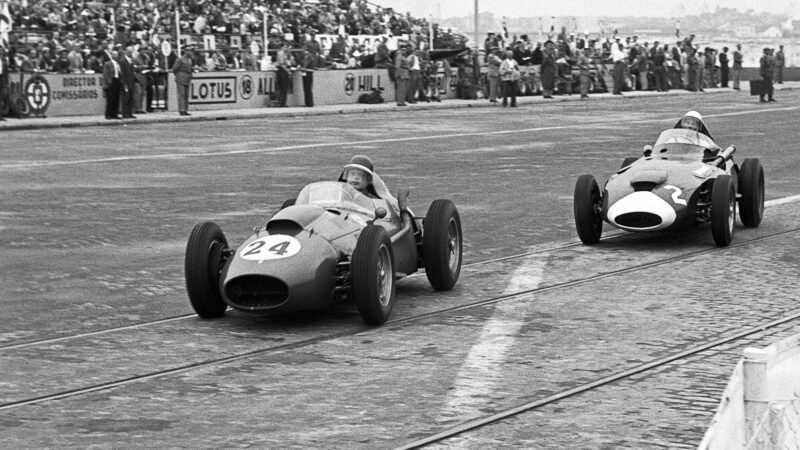 Had 21st century media coverage existed in 1958 that would have been a fabulous season. British-green Vanwalls driven by Stirling Moss and Tony Brooks duelling with compatriots Mike Hawthorn and Peter Collins in their red Italian Ferraris. Vanwall stayed away from round 1 in Argentina. Moss arrived there with a tiny 1.9-litre rear-engined Cooper entered by privateer Rob Walker, and outfoxed the shiny new fleet of three 2.4-litre red works Ferraris to score a landmark win – the first for a rear-engined car.