Was Russell's Barca performance one of the great defensive drives? – Up and down in Spain
Exploding Ferrari engines, incredible defensive drives and Sainz in the gravel – there was much to mull on in Barcelona
A Spanish GP that was roundly predicted to be a stinker turned out to be an almost-classic – if you were watching it from the comfort of your own home, at least.
Heroic defending from George Russell, Ferrari engines going kaput and a Toreador under pressure – there was plenty going up and down at Circuit de Cataluyna.
Goin' down
Depressing Sainz
Things are going from bad to worse for Carlos Sainz – could the Ferrari have troubled Red Bull for the win had he not put the Cavallino in the kitty litter?
You don't see Charles Leclerc just chucking it off the road. Well actually, you do, but you know what we mean. The Monegasque is there when it matters, seems like the Spaniard never is.
Powerless unit
What should have been an easy, easy win when the Bulls look befuddled slipped out of Leclerc's grasp as his PU failed when the Ferrari was half a minute out in front – now Max Verstappen has the championship lead.
The same happened for Valtteri Bottas in FP2, as cars struggled for cooling in the blistering Barcelona heat. After the initial despair on raceday though, Leclerc didn't seem unduly worried, as explained by Mark Hughes.
Baked alive
Circuit de Cataluyna gleefully announced a record sell-out crowd for this weekend's race – but didn't seem prepared for the F1 hordes when they descended, with the championship releasing a statement saying the situation was "unacceptable".
Limited food concessions, water fountains and toilets left spectators to fend for themselves in temperatures regularly north of 35°C. After this joyous experience, fans were then trapped for hours in traffic jams leaving the circuit, whilst the Montmelo train station couldn't cope much better with capacity crowds funnelling through.
If you've visited the track, you'll know some of the facilities are not the best – as pointed out by Ted Kravitz, the hand dryer in the media centre toilet had been out of action for about a decade and a half until recently…
Shaky Schumacher
Guenther Steiner warned Mick Schumacher pre-race there was a queue of drivers waiting to take his Haas seat if he didn't start matching team-mate Kevin Magnussen's point-scoring pace.
It looked as though Guenther might have lit a fire under his young charge – almost literally when his VF-22 went full-conflagration in FP3 – as he came back from the almost-terminal blaze to claim a first-ever Q3 appearance.
It all went downhill from there though – the American squad plumped for a two-stop strategy, which turned out to be the one not to be on, as Schumacher slid ignominiously out of the points.
Goin' up
Russell Wall
Proving that he's just as good stopping himself from going backwards as he is going forwards, an incredible defensive drive from George Russell kept Verstappen at for many a lap – although admittedly the non-compliant Red Bull DRS slot was flapping like a letter box in a tornado.
The fight had shades of Alonso vs Hamilton from Hungary last year, one of the ultimate defensive drives, but one which ultimately ended with the latter passing.
With the W13 seemingly improving, will we see more of Merc in the mix?
Vomit comet
Lando Norris looked sick as a parrot in Barcelona, later confirming he had tonsillitis.
The McLaren man had salt rubbed in it when a qualifying time easily good enough for Q3 was deleted, meaning he started in 12th, but summoned his inner Fuji 2007-spec Mark Webber to battle back and claim an impressive eighth in the end.
Bot Bot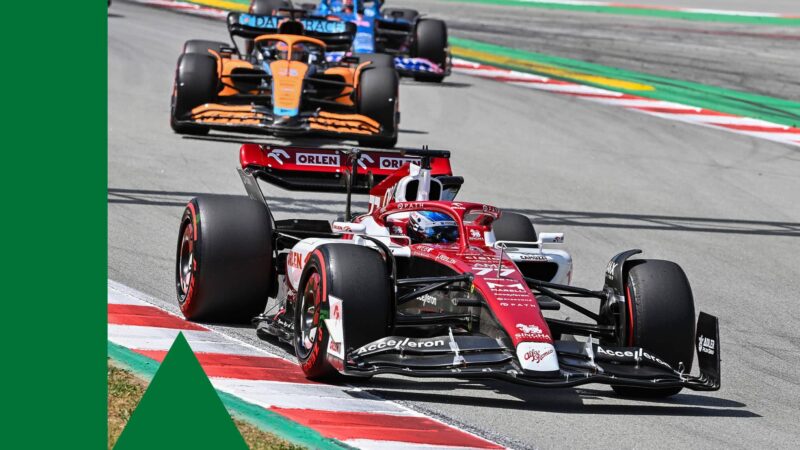 Not only has Valtteri Bottas managed to sell prints of a nude picture no-one wanted to see for charity (even Lewis Hamilton has said he'll buy one), but the Alfa Romeo driver once again appears to be the class of the midfield.
Sixth in Barcelona and getting in and around the Ferraris and Mercedes at times – the Finn is loving his new lease of life.
Ocon on the door
The other 2022 star performer no-one predicted was at it again in Barcelona. Esteban Ocon took his Alpine from 12th on the grid to seventh, therefore grabbing some more handy points.
The Frenchman is justifying his place in the team more and more by every race.