The only British 'King' of Pikes Peak wins again — and has overall record in his sights
Robin Shute claimed his second Pikes Peak win last weekend, but the British engineer is already planning next year's entry — and how to break the overall record of the world's most extreme hillclimb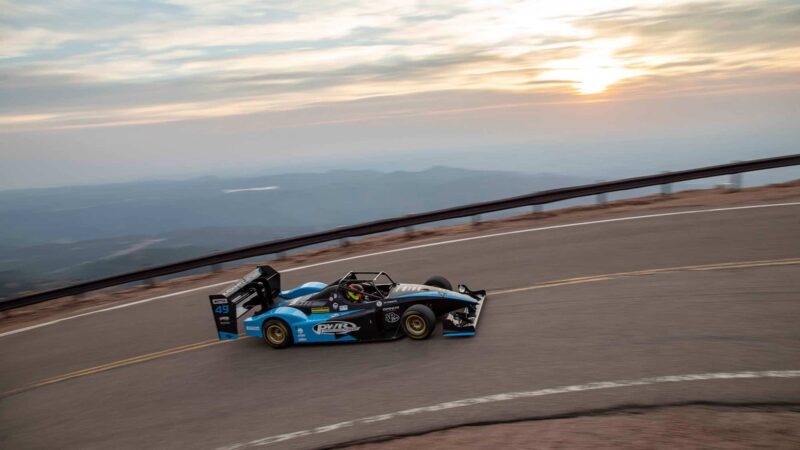 Only one British racing driver has scored an overall victory on four wheels at the Pikes Peak International Hill Climb – and now he's done it twice. On Sunday, Robin Shute added a second King of the Mountain title to his first earned back in 2019, driving a 550bhp Wolf sports racer to a mark that was a whopping 36 seconds faster than his nearest competitor, two-time Le Mans winner Romain Dumas.
California-based engineer Shute, who hails somewhat ironically from famously flat Norfolk, is an amateur racer entirely dedicated to the great event at Pikes Peak, the Colorado mountain that has hosted its fearsome climb since 1916. His TSC Motorsport team runs its Wolf GB08 TSC-LT in the Unlimited class and after missing the race last year has added a great deal of performance in an attempt to break the mountain's rear-wheel drive record. An extended tail and further developments bolted an extra 50% more downforce to a car powered by a Mountune USA-developed 2.1-litre K-series Honda turbo engine, running on Pirelli racing tyres. The RWD record of 8min 37.230sec up the full 12.42-mile, 156-corner course was firmly in Shute's sights for the 99th running of the 'Race to the Clouds' – only for bad weather to scupper his hopes.
"There was snow and ice at the summit, so the race finish was brought down to Mile Marker 16," Shute tells Motor Sport. That reduced the length of the course to nine miles, on a road that has been fully paved since 2011. The hard-top has entirely changed the nature of Pikes Peak since the halcyon days of Ari Vatanen and his famous Climb Dance film that captures so evocatively his 1988 winning run in a monstrous Peugeot 405 T16. But clearly the road is faster now than it was on the loose, and the sheer drops off the side are no less deadly.
Reflecting on his victory on Monday night, Shute appears to take as much satisfaction from the context of the victory as he does from the race run itself. "The car only arrived to us on the Wednesday before race week so we had a mad panic to get it built," he said. "We then had an engine issue and the first we installed had to come back out. A fresh motor had to be driven from California at 2pm on a Friday afternoon and it arrived at 3pm on Saturday. We dyno-tested from midnight to 4pm, then got the rest of the car together and headed to the track for a shakedown that evening. It was a pretty monumental achievement."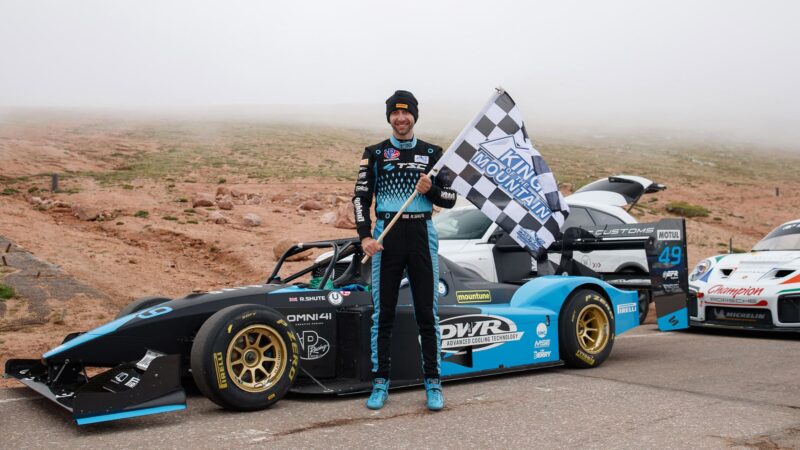 Pikes Peak is a cherished American jewel of stunning natural beauty and the road is open to the public. Divided into three sections for the race, drivers only get to practice each part separately in the week leading up to the race – and have just a single run on the Sunday to put it all together. "We had a really good practice week and all the new bits on the car worked out as expected," reports Shute. "We had a few challenges with a couple of mechanical issues, then qualifying ended up being wet for us. Even in the wet we beat Romain. The other qualifying group qualified in the dry, but we were still able to be fourth overall and only about three seconds off pole position. Not bad."
In truth, Shute knew his Wolf had a significant performance advantage over his rivals. Dumas holds the overall Pikes Peak record, set in Volkswagen's remarkable ID R electric-powered special in 2018, at an astonishing 7min 57.148sec. But this time he was in a more conventional – if still steroidal – Champion Porsche 911 GT2RS Clubsport running in the Time Attack class. Then there was two-time winner Paul Dallenbach in his open-wheel special and another double champion Rhys Millen, son of Pikes Peak legend Rod, in a Time Attack Bentley Continental GT3. Shute was literally in a different class.
"The bottom was running really fast, the track was a good temperature and I had a lot of grip," says Shute of his race run. "Then as we started to get into the weather the Tarmac was cooling down and giving up grip. The mid-section became harder and then once I got to the top I drove through some fog, came out the other side and it was a winter wonderland! The finish line photos are in a wintery landscape.
"Our biggest mistake was I forgot to put the oxygen supply on," – over the full 12 miles drivers climb 4720ft to a heady altitude at the finish of 14,115ft – "so I was huffing and puffing my way up the mountain. It was really physical and hard work, and it was a conscious effort to breathe. That was a distraction and there are another couple of seconds to be found there."
His winning time over the nine miles of 5min 55.446sec left him well clear of Dumas, but did he expect the gap to be that big? "Yeah, I did," he asserts. "I knew what was in the car and that we had a good run in us. Myself and Rhys both had a good bottom section, and Romain looked like he struggled a bit down there because he was at a similar pace to qualifying when it had still been a little wet. Then Rhys had an issue in the final section when he blew up his carbon intake and lost his turbo boost.
"The biggest challenge for me was I hadn't driven the bottom section in the dry and the last time I was in a race car was two years ago when I won Pikes Peak for the first time, so there was a lot of learning for race day. But we put in a really good first two sectors. I think we were probably up on Sébastien Loeb's time [from 2013] in the first two sectors, or at least within a second, so the car is at a point where it's as fast as his Peugeot 208 T16 [which set a new record that year of 8min 13.878sec]. The top section is so rough we lose about 10 seconds up there, but we hear it might get repaved for next year."
With that in mind, plus some more goodies to add to the Wolf's performance, Shute is even looking beyond the RWD record towards Dumas's overall ID R mark. "It was really nice to prove the performance potential of the car," he says. "Although we didn't get the numerical result we wanted or the financial result – there's actually quite a lot of money at stake for going under eight minutes, which I think we would have done – it's looking good for the 100th running in 2022."
Gallery
Robin Shute's 2021 Pike's Peak victory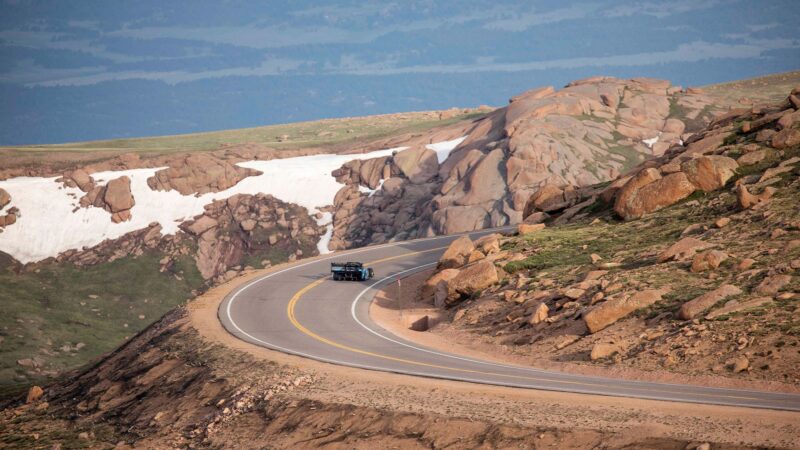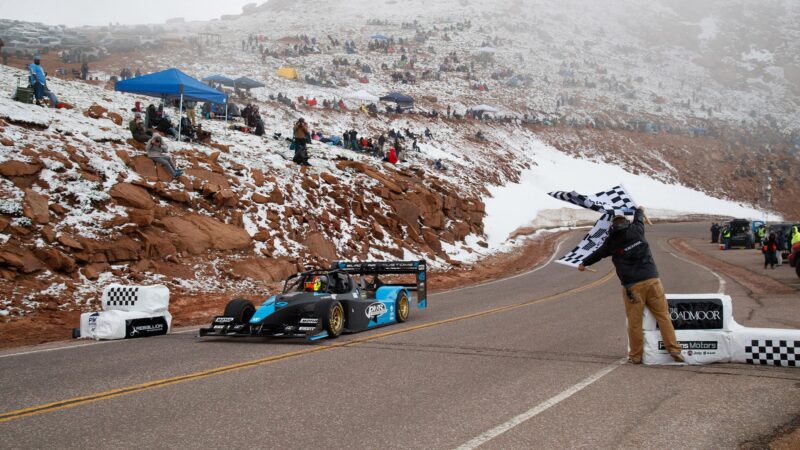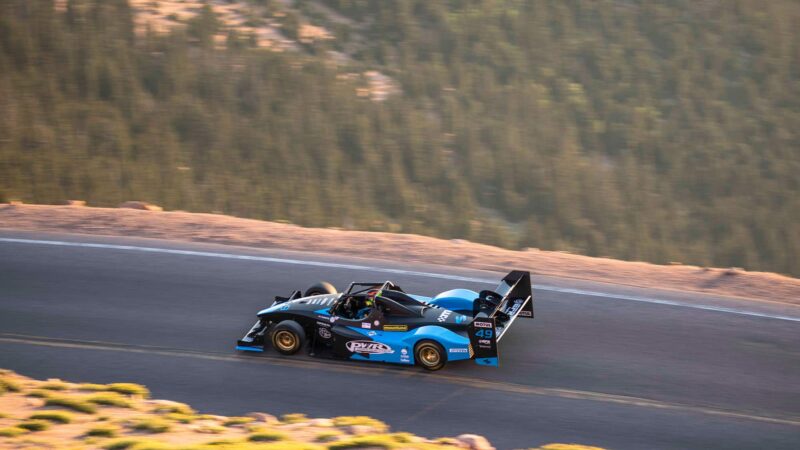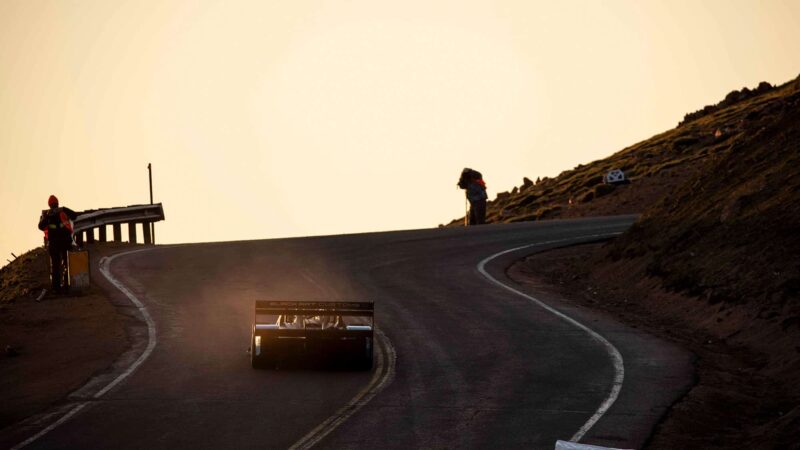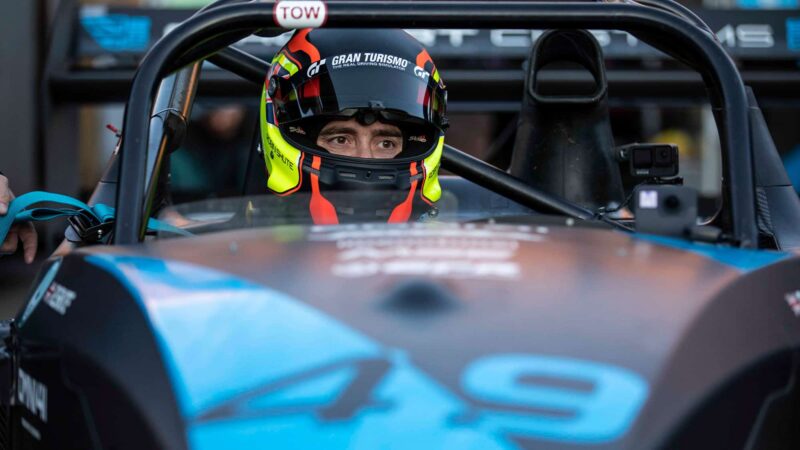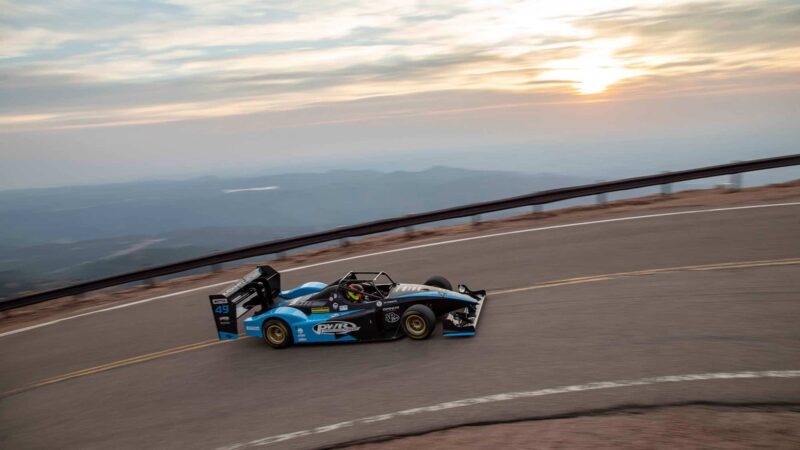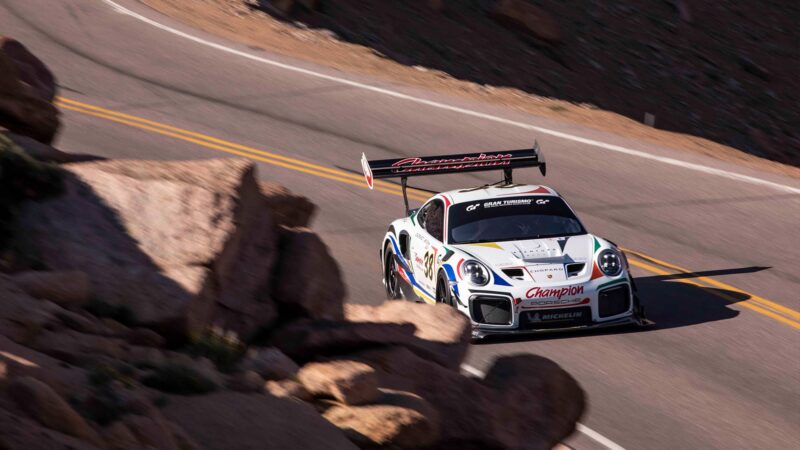 But next year he wants some competition. "I had a good chat with Romain at the top of the hill and tried to encourage him to come back with his Norma package [with which Dumas won Pikes Peak on three occasions before his famous run in the electric VW]. "It would be great to have him there for the 100th in something competitive. He had a sit in my car and he appreciated that. The same with Rhys as well. We had such different cars and programmes it was good to share. There's a good camaraderie between all the drivers."
As for the rest of this season, Shute says he might appear "in someone else's car" at Shelsley Walsh, but all his focus is on Pikes Peak this time next year. It would be great to see the car at the Goodwood Festival of Speed – perhaps for a tilt at Dumas's record in Sussex too – but that's unlikely for at least a few years. Unless someone pays to fly it over…
Pikes Peak has become an obsession for this son of long-time Lotus employee Tony Shute. The mountain is an awful long way from Robin's Norfolk roots, but he's driven to leave his mark on the climb. "We're in the best position to put more speed in the car," he says. "There's a lot more to come."