Ferrari still faced its troubles though. The second No51 499P was in the wars, Britain's James Calado having crashed on cold tyres during the Prologue test that preceded the WEC opener. That Turn 1 shunt meant a replacement monocoque had to be built up for the race meeting, only for Alessandro Pier Guidi to collide with a pair of GTE Am cars in the sixth hour of the contest. The resulting suspension damage meant a long visit to the pits, although the car did return to finish 15th overall and seventh in the Hypercar class.
Ferrari has consciously avoided hiring a cast of superstars for its high-profile campaign, remaining admirably loyal to the GT exponents who have carried it this far in modern sports car racing. Only ex-Alfa Romeo F1 driver Antonio Giovinazzi has been drafted into the two-car squad from outside the 'family', the Italian lining up with Pier Guidi and Calado. But the trio who finished third in No50 are relatively unknown outside of the world of GT racing, Italian Fuoco being joined by Spaniard Miguel Molina and Dane Niklas Nielsen. There's some irony that it was the two best-known drivers, aside from Giovinazzi, who made the big mistakes in Sebring. Whether that policy of sticking to tried and trusted internal talent will pay off in the long-term remains to be seen. It's up to the GT graduates to prove they are worthy of Ferrari's faith – but the decision also ensures the car is very much the star, which wasn't always the case when F1 'Galacticos' have been hired by sports car teams in the past (see Fernando Alonso at Toyota during the LMP1 days, for example).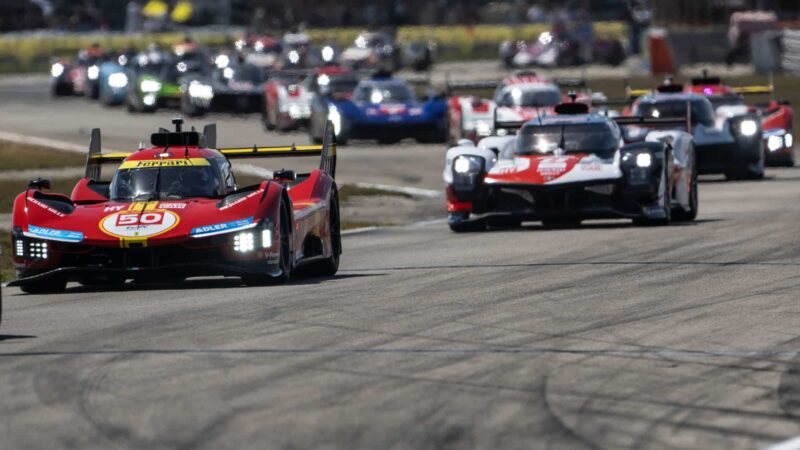 "We surpassed the goals we had set ourselves, considering that we wanted a podium finish, and to this we added a splendid pole position," said Antonello Coletta, the satisfied head of Ferrari's Attivita Sportive GT department. "We are happy and at the same time aware that we have a long way to go. In the championship, we are up against some highly experienced and quick opponents and others who have recently entered the Hypercar scene, like us, but just as fast." He also mentioned his team's lack of "reliability problems."
To be fast and largely problem-free – that's always the goal. Just ask Porsche and Peugeot, both of whom found the going tough at Sebring – particularly the latter. Was it the infamous Sebring bumps that unsettled the wingless 9X8? Whatever, Peugeot looks to be in a world of woe on the back of the opener. But perhaps it will be a brighter story when the series returns to Europe for the second WEC round at the Algarve circuit in Portimao next month.