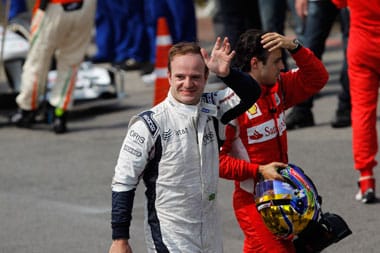 It will be sad if we have seen the last of Rubens Barrichello in Formula 1. For the category's most experienced competitor is also its most engaging.
Unashamedly emotional, his tears have rolled genuinely in victory and defeat, and at numerous other occasions betwixt, yet he displayed commendable stoicism whenever he was shackled at Scuderia Schumacher.
And it was only two seasons ago, remember, that he proved that he could still win given a competitive car.
The fear that his Brazilian send-off – if that's what it proves to be – might fall flat given his refusal to bid farewell was a misreading of the situation.
The Interlagos amphitheatre has been in a Latin fomentation since bowsers hosed it down in the early 1970s, the Paulistas' support for its own unswerving and vociferous, and laid over a samba beat. Nothing was going to change that. This was a celebration. A party. If 'Rubinho' returns next season, they'll hold another one. If he doesn't, ditto.
But might that rhythm miss a beat one day soon?
Brazil's F1 victory count has been stuck on 101 since Barrichello outperformed his Brawn GP team-mate Jenson Button at Monza in September 2009.
Who will make it 102?
Felipe Massa has the pressure – from within and without – of knowing that 2012 will be his last chance at Ferrari. And I fear the worst for him.
Bruno Senna has the potential, personality and peerage to squeak the second Lotus seat next season. But does he have the ultimate speed and smarts? His racing education, understandably placed on hold after the death of his uncle, has left him with much ground to make up.
Luíz Razia (above), who has flashed occasional promise in GP2, replaced Jarno Trulli at Team Lotus during the first Friday practice at Interlagos, and was a fraction more than a second slower than Heikki Kovalainen.
Teenager Felipe Nasr, probably the next big hope, won this year's British Formula 3 Championship. He did so by a large points margin, but without displaying that indefinable something that marks out young racers with the ability, tenacity and mentality to be mainlined directly to F1 in the manner of Nelson Piquet or Ayrton Senna.
Nasr's compatriots, Pietro Fantin and Lucas Foresti, also scored poles, wins and fastest laps in this hothouse of future racing talent in 2011, but lacked consistency.
There is a very real sense, therefore, that Brazil might soon have no figurehead to Ordem e Progresso its F1 challenge.
There has long been an aura about Brazilian racing drivers. The whey-faced among us feel expectation and jealousy rise in equal measure when we read that insouciant Pedro from Ipanema is about to light up a wet and woolly Snetterton. Sure, he's never seen the place before, has little experience of driving in driving rain, but he will start as favourite, partly because he isn't called Nigel and doesn't hail from Hall Green.
But it is not as straightforward as some have made it appear. Mario Haberfeld (1998), Antônio Pizzonia (2000) and Nelson Piquet Jr (2004) won the British F3 title yet made little or no positive impact in F1.
There is no divine right. The next generation will just have to dig in and tough it out – like pioneering Chico Landi did.
Born Francisco Sacco Landi in São Paulo on July 14 1907, this dyed-in-the-wool racer – small and slight, and sporting a Flash 'Arry 'tache – became the first from his country to start a World Championship Grand Prix.
At Monza 60 years ago, his on-loan, patriotic yellow-with-green detailing Ferrari 375 failed to complete a lap before its transmission failed.
He would contest five other such races, all in Maseratis, and conclude them with a distant fourth at the 1956 Argentinian GP in a 250F shared with Italy's Gerino Gerini. These are the first 1.5 World Championship points scored by a Brazilian.
This, though, was the tip of the iceberg of a remarkable career that began in 1934 at the wheel of a Bugatti T37A, and ended with a third place alongside son Luiz and Antônio Castro Prado in a Ford Maverick V8 at the 1973 Interlagos 25 (sic) Hours.
Steady and unflurried, Landi (below) possessed neither the skill nor enjoyed the overseas impact of Argentina's Juan Manuel Fangio and José Froilán González – no disgrace in that – but he did beat them to the European punch by winning the Bari GP in May 1948. In doing so he registered the maiden Formula 2 victory for Ferrari, in Scuderia Besana's 166SC.
Behind him that day were the Cisitalia D46-Fiats of Felice Bonetto and Achille Varzi, established stars both, and the works 166SC of Tazio Nuvolari. The latter, already coughing his way to an early grave, was forced to hand over to Franco Cortese. Also defeated were retirees Alberto Ascari, Luigi Villoresi, Nino Farina and Piero Taruffi.
Landi's performance, rightly, was big news, and a major boost for Brazil's burgeoning yet still insular racing scene.
The development of Interlagos had been vital to his progress. He finished second in its inaugural São Paulo GP of May 12 1940, his 3-litre Maserati defeated by Arthur Nascimento Jr's more powerful Alfa Romeo 8C-35, but went on to win a host of races there in pre- and post-war single-seater Alfa and Ferrari.
Also, in 1960, he shared a landmark Mil Milhas Brasileiras victory with Christian 'Bino' Heins in a locally built, FNM-badged Alfa Romeo 2000 coupé.
Landi was important out of the cockpit too.
He attempted to introduce Formula Junior to his country, and co-built with Ottorino Bianco Brazil's first single-seater. It looked like a 'sharknose' Ferrari, and met with death and disaster in 1963.
He had a more beneficial effect as Interlagos' administrator after the track had lost the Grande Prêmio in 1981, and for the forseeable future, to Rio's Jacarepaguá. The latter was blander but closer to form-man Piquet's family roots, and less bumpy – a deal-clincher for drivers of F1 cars with rock-hard rides.
The tireless Landi helped to unravel Interlagos' structural and procedural problems and, eventually, its circuit diagram. The original 4.9-miler was rare in that its convolutions always befuddled at first topographical glance. The revised version was more manageable – less of a schoolboy Scalextric fantasy – at 2.7 miles, yet retained its character.
The race returned to its spiritual home in 1990, by which time Landi's ashes had been scattered at the track. He had succumbed to a heart attack in June of the previous year.
Barrichello's reluctance to walk away smacks of that same spirit, of a greater love for the sport than for the win. There's no harm in that. But pending win 102 is pressing. It might yet be Brazil's most important since Emerson Fittipaldi opened its account in 1970.
Never humdrum, yet reflective now that the drums have fallen silent: that's where F1's historically most exciting nation is at right now.