"To race in F3 you needed to go through the Italian federation school to have a licence. Fortunately, I was one of the best young drivers of 1983 and they selected eight drivers for the final at the end of the year at Misano. At this time there was Nicola Larini, Alex Caffi, a lot of young, talented drivers – and nobody knew me because I'd never raced cars, I was coming from go-karts. I jumped in the car and I was the best one, so they selected me as the best of the young Italians. The Italian federation helped me a lot, also at Imola in 1987 when I made my Formula 1 debut because they paid for the car Osella ran for me. The team was running only one car, for Caffi, but the Italian Federation paid for an extra car just for this race. They also paid for me in F3000, so I received a lot of help from them, a little like the Elf scheme that helped the French."
What are your memories of Imola in 1987?
GT: "Again, it's a very strange story. We qualified 27th and at this time only 26 cars were allowed to enter the Grand Prix. Everyone at Osella knew the car was very old, it was impossible. But Nelson Piquet had his big crash, at the same point at Tamburello where Senna would die, and the doctors said he could not race. Because of his accident I was allowed to race in the GP, even if I was very slow and the car was not able to finish."
It was a half-hearted debut, wasn't it? But to race as an Italian at Imola must have felt very special.
GT: "I never dreamed to be in Formula 1 when I started karting and I was thinking this would probably be the first and last for me, because I didn't have any sponsors. I came from a normal family. I was thinking that's it, so I enjoyed this race. But I was really unhappy with Enzo Osella because he gave me an old car. Many years later he came to me to say sorry for this race. He received a small quantity of money to take a car from a museum probably to let me enter."
Your F1 career lasted years, but always in cars at the back of the grid. It must have been so frustrating knowing you were better than that.
GT: "It was a hard moment to be in F1, especially with pre-qualifying. Mentally it was very hard because you had to survive pre-qualifying just to make it to qualifying. Some years there were 40 cars. It was very hard to get on the grid. I was always driving for a small team so just to be on the grid was my target. It was hard for the sponsors because it was like you didn't exist. Even your passes were provisional, for one hour. If you miss the pre-qualifying you go home. If the journalists, media, sponsors came to the grand prix they did not see you. But I always enjoyed my small teams with a target to be on the grid, except my last year with Fondmetal [when he retired from every race bar one]."
Every now and then you still managed to shine. You scored a point in Mexico in 1989. But did you lose heart?
GT: "My first season with Coloni was difficult but at some tracks we put the car on the grid. I never scored points, but once I finished eighth [he started five grands prix that year, finishing eighth in Canada] – although points then were just for the first six positions.
"The best car to race is a touring car. It's like boxing "
"The next year I made a strange deal with First Racing that never appeared in F1, so I replaced at AGS Philippe Streiff who had a big accident in Rio [Streiff was paralysed in a pre-season testing crash]. For the first part of 1989 it was the most competitive car I drove, even if it was the 1988 car. I was surprised how good it was and the first part of the year was very good for me. In the first qualifying session in Monaco I was fifth and I had a good race until I had an electrical problem. I could have been on the podium in this race. But from then on it got harder and harder because the team was very small, the money didn't come. I probably spent too much time at AGS."
You were part of a rich generation of Italian drivers whose surnames all ended with an 'i'! What was the rapport like?
GT: "I think the maximum was 13 or 14 Italian drivers in F1 [there were 15 in 1990]. It was very tough to have the space in the media and to attract sponsors. But we had a very good time. We shared everything, we travelled all together and spent a lot of time together away from the races. I have really good memories of holidays and still have some good relationships from that time. I was close to Larini, Nannini and Riccardo Patrese, but the closest one was Larini."
Touring cars gave you a profession, a career. Did you realise F1 wasn't going to happen for you?
GT: "I started saloon car racing for money, to be honest, because the money for me in F1 was only very small. The first time someone offered me money to race a saloon I jumped at it. Then, year by year, I enjoyed it more and more. I always say that the best car to drive is an F1. It can give you an extraordinary feeling on the track, so fast in the corners, so late on the brakes. But the best car to race is a touring car, because the fighting is very different. From this time I started to enjoy the racing, without a lot of stewards! There was a lot more action than now. It's like boxing. You are always close to your opponent."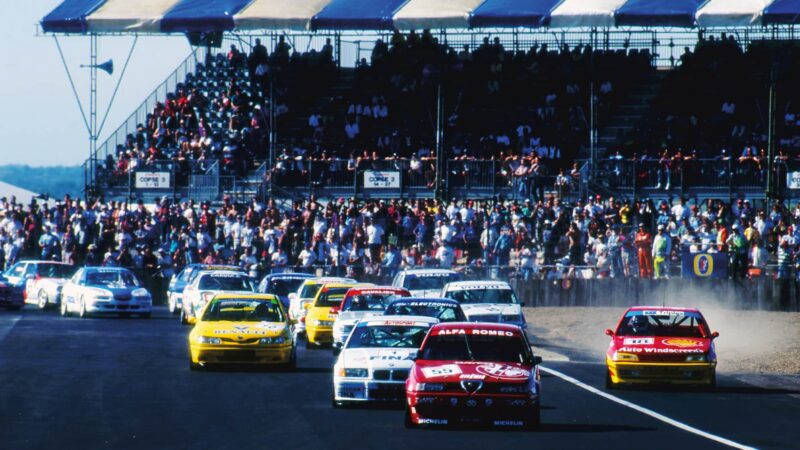 But as our readers will remember, there wasn't much fighting on track in 1994 when you came to the BTCC with Alfa Romeo and dominated. And there was a lot of controversy with aero parts raising the game…
GT: "My first championship I won in cars was the BTCC and this title I can compare to my world title. At this time, the BTCC was the best championship to race in. I remember in 1994 there were 10 different cars and manufacturer entries. The level of drivers was unbelievable. If I must choose one title I always have a big fight between my world title in 2009 and the BTCC, because I have very good memories.