Formula E: Crossing the virtual divide
Formula E's esports innovations have caught Allan McNish's eye and he can see the potential for real-world racing changes
With just about every sport worldwide on hold because of the ongoing coronavirus pandemic, motor sport is fortunate in one sense that it can keep going in a different format – through esports. Of course, in recent years it has been growing anyway; it's not as if it's just started in the last few weeks, but now with real racing unable to take place it has taken centre stage.
As with a lot of different things, because of the pandemic, the push to go sim racing has had to accelerate a bit across the board. And now Formula E has its online racing series, the Race at Home series, where, much like in real life, the fans can tune in on a Saturday afternoon to see how their favourite drivers and teams are getting on.
The bonus in this virtual racing is that it is all done for a great cause as Formula E has partnered with UNICEF.
Motor sport is very much about the fans, and this approach has always been clear in Formula E as well. If you think back to Fanboost, or attack mode, they are designed for fan engagement in one way or another.
With this online series, it's a continuation of that philosophy in some ways. There's a lot of social media activity around it, people following their favourite teams and drivers as if they were actually racing in Hong Kong or wherever.
When I watch it, I get into it with the same sort of feelings of "come on Daniel [Abt]" or "come on Lucas [di Grassi]", messaging with some of our guys in the Audi Sport ABT Schaeffler team and generally engaging in the competitive element of it all. But I still find it slightly odd messaging the drivers, saying "are you ready, boys?", knowing that they are sitting in a simulator in their room, nowhere near anyone, but representing the Audi brand in the virtual world.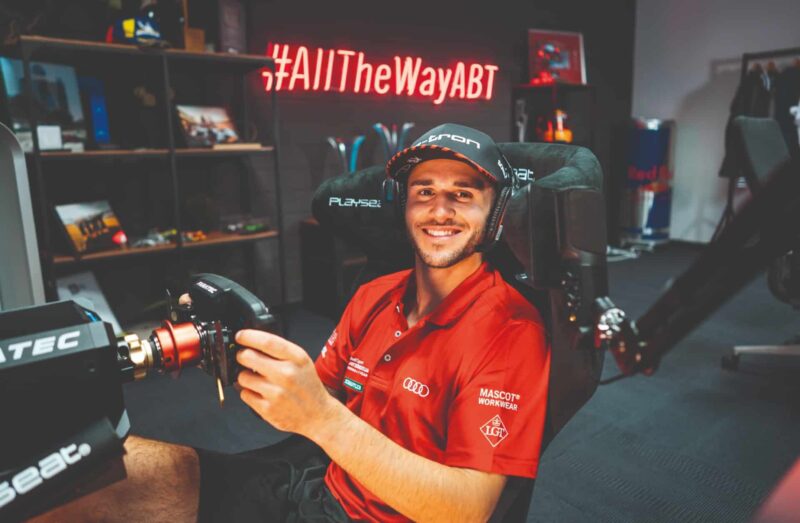 There have been some interesting innovations as a result of the Formula E esports series. I think the main thing that is earning fan interaction is having non-racing drivers compete as well. I quite like that.
Another thing I find appealing is the idea that after a certain number of laps, the last car automatically drops out of the race. I think that is an interesting concept. I'm sure that could come up in discussions of Formula E regulations in the future. There have been a few curveballs in the past, and that format is likely being watched closely right now through the online races.
Any skillset is tuned and honed through lots of experience, whether that's in a racing car or virtual racing. The two can crossover; Daniel and Lucas already have to do a hell of a lot of work in the sim, but that's for a slightly different job. It's to develop the car and improve the performance of the car, not to race against each other. That's what they do on the circuit. From that point of view, they have to be the bridge between the virtual world and the real world, but with a completely different goal in mind.
The skillsets are slightly different, but there's no question there is a crossover point. What I've seen so far is that the generation that has grown up with video games from age three or so are more attuned to it; for them it's almost instinctive.
For those learning it later in life it's obviously a bit harder, but there are some examples of older drivers who have really embraced esports and feel some of the same sensations that they do when they are doing the real thing.
Right now, esports is part of our maintenance of Formula E while we are under this 'red flag' situation. Maintaining some sort of communication and interaction with the fans while it's unclear when we're going to restart season six is extremely important.
Clearly, we are racing people and we want to race. But we are all very aware there's a bigger picture at play.
When we return to racing, we've got to tread carefully. The news of the New York and London races being cancelled was disappointing, but we understand the reasoning because both of those venues are essentially being used as hospitals now.
I don't think there's anyone in the paddock that would think motor sport should take priority over the health of the people in New York and London. How the remainder of season six is going to play out, I honestly don't know yet