1973 Argentinian Grand Prix race report
Lotus win a classic race
BUENOS AIRES January 28th.
THE 1973 Grand Prix racing season opened, despite all the recent squabbling, with a classic contest at Buenos Aires Municipal Autodrome in late January. It was the kind of battle packed with intrigue and excitement, which surely made every one of the 100,000 plus spectators resolve to come again next year. Isn't that what motoring racing is all about? When the chequered flag dropped at the end of this long, gruelling, 96-lap, two-hour Grand Prix, the man and car that flashed under the chequered flag was familiar enough—Emerson Fittipaldi in Cohn Chapman's John Player-sponsored Lotus 72.
What had gone before was hardly common-place. There had been Clay Regazzoni leading the early stages with a BRM P160 and looking impressive in the process until his tyres let him down. Then we had Francois Cevert showing that, not only did he have the same speed as team-mate Jackie Stewart, but he could actually lead him in a race. There was the spectacle of the Tyrrell drivers playing team tactics, something rarely seen in Grand Prix racing these days, and the Lotus team at least attempting to play the same game with Fittipaldi and Peterson running in convoy for many laps. But most of all we had the fanatical crowd packed into the stands displaying the fervour that can be generated at a British football match but, for some reason, never at a British motor race.
The facts speak for themselves. The winning margin at the finish was less than five seconds, and never in the course of the race was the time between the leader and second man ever larger than that margin, and most of the time it was considerably less. We had, at one stage, the cars of Team Tyrrell and Team Lotus comprising a blue and black four-car train with barely a second between the quartet. But when the flag finally fell most people agreed that the right man had won.
This excellent race came from a field of only nineteen cars, of which four turned out to be patently uncompetitive but the remainder all lapped the 3.41km No 9 circuit during practice within 2.5 seconds of pole position.
The current battle between Grand Prix International, representing the circuit owners, and the entrants' "club", the Formula One Constructors' Association, as mentioned in last month's issue, did not really affect this race or, for that matter, the Brazilian or South African Grands Prix, and the inevitable clash or compromise is being put off until Spain.
Meanwhile this season opener was by no means certain due to the machinations of the current political scene in Argentina. There was a fear of kidnappings and also the current government were not keen to follow last year's lead and guarantee the race financially.
Instead, the organisers, the ACA (rather than the government-owned YPF Club who have previously been responsible for this race) managed to gain some help from commercial sponsors although the race was certainly not a Fray Bentos Grand Prix, and after initial cancellation, the race was back on. Sitting right on the outskirts of the city was the ideal venue, the long-established Municipal Autodrome in the Pare Admiral Brown which came in for a superb face lift some 18 months ago.
It was a venue that almost unanimously received approval from drivers, entrants, and mechanics alike, and the hot Argentinian summer sun seemed to put smiles on the faces of even the most serious members of the Grand Prix set. The kidnap threat remained, some drivers like Stewart and Fittipaldi obviously having a high price on their heads and thus having their own personal armed guard. But nothing untoward happened apart from the menacing looking alsatians of the police baring their teeth at the occasional mechanic.
Only even numbers were used on the entry list and taking Nos 2 and 4 were the Lotus 72s of Emerson Fittipaldi and Ronnie Peterson, the new joint No 1 racing for the first time in Formula One in a car other than a March. Who would be the quicker, they all asked? Nos 6 and 8 were assigned to the pair that finished the 1972 season on top, Jackie Stewart and Francois Cevert in the Mk 2 Tyrrells 005 and 006. Next on the list came the man who the majority of the crowd had come to see – Carlos Reutemann of Argentina. "El Lole", as he is known, is a national hero, his name was on the lips of almost every man in the streets of Buenos Aires at race time. He remained in the Brabham team with Wilson Fittipaldi and, Graham Hill having departed the Weybridge camp, both were in the 1972 model Brabham BT37s. The next pair were the faithful McLaren MC19s for Peter Revson and Denis Hulme, again with Yardley sponsorship-so it was no change here.
Ferrari's cut-back for 1973 seems no more than a threat for Maranello brought along a two-car team headed by Jacky Ickx, while the spidery Arturo Merzario was given his third Formula One chance in a second machine. Both cars were the B2 models now entering their third season, as the new cars based on British-built monocoques were not complete in time for the meeting. Two places were available for the March team but as they now only have one works car into which the young and inexperienced Frenchman Jean-Pierre Jarier has found himself, at the present at least, a somewhat inadequate replacement for Chris Amon, the second spot was taken by Mike Beuttler in his private March. Both were in the neat little 721Gs which are probably pounds under the new weight limit which came into force on January 1st. Contrary to popular opinion this was not actually Jarier's Grand Prix debut for he drove Hubert Hahne's March 701 to 12th and last place in the 1971 Italian Grand Prix.
The next numbers on the list were reserved for Team Surtees, who brought along two brand new Surtees TS14As for Mike Hailwood and Carlos Pace. Here was a team that at least seemed prepared for the start of the new season with their 1973 cars looking shiny and smart. Hailwood's car carried the Brook Bond Oxo logo while the similarly blue-and-white car of Pace had only Fina fuel affiliations displayed.
BRM spent most of last season fielding more cars than anyone else with a marked lack of success, and continued the new season in a similar vein with three entries to everyone else's two. Clay Regazzoni, Jean-Pierre Beltoise and Niki Lauda were the three permed from the squad of four and Vern Schuppan was the one left at home.
Completing the list were the two Williams Specials, or Iso-Rivolta Marlboros as they are known, finished in red and white of the cigarette company but with dark British Racing Green flanks. The drivers were Howden Ganley, and Nanni Galli who have come into the team to take over the places left by Carlos Pace and Henri Pescarolo.
Originally the Shadow team had planned to bring a pair of their brand new Grand Prix cars for Jackie Oliver and George Follmer but the plan was a little optimistic considering the length of time available to the team since Tony Southgate first drew up the design and, for various reasons, they scratched about a week before the event and decided to go to Paul Ricard for testing instead.
There were a number of familiar faces missing and, as well as both Graham Hill and Chris Amon being absent because their plans are yet to be finalised, other Grand Prix regulars like Tim Schenken, Henri Pescarolo, Peter Gethin, Rolf Stommelen, Andrea de Adamich and Reine Wisell were all absent for one reason or another.
Qualifying
A total of five hours was allocated for official practice, split between Friday and Saturday with each day having a session of one and a half hours in the afternoon followed by a break of an hour and then by a session of a similar period. There was also a familiarisation session on Thursday which nearly everyone took advantage of, and this enabled newcomers to the circuit—Hailwood, Beuttler and Lauda—to learn its twisty lay-out.
As is so often the case, virtually everyone found something a little extra in the very last practice session, actually in the last half-hour of it, and all but two of the cars (which had broken anyway) set their qualifying times during that period. On Friday Regazzoni served notice that BRM's winter labours had not been in vain by securing fastest time in the first session with a time of 1min 11.53sec. The lap record of 1min 13.66sec and the pole position time of 1 min. 12.46 sec. were soon looking outdated. In the afternoon session Regazzoni's car broke a wheel putting him off his stride, and Fittipaldi snatched pole position after showing that the Lotus 72 is just as competitive this year as it was last.
Saturday was much hotter than the previous day and the earlier session saw very few competitors improve, although Jackie Stewart was actually fastest but with Fittipaldi still in the No. 1 starting position. So it was all down to the last hour and Regazzoni soon showed that his earlier performance was not a flash in the pan.
The long pits were so arranged that all the Goodyear runners were at one end and the now much smaller Firestone contingent were at the other end; the two camps being separated by perhaps 100 yards. With Lotus, Tyrrell, Ferrari, Brabham and McLaren all on Goodyear, most of the attention was focussed on their end of the pits, and this was where most of the observers clustered, wandering down only occasionally to look at the underdog Firestone contingent of Surtees, BRM and Williams. In fact from the Tyrrell pit you couldn't even read the lap boards being hung out to the BRMs. Thus when Regazzoni got everything set up just to his liking and suddenly started breaking into the 1min 10sec barrier hardly anyone noticed.
One or two of the time-keeping personnel started to point out that they "thought" perhaps Regazzoni had done a quick one. In fact he had stopped the official watches at 1min 10.54sec to take pole position and, by the time anyone else realised, he was out of the car and sitting on the pit wall looking a little flushed but with a very satisfied grin on his face. With only about ten minutes of practice left there was little anyone could do about it, although meanwhile Emerson Fittipaldi had also been making progress and his best was 1min 10.84sec.
Ickx put in a good effort with the old Ferrari which some were rumouring was giving 500bhp, but, if that was so, they were certainly weaker Modena horses than usual. His time of 1min 11.01sec just pipped Stewart's best of 1min 11.03sec, the Scot complaining that he couldn't make the front end of the car work.
Peterson can be judged by a yardstick now that he is with Lotus and in this Grand Prix at least he proved to be slower than Fittipaldi. But he was hampered by problems for he missed the majority of Friday's practice, due to a faulty bearing in the new gearbox of his new Lotus, but after that looked impressive and finished up fifth fastest at 1min 11.66sec. Alongside him on row three, but 0.4sec slower, was Stewart's team-mate Francois Cevert, who laboured away on the first day with a very tired engine, which had done a good deal of testing, but perked up when the new one was fitted.
Staying with BRM has left Jean-Pierre Beltoise in a rather invidious position, for he now finds he has to play second fiddle to Regazzoni. Nevertheless, he has taken on the challenge admirably and his 1 min. 11.48 sec. was a good effort which put him in row four alongside Hulme's McLaren. Both McLarens seemed to be plagued with various engine troubles throughout the sessions and, along with Brabham, they seemed to be having problems making their cars handle on the new target 26 in. diameter Goodyear tyres, not having tested them previously in private sessions as had Lotus and Tyrrell.
Thus, right back in ninth fastest place was poor Reutemann who naturally was feeling that he was letting his fellow countrymen down. But the Brabham would not handle and he also lost almost a session with gearbox problems. This year we weren't to have the spectacle of him coolly snatching pole position. He lined up on the fifth row with Mike Hailwood's Surtees.
Both the new Surtees cars were in trouble for, apparently, the toad springs, had been heat treated incorrectly and the rates were nowhere near what they should have been. Only a brave effort with the patently bad handling car put Hailwood as far up the grid as he was. Behind Reutemann and Hailwood came an unhappy Revson, who had to sit out the last vital session due to a seized fuel pump, and Wilson Fittipaldi.
Then there was Lauda who was delighted with his BRM, apart from it rolling too much for his liking, and Merzario in the second Ferrari. The Italian was having to play underdog to Ickx and spent two of the four sessions sitting on the pit wall, the first while Ickx decided which car he preferred and the second when Ickx's choice developed an engine fault and the Belgian reverted to the other car.
The grid was completed by Pace, in trouble with the Surtees (and missing the final session with engine trouble), Galli, Jarier, Beuttler and finally Ganley. The Williams cars were plagued with problems, ranging from split fuel tanks to broken rear cross-members, throughout practice.
Saturday's practice, session had filled out the stands to the region of some 30-40,000 racing fans, such is the popularity of the sport in Argentina, but this was nothing compared to the scenes as well over 100,000 fought to get through the gates on Sunday, including a large number of fans from neighbouring Brazil. Some estimates put the contingent at something like 10,000, most of whom seemed to be waving Brazilian flags, just as last year the crowd roared and sung for Reutemann, and there was some hope for them because, in the morning untimed session, he had got the car set up much more to his liking and felt more confident.
Race
All the practice sessions had started on the minute and the race was no exception. After parades of Marlboro girls and then a most curious motorcade of dustcarts and other public service vehicles, the racing cars made their entry looking polished and exciting. The mechanics had all discarded their working overalls and now were dressed in natty race-day gear—a trend encouraged by the sponsors.
Almost on the second the 19 cars were rolled forward from the dummy grid and almost immediately there was a burst of sound and the flag dropped. All one could see was a great cloud of brown dust as the field disappeared into the first corner, out of which emerged a blue Tyrrell in the lead. But it wasn't Stewart, for he had found himself scratching in the marbles an the outside of the first corner, and had lost several places in the process. The leader was Cevert. But the wide-nosed BRM of Regazzoni was right with him and, as they braked for the first of the two sharp corners on the course, the Swiss cut through on the inside to snatch the short-lived lead from Cevert. Mike Hailwood had made an excellent start and was up about sixth place, only to spin it all away a corner later.
So when the field burst into the view of the main grandstand it was Regazzoni in the lead followed by Cevert, then the two black-and-gold Lotus 72s of Fittipaldi and Peterson, with Beltoise, lckx and Hulme following. Stewart was down in eighth place ahead of Reutemann, Revson, W. Fittipaldi, Lauda, Pace, Merzario and Jarier. Then there was a gap until Hailwood arrived followed by Beuttler, whose throttle slides were jammed open, while poor Frank Williams gazed sadly from the pit but neither of his new cars appeared. At least they had not collided for Galli's had stopped when the main drive belt of the engine had broken and Ganley's throttle slides were jammed, despite the team taking the precaution of putting a nylon stocking over the air intake in an attempt to beat the problem. Ganley finally got his car mobile after three lost laps and returned to the pits later, to continue many laps in arrears.
Regazzoni hasn't led too many Grands Prix in his career so he intended to stay out in front. Over the first three or four laps he pulled out about three seconds lead over Cevert but, after that, it was all hard work as the gap never increased any further as the bunch behind gave strong chase. In fact, in the first ten laps, there were very few changes apart from Stewart moving up to sixth place while Revson overtook Reutemann.
Lap 10 was a bad one for Team Surtees with both Hailwood and Pace dropping out. Hailwood's car broke a rear-drive shaft while the Brazilian came into the pits to report that his car was undrivable. The springs had sagged and the nose, which had had a little trim strip added overnight, had been bottoming very badly and was tailing off. Surtees decided to cut his losses and retire the car.
With 15 laps gone a pattern had formed with Regazzoni leading but now with Cevert and the two Lotuses right on his tail, and this bunch of four were separated by fractions of a second. Beltoise was a strong fifth and struggling to get on terms with the leaders, but getting larger in his mirrors was the blue Tyrrell of Stewart. A little bunch comprising Ickx, Revson, Hulme (who was in discomfort with some fuel spilt on his back), Reutemann, Wilson Fittipaldi and Lauda followed.
The rest were hardly in the same race and were already dropping well back. Hopes that Reutemann might start to make his way up the field were dashed on lap 16 when he brought the Brabham into the pits, unable to select any gears. A pinion bearing had started to break up and he sadly to retire. Meanwhile Stewart had passed Beltoise and all eyes were now on the former champion as he was catching the leading four apace. Regazzoni, meanwhile, was now finding the car quite a handful for the Firestone tyres were starting to overheat and thus lose their grip, but he was doing a good job of keeping the rest of the field behind. By quarter-distance Stewart was in the bunch so we now had the exciting spectacle of five cars lapping in convoy.
On lap 29 Regazzoni could hold the lead no longer and he had to let Cevert through and, in the next four or five laps, the other three challengers also passed the BRM. In fact a mix-up in traffic benefited Stewart and all of a sudden we had a Tyrrell one-two with the Frenchman leading, the Scot, and then came the two Lotuses, Peterson having lost a little ground as he was baulked badly. So now the order was Tyrrell, Tyrrell, Lotus, Lotus, BRM, BRM. Then some way back came the Ferrari of Ickx followed by the pair of McLarens with only Merzario in the second Ferrari spoiling the two by two.
This exciting and gripping battle continued and, by half distance, the two top teams in Formula One racing today were still hard at it with the pair of blue cars only just leading the pair of black cars. The two BRMs had fallen back with both Regazzoni and Beltoise slipping down the field together for they both had the same problem. Ickx was now fifth and much happier now that his B2 was less full of fuel for it is difficult to drive when topped right up. He had pulled away from the two McLarens white Wilson Fittipaldi was at least keeping Brabham in the race although he was unable to keep up with Hulme. But he had shaken off Lauda, who also had tyre problems, while Merzario was proving a disappointment although, apparently, he was having gearbox trouble.
As the race entered the second half, team work really started to come in for Stewart was being hampered by a blistered front tyre which was vibrating the car badly. Thus he made no attempt to pass his team-mate and rather Cevert started to open up a lead. But, meanwhile, Stewart was able to keep Fittipaldi at bay, thus nicely defending Cevert.
Meanwhile Peterson had noticed his oil pressure dropping on corners and had slackened his pace in an effort to preserve the car if possible. This was not to be and, on lap 67, he pulled into the pits with the engine seizing. Regazzoni meanwhile gave up the struggle and made a pit stop for a new set of tyres and, once back on the track, he was soon lapping as fast as the leaders although he was now down in 10th place some three laps in arrears. Beltoise made a similar stop but his engine later gave trouble and he retired before the finish. Lauda also retired when he saw his oil pressure sagging.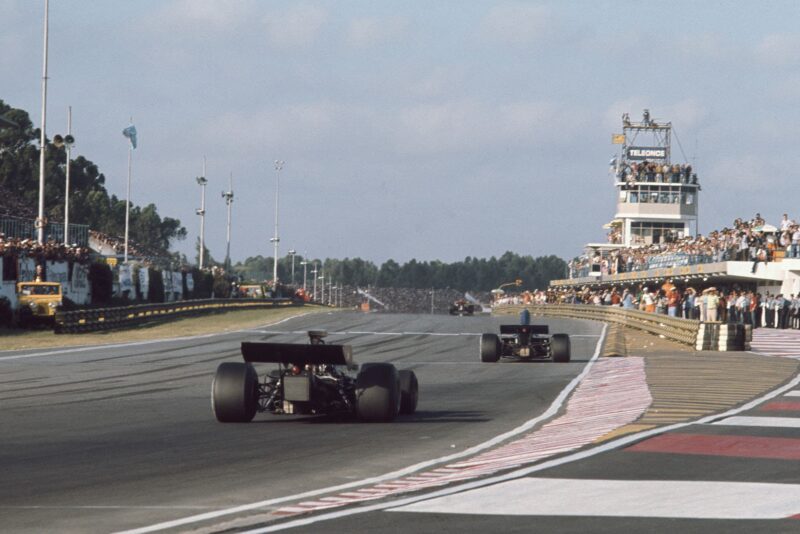 The cat-and-mouse battle between Stewart and Fittipaldi was giving the crowds something to cheer about but when, after many attempts, Fittipaldi managed to outbrake Stewart and snatch second place the whole Autodrome erupted with excitement. The South Americans enjoy their motor racing! There were twenty laps of the race remaining and Cevert's lead was nearly four seconds. Could Fittipaldi close the gap and pass Cevert?
After a couple of laps there was no doubt about it in anyone's mind. Fittipaldi smashed the lap record and, within five laps, he was right on the tail of Cevert. The Frenchman was not giving up at all easily and for five laps he held off the Fittipaldi challenge. But on lap 86, with just ten to go, the Brazilian braked deep into the sharp right-hander before the main straight, put a wheel on the inside dirt and had the line for the corner. Cevert had driven a brilliant race and had led for over 50 laps but, at that moment, he must have known he was beaten.
Even so, he did his best to hang on to Fittipaldi as he reeled off the final ten laps to the flag. Colin Chapman had left for the airport but Peter Warr imitated his cap-throwing welcome. Cevert finished 4.7sec later. In the closing stages Stewart had further problems with a rear tyre which had started to deflate, and he limped home in third place. He might just have been caught by Jackie Ickx had the Ferrari driver not run desperately short of fuel in the closing five laps and, at the finish, the car only just spluttered across the line.
Peter Revson looked all lined up for a fifth place only to have his engine go very off song in the closing laps. A pit stop failed to remedy the situation so it was team-mate Hulme who took the two points, while a delighted sixth was Wilson Fittipaldi, who scored his first ever Championship point in the process. Regazzoni was able to claim back a couple of places in the closing stages to take seventh place, and second fastest lap of the race, but this was little consolation for his excellent drive. Revson limped the McLaren into eighth place and Merzario had to be content with ninth position, his car boiling towards the end and short of gears.
Beuttler completed the classified finishers although, on the last lap, he stopped on the circuit out of fuel and returned to the pits not realising that he also had a broken rear suspension radius rod mounting point. However, he was still classified 10th. The other two finishers were Jarier, who had made a total of three pit stops for gear linkage and loose radiator troubles, and Ganley who had made the late start and also had made a couple of pit stops. Neither was classified due to insufficient distance.
Amidst scenes of near riot as the prizes were presented the opening round of the 1973 World Championship came to a close. With a few more races like this there will be absolutely no need to worry about Grand Prix racing at all.—ARM.
Results:
Argentine Republic Grand Prix—Formula One—96 laps—No. 9 Circuit Buenos Aires Municipal Autodrome—321.40 kilometres—Hot and sunny
1st: E. Fittipaldi (Lotus 72D/R7) . . . . . 1 hr. 56 min. 18.22 see.—165.688 k.p.h. 2nd: F. Cevert (Tyrrell 006) . . . . 1 hr. 56 min. 22.91 sec. 3rd: J. Stewart (Tyrrell 004) . . . . 1 hr. 56 min. 51.41 sec. 4th: J. Ickx (Ferrari 312B2 No. 5) . . . . 1 hr. 57 min. 00.79 sec. 5th: D. Hulme (McLaren M19C/1) . . . . 95 laps 6th: W. Fittipaldi (Brabham BT37/1) . . . . 95 laps 7th: G. Reggazoni (BRM 160/01) . . . . 93 laps 8th: P. Revson (McLaren M19C/2) . . . . 92 laps 9th: A. Merzario (Ferrari 312B2 No. 8) . . . . 92 laps 10th: M. Beuttler (March 721G/1) . . . . 84 laps NC: J. P. Jarier (March 721G/4) . . . . 38 laps NC: H. Ganley (Williams FX3/2) . . . . 79 laps
Fastest lap: 1st: E. Fittipaldi (Lotus 72D/R7) on lap 79 in 1 min. 11.22 sec.—169.107 k.p.h.
Retirements: N. Galli (Williams FX3/1), 0 laps, engine; M. Hailwood (Surtees TS14A/02), 10 laps, drive shaft; C. Pace (Surtees TS14A/03), 40 laps, handling and body damage; C. Reutemann (Brabham BT37/2), 16 laps, seizing; J.-P. Beltoise (BRM 160/03), 79 laps, engine.