Goin' up, goin' down in F1: Bahrain 2021 GP
The 2021 Bahrain GP went great for Lewis Hamilton, bad for some and even worse for others. In a new column, James Elson rates who and what is going up or down in F1
The mood in F1 tends to change more frequently than a Ferrari technical reshuffle. One week you're a hero, the next you're slated and shuffled down in the Twitterati's estimation.
In the vain hope of acting like some kind of grand prix barometer, we put together a list of who and what's 'Going Up' or 'Going Down' in F1's ever-pressurised atmospheric system.
GOING DOWN:
Vettel scores 5 points on his Aston Martin debut!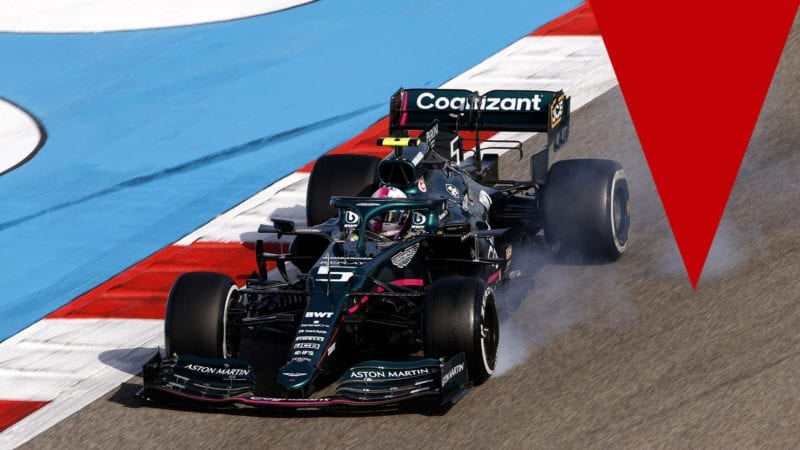 Unfortunately, they were penalty points – his just reward for an absolute gesamtkunstwerk of a terrible F1 weekend – a virtuosic Vettel painted a true grand prix disasterpiece in Sakhir.
The German went in unprepared with little testing, fluffed his first qualifying run then got Mazepined on his second.
The Aston Martin man then had to start last due to ignoring yellows in qualifying (cue first penalty points), trundled round on C1s that might as well have been slabs of granite before sliding into T1 as if he was test driving the new DBX and rammed poor Esteban Ocon up the derrière, Seb ergo helping himself to two more penalty points.
At least things will get better from here, because they can't get any worse.
The other flop: Ocon
Ocon also had an all-encompassing shocker. With Pierre Gasly penning the antitheses of a love letter to Red Bull last week – and looking very handy in the AlphaTauri with it – Ocon needs a strong season to fend off the new French poster boy of grand prix racing if he wants to keep his seat at Alpine.
Ocon responded by qualifying 17th, wasn't very fast once he got going in the race and then got taken out by an equally beleaguered Vettel, the Aston Martin driver clunking the Frenchman and sending both spinning off like underperforming Robot Wars entries.
Alpine's ménage à trois management structure
Enstone has a car that looks like a slow teapot (from its more flattering angles), but is this the team's greatest concern? Fernando did his usual trick of dragging the A521 to places it shouldn't be, however the poor thing soon started burning up on re-entry in the hands of the Spaniard – the rear brakes catching fire as they inhaled a sandwich bag into T1 halfway through the race.
How will they sort the car's issues out? Luckily there's a really well-defined, clear management structure to sort things out. Not. Every question the trio of Alpine bigwigs get asked, whether it's Davide Brivio, Marcin Budkowski or Luca De Meo, seems to be met with the same answer: "It was someone else's decision." If they can't decide how to answer questions, how are they going to make a stove-top kettle on wheels go faster?!
They need a leader. They need strength. Wisdom. A calm, guiding hand. They need Cyril Abiteboul!
Mercedes' pit crew
Valtteri Bottas was left wondering if he needed to invest in a mobile sauna as, just a few months on from the last Bahrain blunder for his pit crew, they did it again.
A sticking right-front dashed all hopes of the undercut on Verstappen, leaving Bottas in the vast tundra of grand prix no-man's-land in third.
Lawrence Stroll's 'Green Racing Point'
After the most overblown F1 entry ever (sorry BAR), the Aston Martin PR train has now fallen flat on its face. Otmar Szafnauer couldn't have sounded more indignant if he tried, as he complained time and again that the new aero rules had been designed to foil his beautiful low-rake cars. Aston Martin didn't spend all this money copying the best car on the grid and painting everything green just to find themselves mired with the riff-raff down in the lower echelons of the midfield!
This all comes after a car presentation that was so long and packed with content, yet somehow pointless, and was presented of course by a billionaire owner whose performance was so wooden it was positively teaky.
Haas VF-21
The VF-21 is slow. Really slow. So slow in fact, it's almost literally going backwards. Turns out the new Haas dislikes going forwards so much that it tries to pitch itself into the wall in protest every time you accelerate, as so artfully demonstrated by both Nikita Mazepin and Mick Schumacher.
One can only pray for the Haas hospitality unit once Guenther Steiner comes in for his post-race espresso.
Michael Masi and the white-painted track limits
Only F1 could whip up a storm about something so utterly banal. Lewis Hamilton went fully across the painted white line ad-nauseum during the race and didn't get penalised. Max Verstappen does it in his overtake for the lead and was told to give the place back.
Cue uproar! 'They could do that in practice and quali'! every person and their Twitter bot said.
Despite desperate clarifications by Michael Masi and the FIA that you could cross the line as much as you wanted, as long as you didn't do it when overtaking, i.e. therefore giving yourself a 'lasting advantage', F1 twitter gasbags such as yours truly still delighted in the ambiguity – we can talk about it forever! And ever! Going round in more circles than the Daytona 500 on repeat.
What made this all the more absurd was that the drivers didn't actually kick up that much of a fuss about it, but we still all persevered in talking about something that is only marginally less interesting than watching paint dry: dry paint.
F1 face masks that won't stay up
Why, in a sport that's the supposed world pinnacle of technology, can teams not manufacture a face mask that stays on a driver's face for longer than 0.7sec? WHY?!?!
Goin' up
Turning it off and on again
Doesn't matter whether it's your Nan's telly, or arguably the most technologically advanced F1 car of all time, the RB16 – sometimes the old tech tricks are the best.
So Sergio Perez found when his Red Bull died on the formation lap. Luckily, Checo had the presence of mind to do the old 'CTRL-ALT-DLT' and turn it back on again, setting up a barnstorming race to fifth.
Mercedes' Twitter admin
There is nothing – NOTHING – better than one F1 team's Twitter admin recycling another's PR garbage in a game of petty one-upmanship. OK, there are maybe a few things, but just look at this tweet.
AMG GIVES YOU WINGS. 😘 pic.twitter.com/7TvpZENb4L

— Mercedes-AMG PETRONAS F1 Team (@MercedesAMGF1) March 28, 2021
Pedro De La Rosa's lap record
Pedro De La Rosa. Is. Speed. The Spanish F1 veteran delighted in the fact that however fast the new generation of grand prix cars are, however committed Hamilton and Verstappen might be, no one has yet claimed his Bahrain race lap record of 1min 31.447sec, set in a McLaren MP4-20 in 2005. Long may it last, Pedro.
Yuki Tsunoda's flag
Did the 21st century start in the year 2000 or 2001? It's the question no-one was asking, but may apparently stymie the oft-quoted quote about F1's new darling being the firstborn this century.
What really gave him the power to "send it like a rookie" past Alonso though, as he so articulately put it himself? His fan-made flag, of course. Japanese F1 fans: they make the best stuff.
Lando Norris' GG
Landon Norris was no doubt a bit miffed that Daniel Ricciardo qualified ahead of him on the latter's McLaren debut.
Norris took revenge by proceeding to smash the 'Honey Badger' out the park like an Aussie rules football, finishing over a 20sec ahead in fourth with his team-mate down in seventh.
As he said at the end of the grand prix: "Are those fireworks for me?" GG (online computer gamer parlance for 'Good Game'.)
Hour-long FP1 and FP2
So many cars on track, so little space! The result? SO good!
James Vowles' Lewis Hamilton pit strategy
Wow.
Active aerodynamics / current regs
Say it again: The DRS zones actually worked. Not in the usual bullet train overtaking an Austin Marina display, but as a facilitator for good, hard racing. Pat Symonds said we might get more aero-trickery from 2025. A good thing perhaps?
Also, can we just delay the 2022 regs change a bit more please? The racing is close, and we like it.