Lynn qualified the No2 Caddy in fourth position, behind the sister No1 entry as Sebastien Bourdais broke the lap record to secure pole position. "We felt really confident," says Alex. "The car was giving us a good feeling all weekend, and to be honest we thought if everything was to go well our main competition on pure speed was going to be the No1 car, our team-mates. Unfortunately for them they were in trouble on the first lap."
Bourdais pitted with transmission trauma, leaving the car he shared with Renger van der Zande and Ryan Hunter-Reay completely out of contention. It wasn't all plain sailing for Lynn either as he picked up a drive-through penalty for overtaking under yellow flags. But the No2 recovered to take the fight to the Wayne Taylor Racing Acuras and as the sun set on a blisteringly hot day the Ganassi car began to exert its authority. It all looked good as Lynn handed over to Kiwi two-time Le Mans winner Bamber to bring it home – who then by his own admission "made a meal" of his final stint. This one almost slipped through their fingers after Bamber dropped the ball not once, but twice.
"Our lead was around 30 seconds when I came in," says Lynn. "We were saving a lot of fuel because we had a nice big lead. You know what it's like in IMSA – if there was to be a yellow it was important to have a quick stop strategy-wise, so at that point we were just nursing our lead and our fuel to make sure we were on the right side of a pitstop if needed. Everything was very relaxed, then very quickly it turned out not to be!"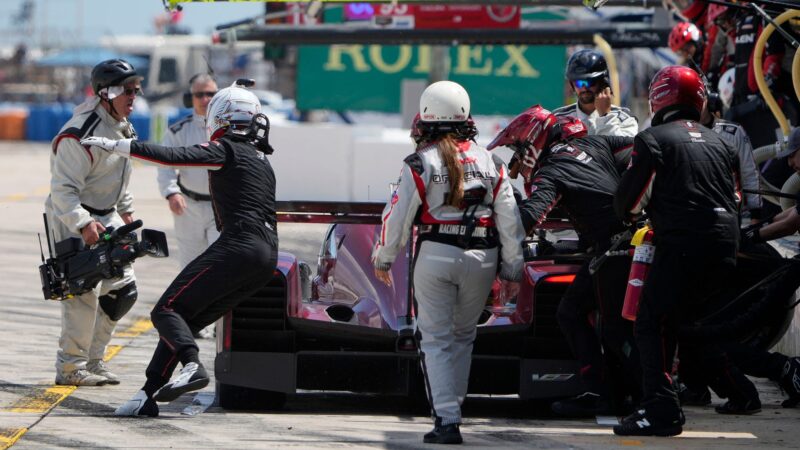 Bamber's first faux pas was to clip an LMP3 into a spin and earn himself a penalty, dropping him behind the JDC-Miller Motorsports Caddy of Richard Westbrook, the Briton sharing with two of last year's winners Loïc Duval and Tristan Vautier. Bamber was quick to atone, catching and passing Westbrook with just under an hour to run – only to clip a Ferrari GTD on the same lap he'd taken back the lead! Again, he got his head down, made up a 6.5sec deficit on Westbrook and hit the front for good with 45 minutes left on the clock. The Porsche 919 Hybrid veteran had made his team-mates sweat, but ultimately delivered.
"It was good that Earl was on such fantastic form all weekend, to make up for his mistakes," says Lynn. "To be honest, I always felt he'd make up for it because I know how talented and blisteringly fast he is as a team-mate, and I think for the first time he really showed me. Wow, he duly did make amends. Super-impressive."
Typically of Sebring, which finished at midnight on Saturday, celebrations were… modest. "As I always find when you win in endurance racing you're just so tired, emotionally and physically done, I just wanted to find my bed," says Lynn. "I celebrated with my dad, brother and girlfriend with a McDonalds in the motorhome."
A few days later he can reflect with satisfaction on a job well done – and a 100 per cent win record in the 12 Hours: two starts, two victories following his debut success shared with Jordan and Ricky Taylor when their father Wayne was running Cadillacs back in 2017. "I just keep on thinking what it means for everyone in the bigger picture," he says. "It's so nice to get a result and give everyone a lift and the confidence that we wanted going into the championship. Now it comes down to just me and Earl, no more long-distance races for a while, so we can focus on each other and I think that will be key."
He also acknowledges this is a big win for Jani, who at 38 might well have boosted his chances of landing a return to sports car racing's top tier as teams on both sides of the Atlantic gear up for the dual LMDh/Hypercar era. "Neel has already won pretty much everything in sports car racing, so where he goes next I'm not sure," says Alex. "But where the landscape for sports car racing is he can really use this, and he's a class act. It's always the right time for a big win, but for him particularly this was really great timing."
Lynn, 28, hasn't joined Ganassi for a one-year fling. Now perhaps he'll be lining up with or against Jani in an LMDh contender. "I'd be really happy to see that happen for him," he says.
As for Magnussen, his new life in sports cars is on ice, but it's hard to imagine he won't be welcomed back to the long-form code with open arms when he's done with F1. But when that will be after that sensational Bahrain performance is anyone's guess.