Top Le Mans moments
100-91

: from NASCAR to Porsche factory upset
Our list of 100 remarkable stories from a century of Le Mans 24 Hours races begins with the year that NASCAR rumbled in, alongside the prototypes
100 –

 1976 NASCAR rumbles to La Sarthe
Spurred by a new accord with Daytona (sound familiar?), two of NASCAR's lesser teams were encouraged to race at Le Mans, despite a clash with the stock car race at Riverside. Hershel McGriff's Dodge Charger, above, from California and a Ford Torino from 'Junie' Donleavy in Virginia headed over for incongruous novelty value – and little more. The Dodge's 5.5-litre V8, used to high-octane gasoline, burned pistons and didn't last a lap. But the Ford, shared by Dick Brooks and Dick Hutcherson, raced into the small hours before the gearbox failed.
---
99 –

1955 The race's weirdest car turns up
You could see the thought process. Instead of having the engine in front of the driver, with the latter positioned to one side of the former, why not use one to offset the weight of the other, each travelling in their own pontoons clothed within a super aerodynamic shape? The result was the Nardi Bisiluro, a car so slippery it was reputed to be capable of over 135mph with a 750cc BMW motorcycle engine. A shame then that it was so aerodynamically suspect that it was blown clean off the track by a passing Jaguar D-type after the race was a mere six laps old.
---
98 –

2010 Mansell crashes out of debut
Nigel Mansell's first Le Mans lasted all of 17 minutes when a blown tyre pitched his Beechdean-run Ginetta-Zytek into the barriers on the run to Indianapolis. The 1992 Formula 1 world champion, sharing with sons Greg and Leo, took the start in what proved to be his final comeback to racing. During the accident Mansell received a bump on the head from the side-impact structure, but he appeared to be fine immediately afterwards. Years later he claimed it had led to amnesia, which was cured by his new hobby: magic!
---
97 –

 1981 Porsche 917 rides again
Lacking entries, the ACO opened the door once again to larger-capacity engines, which sparked a lightbulb for brothers Erwin and Manfred Kremer. Why not recreate one of the greatest and fastest Le Mans cars of them all? Porsche was underwhelmed, yet the Kremers borrowed a Gulf 917 on loan to the Midlands Motor Museum (!) to build a ground-up copy. But the car was slow and was eliminated early when Xavier Lapeyre was edged off by a backmarker, fracturing an oil line.
---
96 –

1975 A DFV defies the doubters
The Ford Cosworth Double-Four Valve V8 was already into its ninth season in Formula 1 when the engine claimed its first Le Mans win (Rondeau scored a second five years later). Jacky Ickx and Derek Bell dominated in a Gulf-backed Mirage run by JW Automotive, despite naysayers – including Keith Duckworth himself – claiming the Cosworth would never go the distance, largely because of a problem with torsional vibration.
The victory marked the first of three for the Ickx and Bell partnership, sports car racing's most renowned double act. Bell first met Ickx at Ferrari in 1968. "I got to see Jacky and his insular attitude," he says. "He wouldn't say he was introverted – but he probably was. He never said more than he had to and never said anything to offend anyone. And he was effing quick. I was nowhere near him, but then again he'd been in F1 for two years by then. That was the difference. I started to learn from Jacky and the way he handled himself. I was lucky to be in the same team, breathing the same air."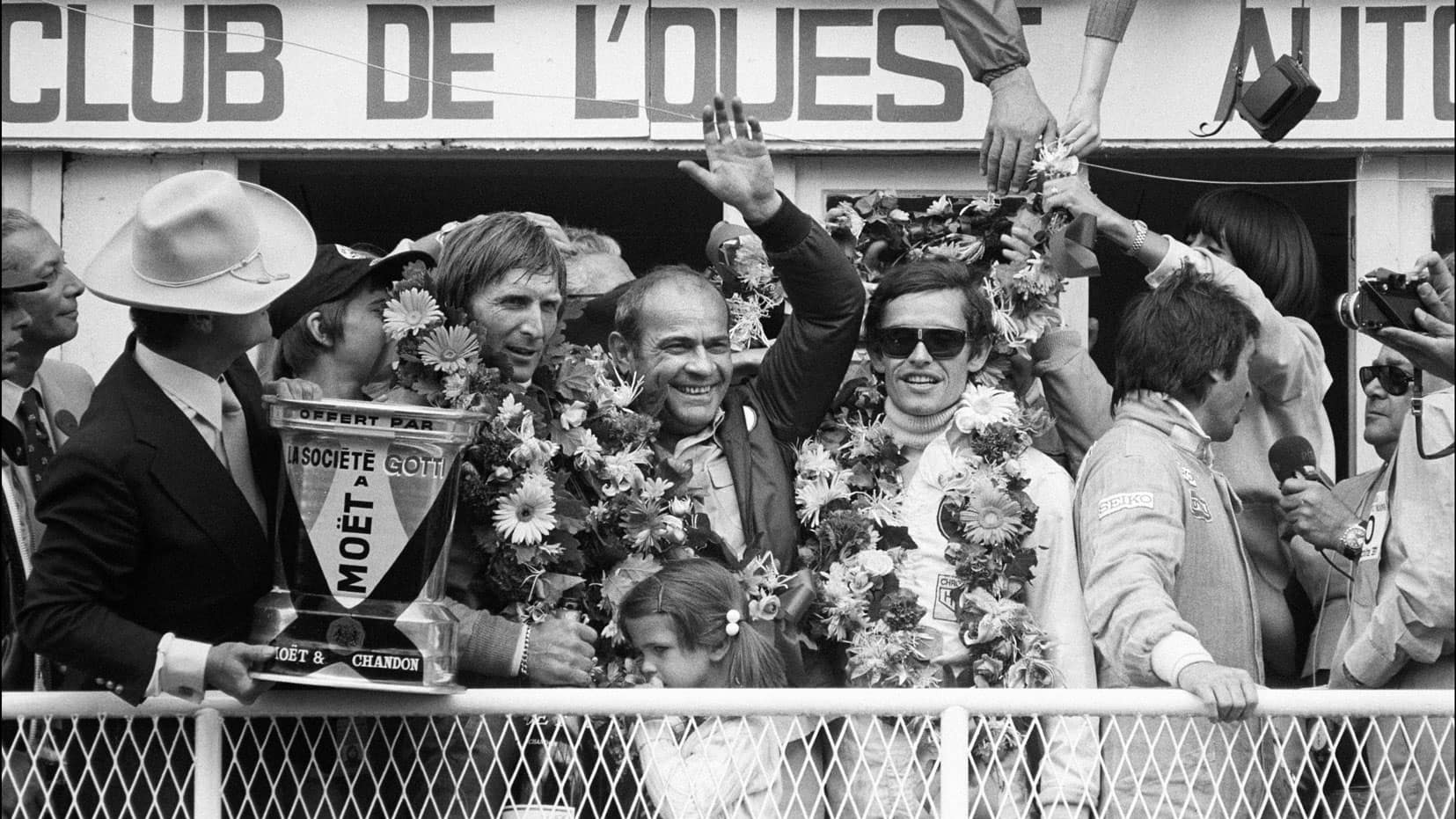 Bell was surprised to find himself paired with Ickx in 1975. "He wrote to John Wyer and said he'd like to drive for him and with me," says the five-time Le Mans winner, who had already been on the driving strength of what was then known as Gulf Research Racing since 1973. "Wyer told me. Bloody hell. I had such a regard for Jacky. He came into the team and he never tried to say, 'I'm Jacky Ickx, I've won this grand prix or that grand prix.' He just said, 'Tell me what to do, Mr Wyer.' It was decided he'd do the start and I'd finish, because I had a reputation for finishing races, even though I'd only done Le Mans four times by then. I guess we did talk, but not to any great length. There was such experience in that team with John Wyer, who was like a headmaster. What he said you did, and we had this success together."
---
95 –

 2003 Biela runs out of gas
Same team, same make/model, same drivers: Frank Biela had scored a hat-trick in Joest-run Audi R8s from 2000, alongside Tom Kristensen and Emanuele Pirro. Only his Arena-run car remained the same in 2003 – and he suffered a very different result. Blocked by a backmarker from pitting for fuel, he backed off, weaved to slosh the dregs and churned the starter motor in a bid to coax the car around. It stopped before Arnage. Back with Joest, Pirro, and this time Marco Werner, he would win twice with Audi from 2006: the first and second wins for a diesel.
---
94 –

 2002 Birth of the Le Mans Classic
Patrick Peter, previously a co-founder of the BPR GT series, launched this monster of a historic race meeting on the full 8.4-mile circuit to celebrate the heritage of the 24 Hours from the 1920s to the '80s. He asked his friend, watchmaker Richard Mille, for advice on sponsorship. Mille offered support from his new eponymous brand – which had yet to reveal its first watch… More than 20 years later the biennial event is one of the most popular classic events on the schedule, and Mille is an entrant in the contemporary race.
---
93 –

 1952 Levegh's solo disappointment
He looked older than he was, but 46-year-old Pierre 'Levegh' was fit thanks to a background of ice hockey and tennis. As a result, he felt sure that he was up to it. He did not feel the same way about his Talbot-Lago: a worrying engine vibration had kicked in and its rev-counter had packed up. His less experienced co-driver would just have to wait. And wait. And wait.
Levegh was holding first place by halfway, several laps ahead of a pair of Mercedes-Benz. The German firm was returning after 22 years, its air of efficiency undiminished despite an undeniable weight of emotional luggage. Quick in practice and along the straight, its gull-wing coupés began their push too late and Levegh continued to lead. Some thought the Paris garage owner was lapping unnecessarily quickly – 15sec faster than the winning Jaguar at the same stage the previous year – but he was unwilling to break a long-held rhythm selected to suit his and the car's unusual circumstances. The impossible was looking possible – until the cause of that vibration revealed itself with a little over an hour remaining. A bolt in the centre bearing broke French hearts.
---
92 –

 1990 Pareja breaks down
Jesus Pareja collapsing into the arms of his Brun Motorsport team down at the old signalling pits after Mulsanne Corner in 1990 encapsulated the emotional rollercoaster that is Le Mans. There were just 15 minutes remaining and the Spaniard was on course for an unlikely second place between a pair of Silk Cut TWR Jaguars when his Porsche 962C ground to a smokey halt.
Brun wasn't up there among the favourites at the start of Le Mans '90. Less so after a few hours when the Swiss entrant's star driver in its lead car, Oscar Larrauri, fell ill after a heavy accident in a Saturday morning support race: the Argentinian would end up driving fewer stints than planned. The workaday Pareja and amateur Walter Brun, the owner of the team, had to do much of the heavy lifting through the race. Their task was helped by a special wing developed by Brun. The factory Joest 962s ran in traditional low-downforce spec, but Brun believed that with two chicanes now interrupting the Mulsanne Straight, more downforce was required. It was spot on.
Brun's canniness and the heroics of its unfancied drivers came to nought. The smokey retirement was the result of a split oil union.
---
91 –

 1985 Joest beats the Porsche factory
Winning in 1984? Great, but the Porsche factory was absent. Now the Rothmans cars were back – and Joest's New Man 956 beat them anyway. The customer had pulled a fast one with 10% better fuel consumption, collaborating for a while in slipstreams with Richard Lloyd's Canon car. As the works cars ran into trouble, 956-117 became the second car to win in consecutive years (after GT40-1075 of 1968-69), travelling 117 miles further than it had done 12 months earlier, with more than 100 litres of gasoline still unused. Sensational.