Better still, he was quicker in practice for the German GP than all bar two Formula 1 stars and his F2 Matra MS7-Cosworth was running fourth when the suspension failed. Victory in that year's Spa 1000Kms with John Wyer's Gulf Mirage Mk1-Ford was a glimpse of his future and he would also finish sixth in the Italian GP with a works Cooper T81B-Maserati in what was his first outing in an F1 car.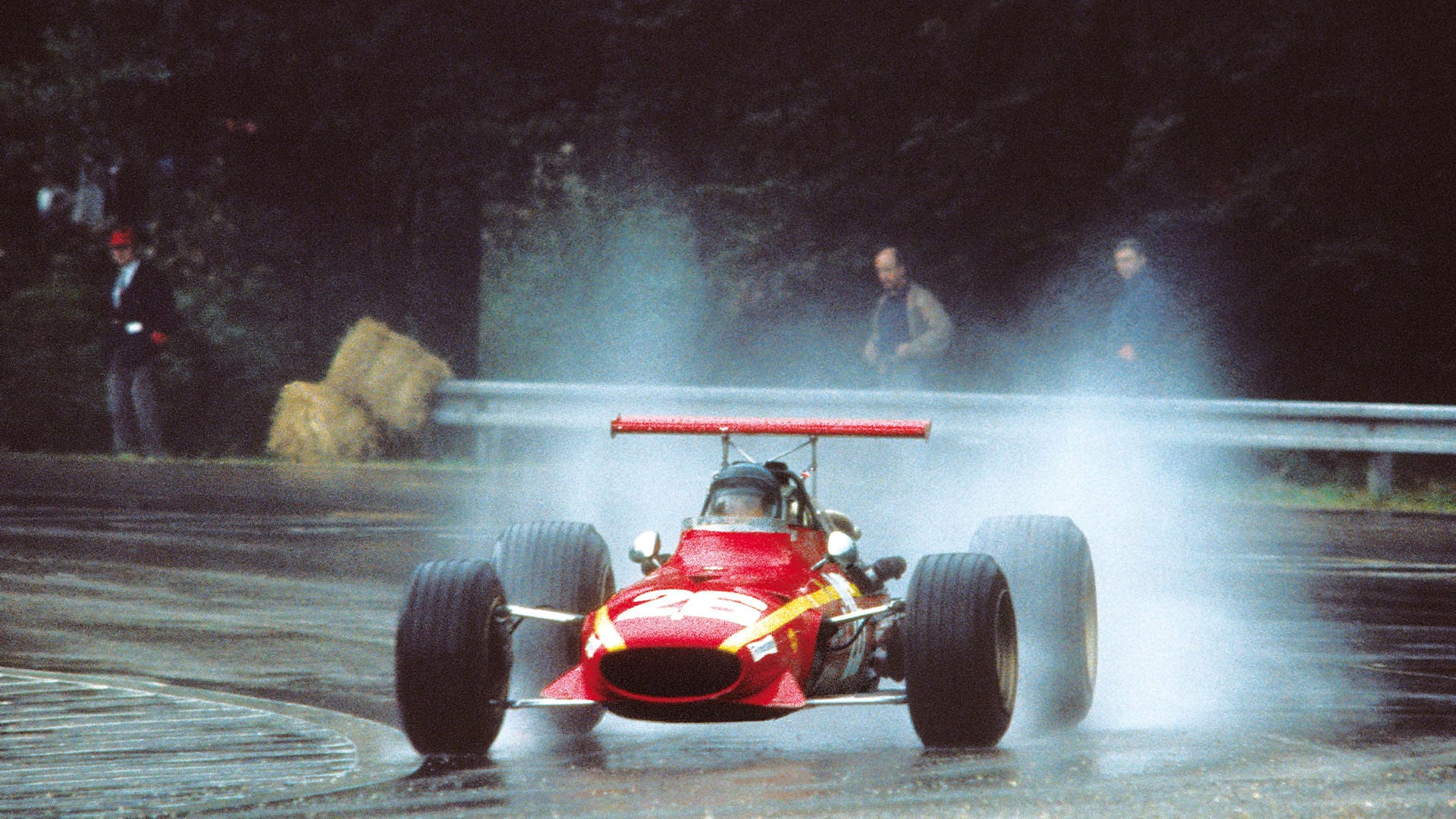 Formula 1 with Ferrari and Brabham delivers victory
The 22 year old was the man of the moment and Ferrari was quick to sign him. Ickx responded with a fine breakthrough victory in the wet 1968 French GP at Rouen in one of six consecutive top-four finishes. On pole for the German GP, he also won three sports car races in Wyer's Gulf Ford GT40 before a broken leg while practising in Canada ended his slim world championship hopes. Ickx eventually finished fourth in the F1 standings.
A conflict between oil sponsors in F1 and sports cars forced a 1969 move to Brabham in F1 and he won the German and Canadian GPs. Ickx raced eventual champion Jackie Stewart wheel-to-wheel on both occasions and finished runner-up in the world championship.
Le Mans winner for the first time
The Le Mans 24 Hours would become integral to the Ickx story and he won for the first time in the epic 1969 event. The GT40 he shared with Jackie Oliver was outpaced by Porsche's new 917 but Ickx was on top form and defeated Hans Herrmann's last remaining works Porsche by 100 yards after two frantic final hours. However, driving home after the race, Ickx crashed his Porsche Targa into a telegraph pole when he swerved to avoid an oncoming car that had strayed onto his side of the road. He escaped with bruising and shock.
Challenging for the world title with Ferrari
Ickx returned to Ferrari for 1970 but suffered a fiery accident on the opening lap at Járama. Jackie Oliver crashed into him and their wrecked cars were engulfed in a fireball with Ickx suffering burns. Ickx did not miss a race and eventually emerged as the closest challenger for Jochen Rindt and the new Lotus 72. They fought a classic duel at Hockenheim but it was Rindt who prevailed. However, the Austrian was killed at Monza and was finally declared as the posthumous world champion with Ickx runner-up once more.
That was as close as Ickx would come to winning the F1 crown and he was fourth for the next two seasons. He left Ferrari during a disappointing 1973 campaign but victory in the non-championship Race of Champions a year later was the highlight of two frustrating seasons with Lotus.
Ickx won the 1975 Le Mans 24 Hours with a Gulf Mirage GR8-Ford and Derek Bell. He continued as an occasional F1 driver until 1979 with Williams, Wolf, Ensign and Ligier and won that year's Can-Am title driving Carl Haas' Lola T333CS-Chevrolet.
Le Mans legend with Porsche
It was while leading Porsche's sports car team that he secured his legendary status. He joined the Stuttgart marque in 1976 and won four of his first five races prior to the Le Mans 24 Hours. He then shared the winning Porsche 936 with Gijs van Lennep at the Circuit de la Sarthe and repeated that success a year later, now with Hurley Haywood and Jürgen Barth.
Second in 1978 and 1980, he won the race for a fifth time when reunited with Bell in 1981. The Porsche 956 was introduced in 1982 and another Ickx/Bell Le Mans victory was its first success in the WSC in a 1-2-3 for the team. Ickx and Jochen Mass won at Spa-Francorchamps and Fuji and the drivers' championship came to a climax at a very wet Brands Hatch with Ickx winning to snatch the title from Lancia's Riccardo Patrese.
He retained the title in 1983 but was beaten into third a year later by precocious new team-mate Stefan Bellof. However, his young German rival was in a private Porsche when he attempted to go side-by-side with Ickx into Eau Rouge during the 1985 Spa 1000Kms. Contact was inevitable and proved fatal for Bellof.
Ickx, who had won the 1983 Paris-Dakar Rally Raid with a Mercedes-Benz, retired from racing after the 1985 season. He later served as chief steward at Monaco and has guided the sports car career of his daughter Vanina.
Superb in the wet and with a reputation as a master of the Nürburgring, Ickx's tally of eight GP victories was a disappointing return for someone who originally seemed destined to be F1 world champion. But he more than made up for that in sports cars.