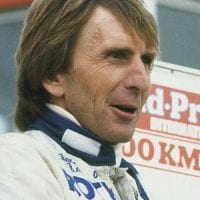 Derek Bell
Charming, popular and successful, Derek Bell is one of the great sports car drivers of all time. His Formula 1 opportunities were limited to just nine Grand Prix starts but he excelled in endurance racing – twice world champion and a five-time winner of the Le Mans 24 Hours.
Formula 2 success and Grand Prix debut for Ferrari
Bell was born in Middlesex but he had settled in the Sussex seaside town of Pagham by the time he started racing a Lotus Seven in 1964. That was with the encouragement of his step-father and under the Church Farm Racing banner that referred to their home. Formula 3 followed before Bell starred in Formula 2 during 1968 with a Brabham BT23C-Ford.
Third place at Thruxton helped attract Ferrari's attention and he signed a contract with the Scuderia in July. He qualified on pole position for the F2 Monza Lotteria although his spin on lap 23 triggered a multi-car accident. He ended his 1968 F2 campaign by qualifying on pole position at Zandvoort and finishing third at Hockenheim in a Ferrari 166. He also made two GP starts for the Italian team that autumn. Bell qualified eighth for his debut at Monza but his Ferrari 312 retired that day and again at Watkins Glen.
Stuttering Formula 1 career
It was not enough to earn another Ferrari contract and Bell's only GP start of 1969 was at Silverstone when his four-wheel-drive McLaren M9A-Ford retired. He was runner-up in the 1970 European F2 Championship after a season behind the wheel of Tom Wheatcroft's Brabham BT30-Ford. That included winning the third round at Montjuich Park.
Bell made his Le Mans debut in 1970 but he retired his Ferrari 512S after over-revving the engine as cars crashed all around him. He finished sixth in the 1970 United States GP on a one-off with a works Surtees TS7-Ford but further GP outings with Tecno and Surtees during the coming years included more DNQs than starts. His final attempt to make the field at the 1974 Canadian GP ended in another failure to qualify.
Sports car success
However, the Englishman was already making his name in sports cars. He drove John Wyer's Gulf-sponsored Porsche 917K in 1971 and won on his debut at Buenos Aires. He remained with the team for the next few seasons and the 1975 Le Mans 24 Hours provided Bell's highest profile success to date when sharing the winning Gulf GR8-Ford with Jacky Ickx. That was his only race for Mirage that year but Bell also won three times with Willi Kauhsen's Alfa Romeo T33 and Henri Pescarolo.
The rest of the 1970s were less successful but Bell's sports car career really started to take off in 1981. He began that season by finishing second in the Daytona 24 Hours with Bob Akin's Porsche 935-K3 and he repeated that result at Silverstone driving a BMW M1 entered and co-driven by Pink Floyd manager Steve O'Rourke.
When Porsche made a late decision to enter a pair of 936s for that year's Le Mans 24 Hours, Bell was drafted in as Ickx's co-driver once more. Without a 24-hour test before the event, their Jules-sponsored machine ran faultlessly throughout practice and the race to win by 14 laps.
The classic Porsche 956 was introduced for the following season and the Ickx/Bell partnership led the Rothmans-backed team. They were the class of the field in 1982 and won at Le Mans and Brands Hatch with Ickx crowned World Champion and Bell third in the standings.
Separated for 1983 (except at Le Mans where they finished second), Ickx and Bell fought out a year-long battle for the world championship which the Belgian won by a scant three points.
World Sportscar Champion
It was when Bell was first paired with Hans-Joachim Stuck in 1985 that he took centre stage in the team – sharing that year's world championship with the German and repeating that success in 1986 on his own. They also won the Le Mans 24 Hours in 1986 and 1987, with Al Holbert as co-driver on both occasions, to confirm their dominance at that time.
Porsche reduced its works commitment to sports cars from the late 1980s but Bell continued with privateer 962s in both the world championship and North America's IMSA series. Three victories in the Daytona 24 Hours (1986, 1987 and 1989) were the highlights in the latter series.
He finished third in the 1995 Le Mans 24 hours when sharing a Harrods McLaren F1-GTR-BMW with his son Justin and Andy Wallace. His 26th and final appearance a year later yielded his 19th finish in a glittering career at Le Mans.
Now living in Sussex and Florida, Bell remains active in historic racing festivals. He was voted into the Motor Sport Hall of Fame in May 2016.