The grace of Phil Hill
Exactly 60 years ago, a nice-guy Californian became the first American F1 champion. It was a win ultimately tinged with sadness for Phil Hill
Phil Hill, who in September 1961 became America's first Formula 1 world drivers' champion, began his climb to the top 11 years earlier with his maiden significant victory. That happened at Pebble Beach near Monterey, California, when he forced his own Jaguar XK120 from the back to the front with a drive that commanded national attention. In his first actual road race meeting.
Fifty-eight years later his life drew to a close at the same seaside locale.
During his professional career Hill won the Le Mans 24 Hours three times, the Sebring 12 Hours three times, the Nürburgring 1000Kms and Brands Hatch 6 Hours endurance races, plus one victory in Can-Am racing (also at Monterey). He also set a Land Speed Record at Bonneville in 1959.
Yet for all his accomplishments with racing machines, it seems that most people's memories of Philip Toll Hill III are of the man himself.
Richard Cramer met him over barbells. It was 1957, and the 21-year-old college athlete worked out regularly in a gym near his home in Santa Monica, California. So did a trim, compact fellow of 30, a quietly intense man with quick eyes — who turned out to have been in the same school fraternity. The frat brothers began 'spotting' each other on the weights, guarding against injuries, and Cramer noticed his new friend concentrating on the arms and wrists.
"He wasn't a body-builder, bulking-up," remarked Cramer. "He was doing tons of reps, going for endurance. So was I, but with him it was all upper-body. He said it was for stamina at the wheel of a race car. At that time I had no interest in auto racing, but we'd spend an hour with each other three times a week, talking about it, and he was fascinating."
The next summer, 1958, the older man came back from a trip to France and mentioned that he'd just driven a car called a Ferrari to victory at a place named Le Mans. Only the second American to win that most important of the world's sports car races.
Cramer was hooked. Hill may not have realised it, but he had brought one more unbeliever into the fold.
In his new life as a red-hot racing fan, 'Dick' was always keen to go and watch his barbell buddy wrestling the unruly beasts of the day. He first went to Le Mans in 1960, and was there again in '61, when Hill and Olivier Gendebien took their second triumph. Richard was watching for the entire 24 hours. Mostly from inside the Ferrari pit. "I was too excited to sleep! I didn't want to miss anything."
"There were smiles on Hill's face, but there was no joy behind them"
How did he score a pit pass? "I had asked Phil if he could get me in. He said I'd have to find him there. Among 300,000 people! But that was no problem, because in those days all the Americans tended to stay together in a house about two blocks' walk from the track. I recognised guys like Gregory, Ginther… I rang the bell, and Phil's an honest guy. He opened his wallet and pulled out a little yellow card with a string on it. He said, 'You don't realise what I'm giving you.' It was a Service pass, all access. I could go anywhere. Phil wouldn't need it, nobody was going to stop 'Feel Heel'."
Taking his camera out around that circuit and at numerous other tracks through the next several years, Cramer could see for himself how his friend's relentless pumping of iron in the gym paid off in the cockpit. "Some of the guys were really rough with the gear shifting, but he was so smooth it was like listening to a symphony orchestra.
"He had the right body size, he worked constantly to build up arms and wrists, and from his background as a mechanic he understood the car; he had a magical ability to feel it. Phil and the car were one."
And indeed, Hill regularly demonstrated that knack throughout his career — although not until after he ironed out some rookie wrinkles in the fabric of his technique.
His mount for that seminal 1950 Pebble Beach race was his own Jaguar XK120 alloy-bodied roadster, which he had purchased while working at the factory in Coventry. His employer, a Los Angeles import car dealer, had sent the 23-year-old mechanic to the UK for training at various carmakers, so he could properly service the boatloads of British sports cars that were being snapped up by novelty-seeking Americans.
After personally preparing his sleek black Jag, Phil drove it over 300 miles north to the Monterey Peninsula, where a new car race would be held on narrow, tree-fenced roads meandering through the coniferous Del Monte Forest. For Hill himself it would be only his third-ever go at organised racing, and just his first on a road course.
His practice times were good, and he was placed second in a preliminary race — despite the clutch breaking, so it refused to disengage. This made the twin-cam six difficult to start for the main event of the day, so Hill got away late.
Possibly that's why he arrived at the first turn too fast, and had to veer off into an escape lane.
Then the drum brakes faded to nothing.
Already changing gear without using the clutch, Phil was reduced to scrubbing off speed by abusing his tyres. It was not a tidy performance, but at the end of the 25 laps, about 45 miles, he had passed every other competitor and finished in first place.
As described in a retrospective 1975 article by Pat Jordan in Sports Illustrated magazine, "by the time Hill finished punishing it at Pebble Beach it was merely another muddy, dented, brakeless and clutchless racing hulk. Hill's driving technique at the time consisted of ploughing his car into each turn too fast, bracing himself as the car bounced off the track's protective bales of hay and then jerking the steering wheel until the car straightened out and proceeded to the next turn — with his foot nailed to the gas pedal. It was a technique that showed neither style nor fear, and one that would change."
The change was the driver's own doing, as he told the SI writer. "As a young racer I was a nutcase. My own worst enemy. I drove on instinct, not intellect. I would go out and go too fast and scramble around making sure to react to danger rather than doing a heady job."
Who was the sage who said, "You can slow down a fast driver, but you can never make a slow one faster"?
The notoriety of the Pebble Beach event itself, together with his manner of winning it, called this young Californian's talent to the attention of the racing world. Soon he was driving other people's cars along with his own new C-type Jaguar, refining his style every time out. Winning major club races again and again across the US bolstered his reputation until, in 1958, he was called to the Scuderia Ferrari. That first year he co-drove a 250 TR sports racer to victories at Buenos Aires, Sebring and Le Mans. By the end of the year he was a Ferrari F1 driver.
Not under happy circumstances, though. As was all too common in those days, the position opened when fellow team member Peter Collins was killed at the Nürburgring. Intently introspective, keenly cerebral, tautly strung, Hill struggled to shrug off the dangers in what he was doing.
"Within a 15-month period," noted Phil's close friend John Lamm in an interview for Road Track magazine, "Phil's Ferrari team-mates Luigi Musso, 'Fon' de Portago, Peter Collins, Mike Hawthorn and Jean Behra were gone.
"'It sounds cold, thinking about it now,' Phil explained. 'They were all good friends, and I was living on Peter Collins' yacht in Monte Carlo at the time of his death. But we were right in the middle of a very dangerous period in automobile racing, when people were buying it left and right and had been for quite a while. We were very defensive about anybody trying to get into the life or death aspects of racing. We tried to avoid it and not talk about it.
"'In retrospect, I'm pretty certain we knew it was a losing discussion at the time. We would have had a tough time rationalising why it was OK to continue. In that atmosphere, a lot of things that don't make sense now were logical then.'"
The mental turmoil gave him a nervous, apprehensive edge. At one point he suffered an ulcer. Writer Gerald Donaldson, quoted him as saying, "Racing brings out the worst in me… makes me selfish, irritable, defensive. If I could get out of this sport with any ego left I would."
Yet he did not get out, not then. Danger be damned, he was resolved to prove himself. As the US journalist David Malsher-Lopez put it last year, "Not a man of bullish self-confidence, then, but steely determination."
Add to that an iron-clad capacity to focus on the job. Stepping into a racing car seemed to flip a switch. If Hill had been at his 'worst' before the race, once it began his best came out. He handled the machine with sensitivity and grace, running fast without whipping his mount, thinking strategically, keeping his mind on the finish line and reaching it often in an era when many didn't.
It is a tragic fact that Hill's day of triumph is shrouded in horror. No one can forget that his Ferrari team-mate, Wolfgang von Trips, died in a savage accident that also took the lives of many spectators. Until that instant at Monza the German driver had the better chance of taking the title. Post-race photographs show smiles on winner Hill's face, but the man himself said there was no joy behind them.
By haunting coincidence Mario Andretti, the second American driver to become champion, did so at the same cost, when his Lotus partner Ronnie Peterson perished. At the same circuit.
Thus both Hill and Andretti had to fight the same internal war of opposing feelings.
Phil Hill was a Ferrari works F1 driver from the last part of 1958 through to 1962. During the three full seasons he rode the Prancing Horse, '59 to '61, he won a total of three grands prix. Not a sensational percentage, but one worthy of respect.
Especially so for someone whose youth was not bathed in the culture and mystique of European F1. Hill himself assimilated before many of his compatriots, but to most Americans of his era Formula 1 was a 'foreign' form of the sport and they had to be sold on it. Having one of their own become world champion was a powerful selling point — not least for his Italian employer, for whom America was becoming his marque's most important market.
"He is perhaps the most underappreciated world champion in F1 history"
Yet the one time Hill's home crowd saw their man drive an F1 Ferrari was at a sparsely attended Sebring in 1959, when his car failed after a handful of laps. Whether that poor first impression could have been redressed in the following two US GPs cannot be known, because the Commendatore refused to participate.
Thus at Watkins Glen in 1961, the wrap-up GP of the season, America's freshly minted first-ever world champion was reduced to saluting his fans from a parade car. A Ford.
Such cold disrespect by his transatlantic boss did nothing to diminish Hill's standing on the western side of the water. To the world at large it may be true that he was, as Malsher-Lopez remarks, "perhaps the most under-appreciated world champion in Formula 1 history", but his fellow Yanks revered him. His accomplishments with sports racing cars, domestically as well as internationally, were more than adequate to make Phil Hill one of our most distinguished drivers. His character as a person made him one of our favourites.
Everyone who remembers Phil Hill mentions what a gentleman he was. I saw that side of him after I'd asked his help with a book on Chaparrals (for whom he scored three significant victories), and I had thanked him in the foreword. Fully a year after publication I was in Monaco for the Grand Prix, and came across Phil also watching the action. Over the screams of engines he made a particular point of expressing his appreciation for mentioning him.
I thought, it isn't often in this business that you get sincere thanks from a racing driver. Mostly, their selfabsorbed minds just don't work that way. Not an 'ordinary' guy in the conventional sense, obviously, but one without the airs one might expect of' a champion'. There was no pretence. No nonsense. A straightforward man who raced because he was a racer, just that, and thereby kept the whole thing straight in my mind.
Straightforward, but not simple. Others knew him better than I and can recite many examples of his complexity. While Phil was still alive, the weightlifter whom he turned into a race fan, Richard, remarked that his friend was once offered a car dealership, but turned it down. "He didn't want to be bothered. It would have made him rich, but he's that way. Phil lives in his own world.
"He's a quirky guy. Phil only wore chemise Lacoste shirts and khaki pants, a whole lot of 'em. In Europe he drove a Peugeot 404; I think they loaned it to him, and its door panels were stuffed with his winnings in cash, $25,000 or $35,000 worth.
"When he gets mad he gets withdrawn. Nobody can sulk like him. He spends as much time in Santa Monica as he can; he loves the house his aunt gave him. He had beaucoup girlfriends, one after another, but wouldn't marry while he was racing because of the threat of being killed."
When Phil finally united with his soulmate Alma in 1971, it was a solid commitment. When he died in 2008, due to complications of Parkinson's disease, they had been married for 37 years.
No one can know a man better than his wife, and we are indebted to Alma Hill for sitting with Road Track's John Lamm to talk of her late husband with enthusiasm and love.
"The greatest adventure ever. Never, never a boring moment. Phil was a multifaceted, very intelligent human being so we never had a dull moment," she said for Lamm's story Life with a Champion in 2011.
"There was no pretence. No nonsense. He raced because he was a racer"
"It wasn't always fun, fun, fun. Some of it was extremely intense and he could be an impatient man, but we had so many experiences. Sometimes when I looked at a calendar and saw what we did within a week, I didn't think some people did that much in four or five years… Activity was surrounding us all the time."
As his illness became known, I took an opportunity to ask Alma how Phil was doing. "Oh, he's slowing down a little," she told me with a fond chuckle. "He's no longer racing around the house at 200mph. Now it's only 150."
Although I arrived too late to witness Hill's strongest period on the track, I cherish the times I was able to spend with him in later years. Some of his independence of thought came out when my wife and I asked to interview him at Hill and Vaughn, the highly regarded classic car restoration business he operated near his long-time home in Santa Monica.
Leaning back from his desk in his classic old wooden swivel chair, trying to look at ease but fidgeting continually, swinging back and forth, waving his arms, talking a torrent, he told us many things, but one stands out now in my mind.
Kids today, he said with consternation, are so darn safety-minded. Why, when he invites young people for a ride in some wonderful old car, they look around and complain there aren't any seat belts! He was genuinely puzzled. If not offended.
That seemed to contradict all that we'd heard of his notorious distress about the dangers in motor sport, but I understood perfectly. This man had been racing when racing was not about depending on technology for survival, but on yourself. To have to summon your absolute best. That, to me at any rate, is what makes it worth doing.
Yes, drivers worried about injury and death — so did we passionate onlookers — but the defence measure was to race with intelligence, vigilance and care. Which he did. Phil Hill never suffered a serious injury in a racing car. Yet he won the world championship.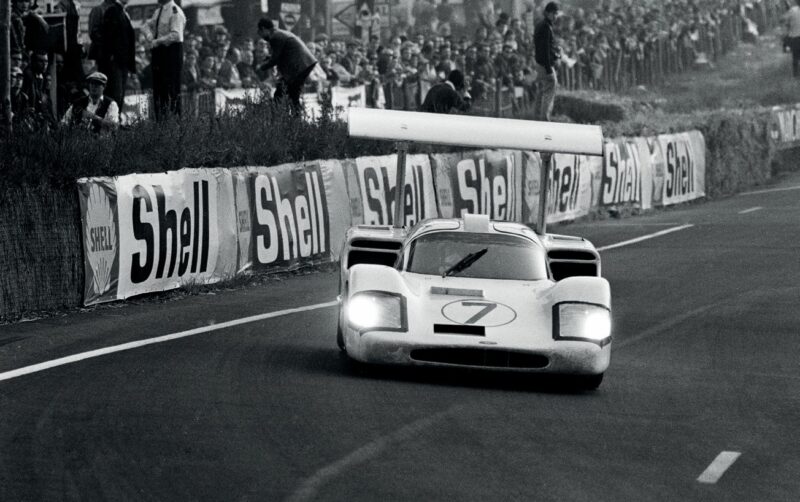 "Going to races with Phil was a highlight of my life," says Richard Cramer, acknowledging that their chance friendship made a lifelong enthusiast of him. "We were Kappa Sig brothers [American college fraternity], sure, but Phil didn't have to be that kind to me.
"I agree with what I've heard people say, that Phil Hill is the finest race car driver who ever lived. Because he knew what was going on under the hood. Nowadays all these kids come out of karts and it's all mostly electronics, push a button."
"I just happened to be there at a time when we both were young."