The team had abandoned 2021 to put all its resources into F1's new era, and it paid dividends in a car which showed immediate pace.
The returning Kevin Magnussen scored a fifth on his return, the first of six points finishes that season.
However 2022 was also a tale of what could have been for Haas. Collisions took Magnussen out of strong points contention in Spain, Canada, Singapore and Brazil, while the Ferrari power unit also was prone to unreliability.
Meanwhile the young Mick Schumacher showed pace, but quite simply not often enough, only finishing in the top ten twice. Added to a number of shunts, including breaking his car in half twice, Haas decided it could no longer rely on the German, who left the team at the end of the year.
2023: Further promise for Haas 
The team has looked to address the above areas for the upcoming season. The reliability bugs associated with any new generation of cars will have been ironed out to some extent, whilst it's strongly rumoured the Ferrari power unit's issues have been addressed, meaning it can be turned up to full song once again, potentially making it the most powerful in the pitlane.
In signing Nico Hülkenberg, the team will hope solid points finishes can move further up the constructors' standings once more. Consistency, not pace, was what it lacked in 2022.
"We head into a new season buoyed by some strong team performances last year and a return to points paying finishes," said owner Haas.
"The aim for the 2023 season is naturally to do that more consistently and with Kevin Magnussen and Nico Hülkenberg I certainly believe we've got an experienced driver pairing more than capable of delivering those points on a Sunday."
"It's an exciting time of year for Formula 1 and it's great that we're first out the gate to showcase our livery but our attention is firmly on getting the VF-23 on-track and preparing for the season ahead," said team principal Guetnther Steiner.
"We really have something to build on following last year's performances."
Haas 2023 driver line-up
| | | |
| --- | --- | --- |
| | | |
| Kevin Magnussen | Nico Hülkenberg | |
Kevin Magnussen made his F1 return with a multi-year deal from 2022 onwards
Mick Schumacher dropped for this season after crash-filled and inconsistent season
Nico Hülkenberg make his return to the grid for 2023
Key personnel
Team owner: Gene Haas
Entrepreneur Gene Haas founded his eponymous tool manufacturing company in 1983, and has since then built a hugely successful business empire.
So profitable has his venture been, that he has been able to fund not one but two motor sport teams, the Stewart Haas NASCAR squad from 2002, and the F1 outfit from 2016.
Team principal: Guenther Steiner
Outspoken yet affable, Guenther Steiner has become a firm fan favourite in recent seasons, particularly due to his team's starring role in Netflix's Drive to Survive.
However, the Italian has been involved in motor sport for nearly three decades, having started out as a rally engineer. His first big success came in being the lead engineer on the Ford Focus WRC car, which Colin McRae and Carlos Sainz took to numerous victories.
From there he moved to F1 with Jaguar and Red Bull, before then overseeing the latter's NASCAR team. Through making connections in the US, Steiner hatched and successfully sold the idea of an F1 squad to Gene Haas, with the team now entering its eighth season in F1.
Technical director: Simone Resta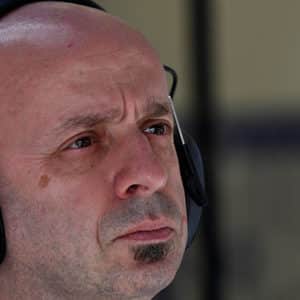 Experienced designer and engineer Simone Resta linked up with Haas mainly as a result of its technical partnership with Ferrari.
Though having bases in the US and in the UK, Haas also maintains technical staff at Maranello, from who its buy parts permitted for customer teams under the regulations.
Having joined the Scuderia in 2001, the Italian enjoyed a 17-year tenure at Ferrari before moving to Alfa Romeo in 2018. He went back to Ferrari for two years, before joining Haas in 2021.