But the first semi-auto Williams stuttered in the early rounds of 1991. "We took far too long to discover the cause, which was due to a lack of positional control once the transmission was warm, very simply solved once the cause was identified by closing tolerances," says Head. "Patrick realised we hadn't got proper longitudinal support of the shafts," expanded Newey in his book How to Build a Car. "They were moving lengthwise, which meant you could end up with cogs engaging even though they weren't supposed to be."
The result was a 40-6 lead to Senna over Mansell after the Brazilian lapped up the first four races, Mansell finally claiming his first points in Monaco where he finished second. Ultimately those early points put Senna into a title-winning position, but increasingly over the summer and into the autumn he, McLaren and Honda with its new V12 – the two extra cylinders added as a direct response to Renault's increasingly powerful V10 – found themselves gasping to keep hold of their advantage. It was just as well then that Williams and Mansell scored a few own goals along the way.
The first was a proper clanger from Nigel in Canada, when he let the revs drop too low while showboating to the crowd at the hairpin on the last lap. "We ran a very small battery on the car, and the voltage had dropped below that necessary to run the engine," Head explains. "When Nigel pulled for a downshift, the engine stopped with the gearbox in neutral, there was no hydraulic pressure and no way of getting another gear. So it was not a gearbox problem per se. After that we ran a slightly larger battery."
The Williams crew frantically worked on the car outside their pit box. Mansell was destined for disqualification.
Newey was gutted to lose a first win for one of 'his' cars, but next time out in Mexico Williams stormed to an impressive 1-2 to confirm what had already started to become clear. The team was in the ascendency. The problem was Patrese was leading the way. He outqualified Mansell in each of the first seven races and his victory in Mexico was entirely deserved, even if the Englishman was delayed by an engine problem. Sore from his bruising two years at Ferrari, Mansell hadn't seen this coming – and while with hindsight Head could pinpoint the team's usual struggle with team orders as costly, the truth is Nigel didn't deserve a helping hand from Patrese at that stage. Soon he wouldn't need it.
Mansell tore through the summer of 1991, scoring a hat-trick at Magny-Cours, Silverstone and Hockenheim as McLaren faltered, Senna running out of fuel in consecutive races in Britain and Germany. At Silverstone, Mansell gave his nemesis a ride back to the pits – and resisted the temptation to end the title battle there and then with a sudden burst of acceleration… McLaren and Honda hit back in Hungary with a new, more powerful V12 and lots of new parts for the car, then Senna won again at Spa but only after Mansell lost a seemingly comfortable win because of an engine control unit problem and Patrese suffered transmission gremlins. Reliability was a Williams bugbear at this stage, much to Head's annoyance, and would heavily influence the team's decision the following season to persevere with the tried and tested FW14B, bristling by then with its game-changing 'gizmo' electronics, including traction control.
The season appeared to swing back towards Williams at Monza, where Mansell passed Senna to win. And then came Estoril. Patrese had scored a terrific pole position in the spare car and led entirely on merit, as Mansell charged past Senna and Gerhard Berger to run second. For once, Williams made the right call on team orders and Patrese waved Mansell through on lap 18 – until it all unravelled at the tyre stops. Mansell's wheel bouncing away as he accelerated is another key image etched into the fabric of that F1 season. The Williams crew frantically strived to save their error, but having worked on the car outside their designated pit box Mansell was destined for disqualification. So Patrese took the victory he deserved, but Senna was second, his title lead now stretched to 24 points. Mansell dented it when he famously went wheel-to-wheel with Ayrton in Spain, on a day when the Brazilian could only manage a lacklustre fifth. But then came the fizzling disappointment of Suzuka where Senna, his championship secure as soon as Mansell skated off, patronised his team-mate Berger by gifting him a victory on the line.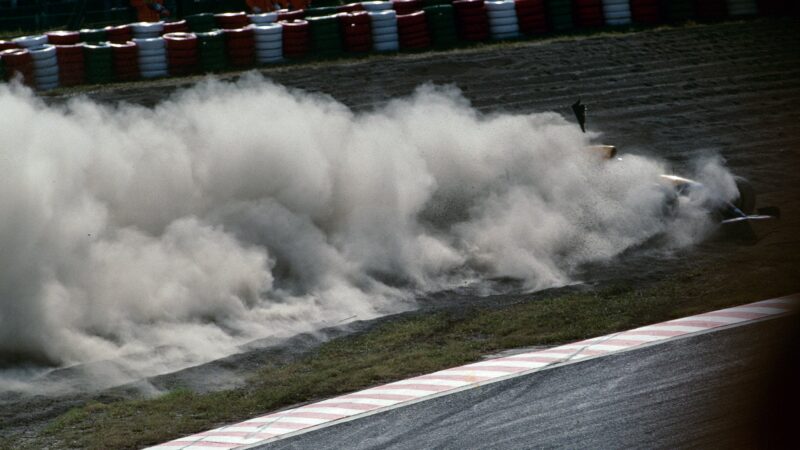 It's easy to understand Head's frustration. But he's right not to pinpoint Estoril as the moment the title was lost. Those early-season gearbox-related DNFs, Mansell's Canadian faux pas, the electronics trouble at Spa – the title was lost to an accumulative effect. McLaren too had been far from perfect, but Senna had risen to the new threat and he had made the difference – which is why for some this was the best of his three titles. Sure, he didn't have to worry about his true nemesis Prost, the Frenchman saddled as he was with his "truck" of a Ferrari – but Mansell in a Newey-Head Williams? That had still been some challenge. Just how much he was about to find out.