Top Le Mans moments
90-81

: from a 24hr solo drive to Aston Martin glory
Celebrating a century of Le Mans with its stand-out moments, including: the driver who completed 24 straight hours in the cockpit, when Colin Chapman fell out with organisers, and the best all-female finish - that dates back to 1930
90 –

1950 Eddie Hall's successful solo drive
It is well remembered that in 1952 Pierre 'Levegh' nearly won Le Mans after driving solo for over 22 hours (see #93). It is scarcely remembered at all that, by that time, one Eddie Hall had already successfully completed the race solo two years earlier. What's more he did it in a Rolls-Royce-built 'Derby' Bentley that was 16 years old at the time of the race. When asked by DSJ the secret to spending 24 hours in the cockpit without relieving himself, Hall is reputed to have replied: "Green overalls, old boy!"
---
89 –

1962 Chapman blows his top
The generous rewarding of efficiency as well as performance was the perfect showcase for Colin Chapman's 'added lightness' approach. His lithe Lotus 11 won the 1100cc classes of 1956 and 1957 by finishing seventh and ninth respectively; and a 750cc version won the Index of Performance as well as its class in the latter year. His 1300cc Lotus Elite won its GT class every year from 1959 to 1964 as well as the Index of Thermal Efficiency in 1960 and 1962. This, however, brought him increasingly into conflict with French manufacturers who had by now given up on overall victory and had found solace in the smaller classes. For several years Chapman's father Stan had greased the wheels with a lunch here, a gift of pipe tobacco there, and Lotus had been fine. That changed in 1962.
The astounding performance of the Lotus 23 in Jim Clark's hands at the Nürburgring 1000Kms grabbed attention. The ACO had its own ideas and rules – to which Chapman's new design did not comply: oversized fuel tanks; too great a turning circle; insufficient ground clearance; and – mon dieu! – six studs on the rear wheels and just four on the fronts. To be fair to the scrutineers, the car was clearly unready. In Chapman's defence, those scrutineers were being pernickety. This time it could not/would not be shrugged off: fix it by midday tomorrow or you're out!
Lotus bust a gut to comply, Chapman working through the night on four-stud fixings and flying the parts out. When the chief scrutineer expressed a preference for six studs, Chapman argued furiously but got a steadfast "non". The 23s were thrown out. An immediate threat never to enter again caused the organisers to call a meeting of supposedly calmer heads in Paris. But the Lotus boss was simmering. The figure Chapman jotted down when asked to calculate losses incurred, with a view to their being refunded, has not been revealed. But it caused the ACO's chairman to bluster. The threat became a vow: Team Lotus and Le Mans were done.
---
88 –

1930 The best all-female finish
Remarkable though it seems, no all-female crew has yet beaten the 1930 finish of Odette Siko and Marguerite Mareuse, who took the wealthy Mareuse's Type 40 Bugatti to seventh place overall. Two years on, with male co-driver 'Sabipa', Siko placed fourth in her own 6C-1750 Alfa Romeo, which remains the highest-ever Le Mans finish for a female driver. Siko went on to contest rallies and to captain an all-female team which set speed records at Montlhéry.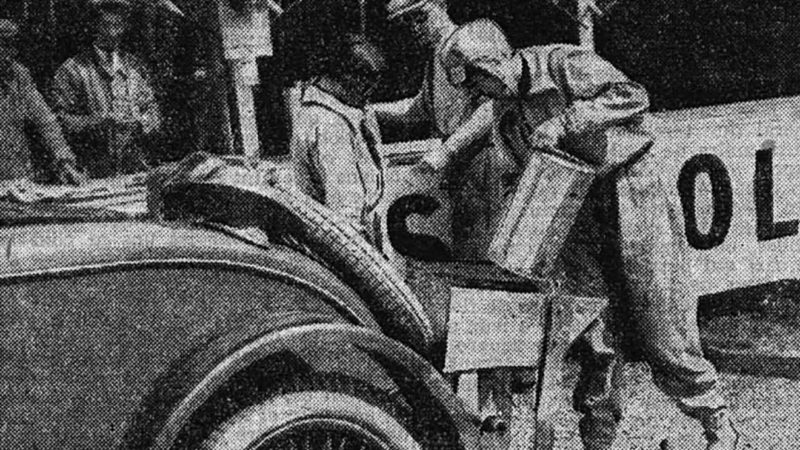 ---
87 –

1995 Mario Andretti's 'win'
In 1966 26-year-old hotshot Italian-American Mario Andretti, the reigning USAC champion but almost unheard of in Europe, had his first crack at Le Mans driving a Holman Moody works 7-litre Ford GT40. His race ended with a blown head gasket in the night.
Thirty seasons later, aged 55 and now a legend, he was back at Le Mans with his best chance of victory, and a chance to join Graham Hill as the only other person to have won the F1 title, Indy 500 and Le Mans.
He was in a Porsche-powered Courage, one of a handful of prototypes against an army of GT1 cars. Sharing with Le Mans veteran Bob Wollek and 1993 winner Eric Hélary, this was also one of the best driver line-ups. But the rulemakers limited prototype fuel tanks to just 80 litres, GT cars to 100.
It was all looking good despite the filthy weather until Mario came across one of the Kremer cars running slower than expected in the Porsche Curves, sending him into the wall in avoidance. It took six laps to repair. At the finish the Courage was second, one lap down on the leading McLaren and gaining. As Andretti told us: "We were first in class, so you're a winner, right…?"
---
86 –

2010 Peugeot's titanium conrod weakness
Peugeot should have made it two in a row after its return to the winner's circle with its 908 HDi LMP1 turbodiesel in 2009. The latest iteration of the V12-powered machine had a massive advantage over Audi's R15 TDI Plus, yet a technical glitch that hit three of the four Peugeots handed victory to its arch-rival. New titanium conrods were pushed beyond their limit of endurance by a super-fast race with no rain and few safety cars.
---
85 –

1925 First run and jump start
Intended as a test of roadworthiness as well as speed and endurance, it was decided that the first 20 laps should be tackled hoods unfurled, with any insufficient robustness resulting in disqualification. To prevent premature erections, ahem, drivers and cars were arranged on opposite sides of the road. The subsequent charge into day-long competition caught the public imagination and the process survived as a keynote until 1969 – even though hoods had been safely stowed for 41 years.
---
84 –

1932 Circuit becomes strictly out of town
Over the years the circuit has had many changes, yet has always retained its essence. One major shift came in 1932: instead of spearing into the heart of Le Mans as before, a new eastward link bypassed the town, cutting across from the end of the start straight to Tertre Rouge. What had been a gentle left kink became today's sharp right sweep onto the Mulsanne straight. It lopped almost two miles off a lap, down to 8.3.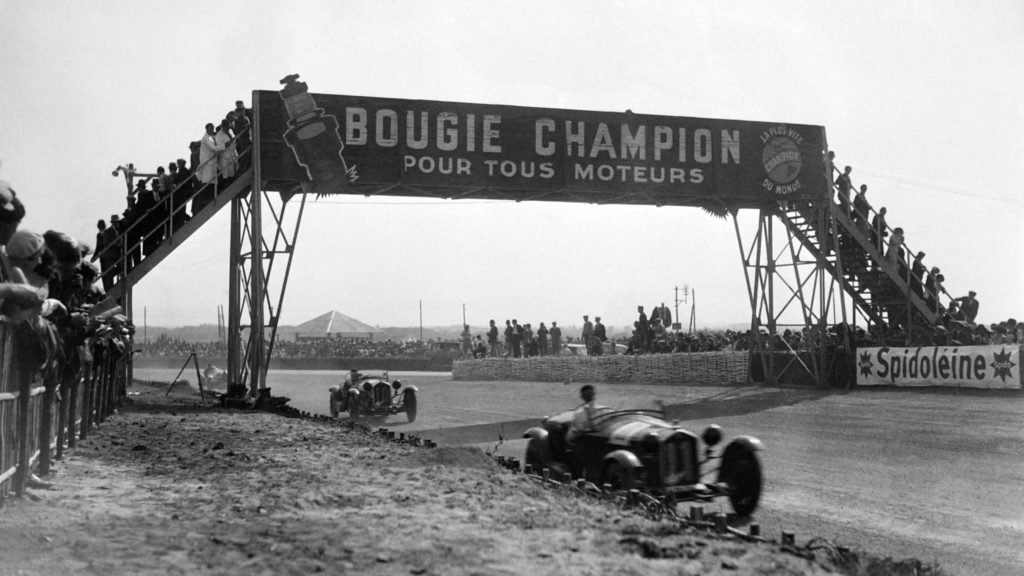 ---
83 –

1993 Coulthard loses GT win on only LM appearance
Forty years after Duncan Hamilton and Tony Rolt's alleged booze-fuelled charge to a Jaguar victory at Le Mans 1953, a pre-Formula 1 David Coulthard, David Brabham and John Nielssen 'won' the inaugural GT class in the TWR-run XJ220C – and were then disqualified for Tom Walkinshaw's refusal to fit a catalytic converter. A painful experience? It was for Brabham. In qualifying, the fuel bag tank had to be replaced, there were gearbox issues and the car was dropped on Brabham's foot during a pitstop. Ouch.
---
82 –

1936 The only race cancellation
Apart from the inevitable cessation during World War II, which stifled the race from 1940-48, the 24 Hours has been cancelled only once, in 1936. Suffering a depression and political unrest, France was paralysed by a sweeping general strike in May. Though settled days before the race it was impossible to get things moving in time, and no later dates were acceptable internationally. Shame – the entry list was one of the strongest yet.
---
81 –

2007 Aston Martin wins (class)
It was a case of third time lucky for Prodrive's Aston Martin DBR9s as the British manufacturer faced off against the rival Pratt & Miller-run Corvettes for GT1 honours. The winning car, helmed by Darren Turner, David Brabham and Rickard Rydell, also finished fifth overall in a year of torrential rain and bright sunshine. The success was Aston's first since 1959.
For Turner, it was the first of his three Le Mans class wins, and gave him a huge boost. "In '05 I screwed up getting penalties for hitting cones – after all, they are a dying species…" he says with an eye-roll. "I was sat so low, I didn't even know I'd hit them. And the following year I clouted a kerb and took the oil pipe off, so that cost us 50 minutes. I'd had two horrendous years at Le Mans and felt really bad for it. Winning in 2007, and then again in '08, was a relief.
"That car was just amazing to drive," he says of the DBR9. "They detuned it over the years with new regs, but the two highlights of my career were winning the GT class at Le Mans in that car. Standing on that podium is a surreal experience. It takes months to sink in. If I had a lottery win, the DBR9 is what I'd buy."