From DFV to Red Bull: Ford's glorious F1 timeline
The announcement of Ford's 2026 return to F1 is the latest chapter in a grand prix involvement which has ultimately brought huge success
Today Red Bull and Ford announced a technical partnership in Formula 1 from 2026 onwards – the American automotive giant essentially paying to rebadge the Milton Keynes team's engines.
This is in fact the method Ford has gone about producing engines for roughly three quarters of the world championship's existence, with the majority of expertise coming from the Cosworth engine builders.
Below we chart the history of Ford in F1 – an association which has had its ups and down, but ultimately produced a huge number of race wins and championship titles.
1967 – 1985: Ford-Cosworth DFV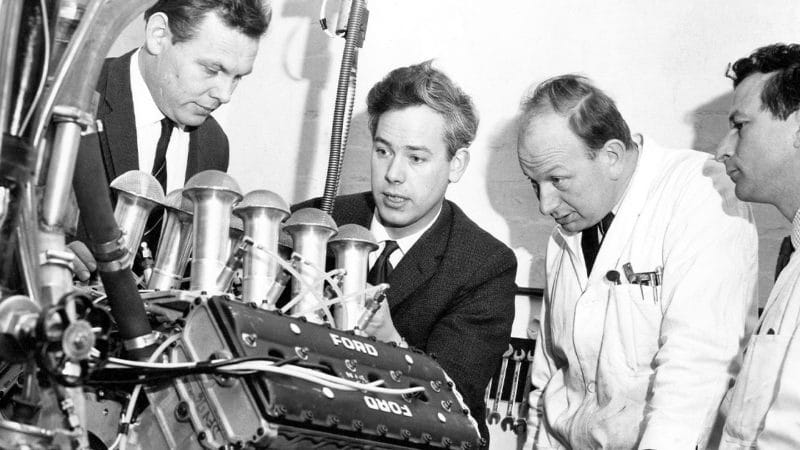 Ford began in F1 as it largely meant to go on – for the 1967 Formula 1 season, it agreed to fund Mike Costin and Keith Duckworth's 3-litre Cosworth DFV, thought by many to be the greatest racing engine of all time and one which would become largely ubiquitous through the grid for over a decade.
Its competition history started spectacularly with a win at the '67 Dutch GP on its debut in the back Jim Clark's Lotus 43 and the engine soon became the must-have power unit, but for Ferrari and a few other brave power unit builders.
The DFV would propel pilots to 155 GP wins in total and won every single drivers' and constructors' title between 1968-74, before winning titles again with James Hunt/McLaren again in '76, Mario Andretti/Lotus two years later and then providing a clean sweep for Williams in 1980 and again two seasons following.
That would be the last title triumph for the incredible example of engineering, with its final win being taken by Keke Rosberg at Monaco '83, while Michele Alboreto would win for Tyrrell at the 1983 Detroit GP using the DFY evolution.
Cosworth DFV: the greatest racing engine ever made
Cosworth DFV – Horses for courses
1986 – 1994: Building back up to success
Ford finally joined the new-fangled power unit party and produced its turbo-charged TEC V6 for the Beatrice Haas-Lola project in 1986, delayed due to the engine initially starting life as a V4 – which didn't work.
"There was always the promise of that wonderful new Ford engine that was coming," driver Alan Jones said to Motor Sport. "It was a beautifully-built little engine, like a piece of clockwork. But it was just gutless. It didn't do the job."
Whilst the Haas team folded, Benetton took on the Ford engines for 1987 leading to greater success, whilst Tyrrell and March would use naturally aspirated DFZs.
The Italian-owned Enstone team would take a number of wins over the following seasons with Ford, remaining as its nominated works team supplier until the end of 1994.
This final season would be the culmination of years of effort for the Ford-funded engine builders, and Michael Schumacher was its superstar driver.
He made his debut for Jordan with the HBB 3.5-litre V8, before taking ten wins – and one world title – with the HBA and HB Zetec 3.5-litre V8s in the back of Benetton.
For one season also, Ford also powered another F1 legend: Ayrton Senna. The Brazilian piloted the MP4/7 to five wins in '93, but was ultimately no match for the Williams-Renault of Alain Prost.
McLaren would switch to Peugeot for '94 and Benetton would opt for Renault at the end of its title-winning campaign.
'I had my first F1 car and no money': Eddie recalls birth of Jordan 191 — 30 years on
Ford increases interest: 1995-1999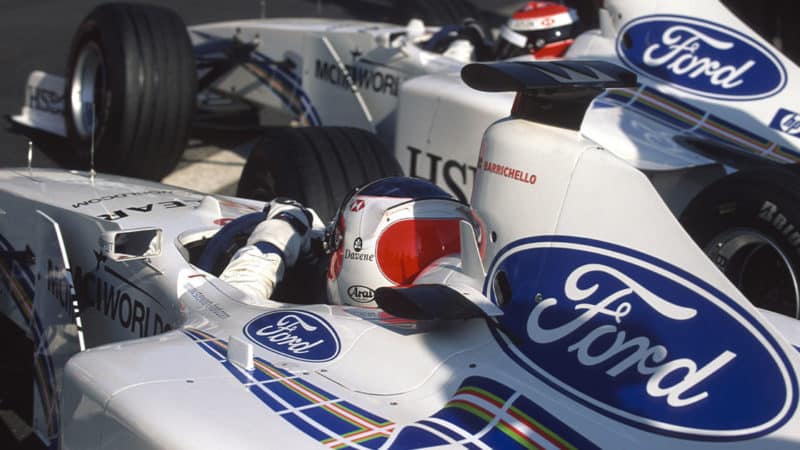 Various Ford engines would continue to power a number of back-markers and midfield teams such as Minardi, Tyrrell and Sauber, while Ford-backed Stewart Grand Prix came on the scene for the 1997 season.
The team scored a podium in its debut year, and for 1999 produced one of the best cars on the grid – with a V10 Ford engine which Johnny Herbert told Motor Sport was a "brilliant piece of engineering".
Using that potent combination, Herbert would score a famous win for the team at the Nürburgring for the European GP, but the team's days as Stewart were drawing to a close – Ford had purchased both the engine and car-building concern, renamed Jaguar for 2000.
Herbert remembers Ford's last F1 win with 'Team Milton Keynes'
2000 – Corporate wrangling squanders Ford's golden F1 opportunity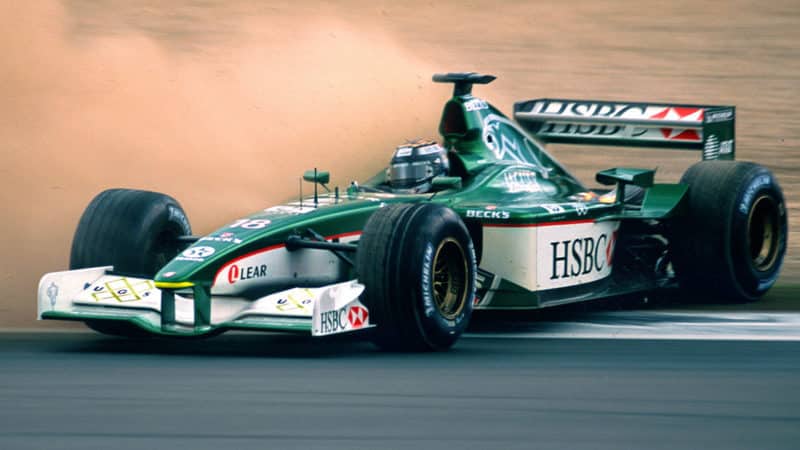 Eddie Irvine was hired as Ford's star signing from Ferrari, whilst Herbert continued – but the American company would end up squandering what was a fantastic opportunity.
The R1 was a development of Gary Anderson's rapid SF3, but the engineer was often overruled or delayed on design matters by Ford executives, sending the development direction the wrong way.
As well as issues in the design department, team leaders came and went: Indy 500 champion Bobby Rahal, Niki Lauda and others were all hired and fired, but it was only in the team's final year, 2004, that results improved, but Ford pulled the plug at the end of the season, selling to Red Bull for £1.
"People were very critical of Jaguar F1, but they had some good people," Rahal told Motor Sport in 2015. "All they needed was some good leadership."
Though Cosworth engines would intermittently find their way back onto the grid for the next few years, this was largely the end of Ford's involvement in grand prix racing for nearly 20 years, the final Blue Oval win coming at the chaotic 2003 Brazilian GP with Jordan's Giancarlo Fisichella.
F1's Great Drives: Giancarlo Fisichella – 2003 Brazilian Grand Prix
2026 – Ford and Red Bull go back to the future
Ironic overtones are now abound as Ford announced on February 3 2023 was to go into a technical partnership with Red Bull from 2026 – the same Milton Keynes team it had sold to the energy drink powerhouse for £1 to the best part of 20 years earlier.
Red Bull is already well underway with building its own engine facility for the new 2026 power unit regulations, so Ford is essentially paying to badge the engine.
"It's fantastic to be welcoming Ford back into Formula 1 through this partnership," said Red Bull team boss Christian Horner.
"As an independent engine manufacturer to have the ability to benefit from an automotive manufacturer's experience like Ford puts us in good stead against the competition.
"They are rich in motoring history that spans generations. From Jim Clark to Ayrton Senna and Michael Schumacher, the lineage speaks for itself.
"For us as Red Bull Powertrains to open the next chapter of that dynasty, as Red Bull Ford, is tremendously exciting."
Ford's F1 return with Red Bull — how it will work
Red Bull & Ford partnership solves F1 team's key weakness – MPH