"Then through December and January it was getting bigger and bigger. I think we reached 60-something people, with everybody working flat out. At Honda we had had 600."
The Super Aguri SA05 was ready just in time for a shakedown before the season started, but Sato could scarcely believe it.
"When I actually saw the first Super Aguri in the assembly area at Leafield, it was just a pure white car," he says. "To make something, really from zero, and get it to Bahrain in 90 days – the boys just made it happen. They did an outstanding job."
Needless to say, using a four-year-old F1 car – which had built on a budget in the first place – wasn't without its technical hiccups.
"We used the current 2006 Honda engine of course, but then we had to also use the gearbox that was something from pre-2002," Sato says.
"So the position of the input shaft was very different – the Honda engine was so low.
"It wasn't possible to change this due to the cost, so we had to raise the engine by about one inch to match the gearbox's infrastructure.
"You could see through the other side of the car underneath the engine!"
As Sato explains, the A23 really was pushing the limits, but perhaps not in a way a grand prix team might want.
"Of course in F1 you want to have a low centre of gravity, you try to make the car lighter, try to get everything on it as down low as you can – you need every millimetre," he says.
"Then we had an engine that was an inch higher than it was supposed to be! As you can imagine, the car just made it past 2006 FIA regulations."
Things didn't get any easier once they fired up the car and got it running though.
"We didn't even have power steering at that point at the shakedown! After driving the BAR in 2004 and 2005, which was so technologically advanced, it was a bit shocking! But we were just happy everything was working."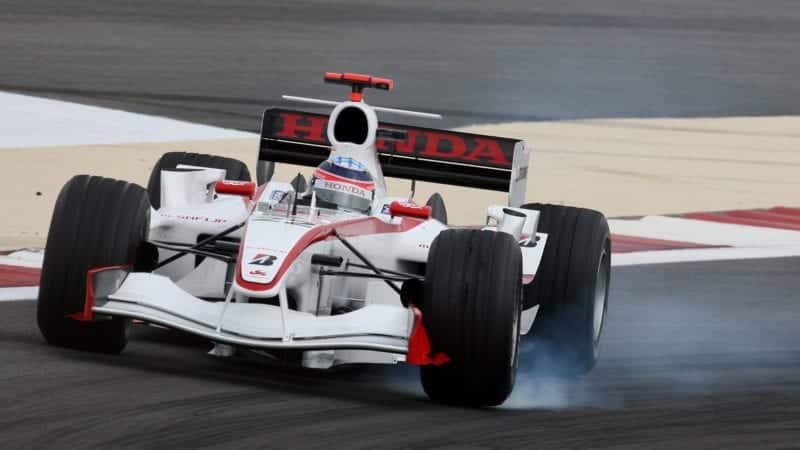 However, once the team lined up on the Bahrain grid, the scale of their task in even keeping up with the field became clear.
The almost ancient Arrows showed its age as Sato qualified 6sec(!) behind pole-setting Michael Schumacher, with Super Aguri team-mate Yuji Ide even further off – a whopping 9sec back.
"We were lapped after 10 laps!" laughs Sato. "But the main target was just to collect as much data as possible and finish the race."
As the A23 creaked its way round Sakhir, even that was looking like a tall order.
"We had no spare parts, no [spare] front wing, nothing! Everything had to go to Melbourne and the race after as the first three races that year were flyaways.
"On the second stint, one of the alarms [on the steering wheel] started going off like a Christmas tree light, saying I had a puncture," he says.
"I didn't feel anything, but since we had no spare parts, I had to come into the pits to make sure everything's fine.
"It turned out we didn't even have a tyre pressure sensor – there was no way the car could've known!"
"I brought the car in and my race engineer Gerry Hughes came to look at my steering wheel, and then just said to me 'Go, go, go!'
"It turned out we didn't even have a tyre pressure sensor – there was no way the car could've known I had a puncture!"
Sato ended up finishing the first three races, which in his words, was a "miracle".
Super Aguri ended up having a year of remarkably solid progress – at least on Sato's side of the garage.
Hapless team-mate Ide endured what is often sighted in F1-lore as having the worst grand prix career of all time. After being at least 7sec off pole in every qualifying session (11sec in Melbourne), he then capped it off by biffing Christijan Albers into a barrel-roll at Imola.
The FIA swiftly removed his superlicence, and Franck Montagny then Sakon Yamamoto replaced him for the rest of the season.
Despite being written off by many, Sato and Super Aguri were looking to get into the top half of the table by the end of the season. They managed it at the 2006-closer Interlagos, as its lead man came home 10th.