Top Le Mans moments
40-31

: from postwar restart to Aston defeating Ferrari
More from Le Mans' most memorable episodes: the race's revival after the war, John Surtees storms out, and the legendary Group C cars roar onto the track for the first time
40 –

1949 Fresh start in the wake of world war
The airfield next to the circuit had been used by the British before the fall of France and, extensively, by the Luftwaffe thereafter. What wasn't pounded by RAF bombing was torched by the Germans when they left. One of the first British to visit the circuit post-war was 1927 winner SCH 'Sammy' Davis. The decision to rebuild came in 1948, government money helping fund new buildings and resurfacing before the first 24-hour race in a decade was flagged off on June 25th, 1949.
---
39 –

1966 Surtees storms out on Ferrari
Decades later, John Surtees could readily admit he was "perhaps a bit quick on the boil".
In the wake of victory in the Belgian Grand Prix, Ferrari's number one arrived at Le Mans knowing he faced a battle royal against a Ford team featuring fellow aces Dan Gurney, Mario Andretti, Chris Amon and Bruce McLaren. Typically he was up for the fight, telling sporting director Eugenio Dragoni that he'd go flat-out to break the opposition. "It was Dragoni's little world, and I found it difficult to communicate with him," Surtees told us in 2015. "I had to exert a bit of muscle to get things right, and I put in the occasional critical report about his decisions to the Old Man." But this time Dragoni stood firm – and put the decent but not as quick Ludovico Scarfiotti in the car for the start. The fire was lit.
"I jumped into my 330GT road car and drove flat out, there and then, to Maranello, and went straight to the Old Man. I told him I'd joined Ferrari to win races, not to get involved in politics. That was our divorce."
Surtees had expected to see out his career at Ferrari. Instead, one of the era's best driver-team match-ups was over.
---
38 –

2011 Leena Gade breaks the mould
She was non-plussed by the attention. Leena Gade was a race engineer, pure and simple, employed by Audi to win a motor race – and that was what she'd just done. But 12 years on women race engineers remain a rarity in motor sport and Gade is still the only one to have run a winning car at Le Mans. Forging a strong bond with André Lotterer, Benoît Tréluyer and Marcel Fässler, this crew won twice more in 2012 and '14. "If anything comes from it, that young girls and boys see engineering is a subject anyone can do, that's something to be slightly proud of – even if I cringe," she says.
---
37 –

2020 Action behind closed doors
For the first time in Le Mans history, La Sarthe echoed to the sound of a full grid of entries – but with barely anyone there to witness it. Moved to late September due to the Covid pandemic, this was only the fourth (and a half) time the classic hadn't been held in June (May in 1923, July in 1956, September in 1968, while the 1986 race started on May 31). The Toyota TS050 Hybrid of Sébastien Buemi, Kazuki Nakajima and Brendon Hartley scored the make's third consecutive win on an unreal day in France.
---
36 –

2014 Electric ZEOD makes its mark – for a single lap
Evolved by Ben Bowlby from his previous Deltawing design – itself initially a mooted IndyCar concept – the radical narrow-track Nissan ZEOD RC made history at Le Mans in 2014 by running the first ever all-electric lap. Granted the experimental 'Garage 56' entry for 2014, the ZEOD utilised a hybrid electric drivetrain, and in the morning warm-up circuited La Sarthe using purely electrical power. It only lasted five laps in the race – but the record had already been set.
---
35 –

1949 British aristo wins for Ferrari…
Well, he drove all of 72 minutes, around dawn. Rumour has it Peter Mitchell-Thomson (aka Lord Selsdon) was hungover. Whatever the truth, Ferrari's first Le Mans win and the start of the post-war era was all about Luigi Chinetti. Already twice a winner with Alfa Romeo, 47-year-old Chinetti convinced the aristocrat to buy and enter a 2-litre V12 166MM, then put in one of the greatest feats of endurance to score his personal hat-trick. Enzo Ferrari never liked Le Mans. Too bad. A saga had begun.
---
34 –

1982 Group C is born
The start in 1982 shared much with that of the 2021 race, in that there was one dominant force leading the way into what promised to be a magical new era. But few imagined Group C would give us the highs that it did when a trio of Porsche 956s dominated the field, challenged only by a ragtag field of Rondeaus, Fords, Saubers and privateers such as the Nimrod curio. Porsche whitewashed what turned out to be a stale contest, but the fuel-efficiency formula would catch on. More than four decades later, we're looking at the same situation with Toyota leading the way in Hypercar, but with the opposition swelling.
---
33 –

1956 Ecurie Ecosse keeps the Jaguar flame burning
Australian engineer Ron Gaudion was 29 when he returned home having spent four years in the UK, during which he had tended to the victorious D-types of Jaguar's hat-trick: a works car in 1955 and a brace for Edinburgh privateer, Ecurie Ecosse.
"Jaguar had a family atmosphere and it was the same at Ecosse," he says. "Stan Sproat, the other mechanic, and I hit it off. We got on well with DM [team owner David Murray], too. Stan had been there for three years, but it was me who had to ask for our share of the mechanics' prize. Both years!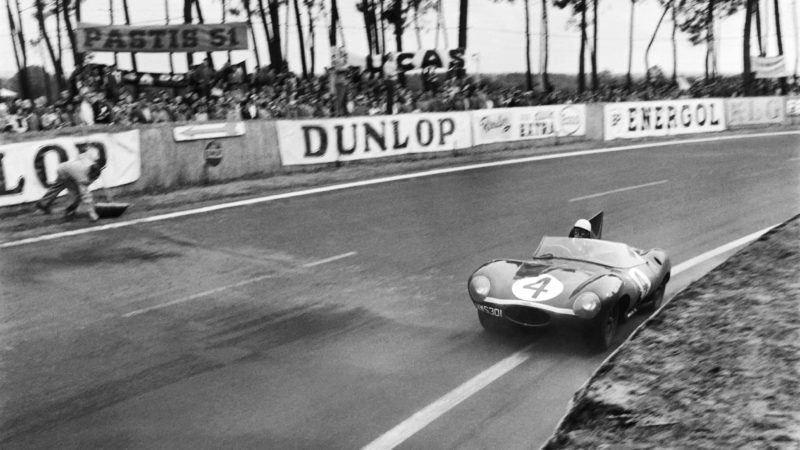 "DM was hanging onto every pound. I don't blame him. It's an expensive sport and the team was on a shoestring. I wouldn't be surprised if only [winner] Ron Flockhart got paid [in 1956]. The others drove because it was a nice team with good cars."
Englishman Ivor Bueb, a winner in 1955, was drafted for 1957, replacing the "a bit wild" Ninian Sanderson alongside Flockhart. "Scots in those days didn't take kindly to Sassenachs," says Gaudion. "They took to me because I'm not a Pom. But Ivor fitted right in – perhaps because he never went up to Edinburgh.
"There were no fewer than 10 works-supported Ferraris that year, plus three works Maseratis and a team of Aston Martins. Jaguars finished 1-2-3-4-6. Ours were 1-2. Fantastic."
---
32 –

1970 Delaney flicks the vees at Stahler
"Porsche wins Le Mans!" heralds the plummy circuit announcer. But after a barely believable three-way last-lap scrap between two Gulf 917s and a lone Ferrari 512S, it's the unfancied Larry Wilson who takes the flag. Downcast old rivals Michael Delaney and Erich Stahler lock eyes through the throng. Stahler shrugs, Delaney responds… with a universal gesture. There's a glint of humour and obvious mutual respect. If only it were true, it would likely top this list. Still, the impact of Steve McQueen's wonderfully evocative Le Mans movie can never be underestimated on our real world.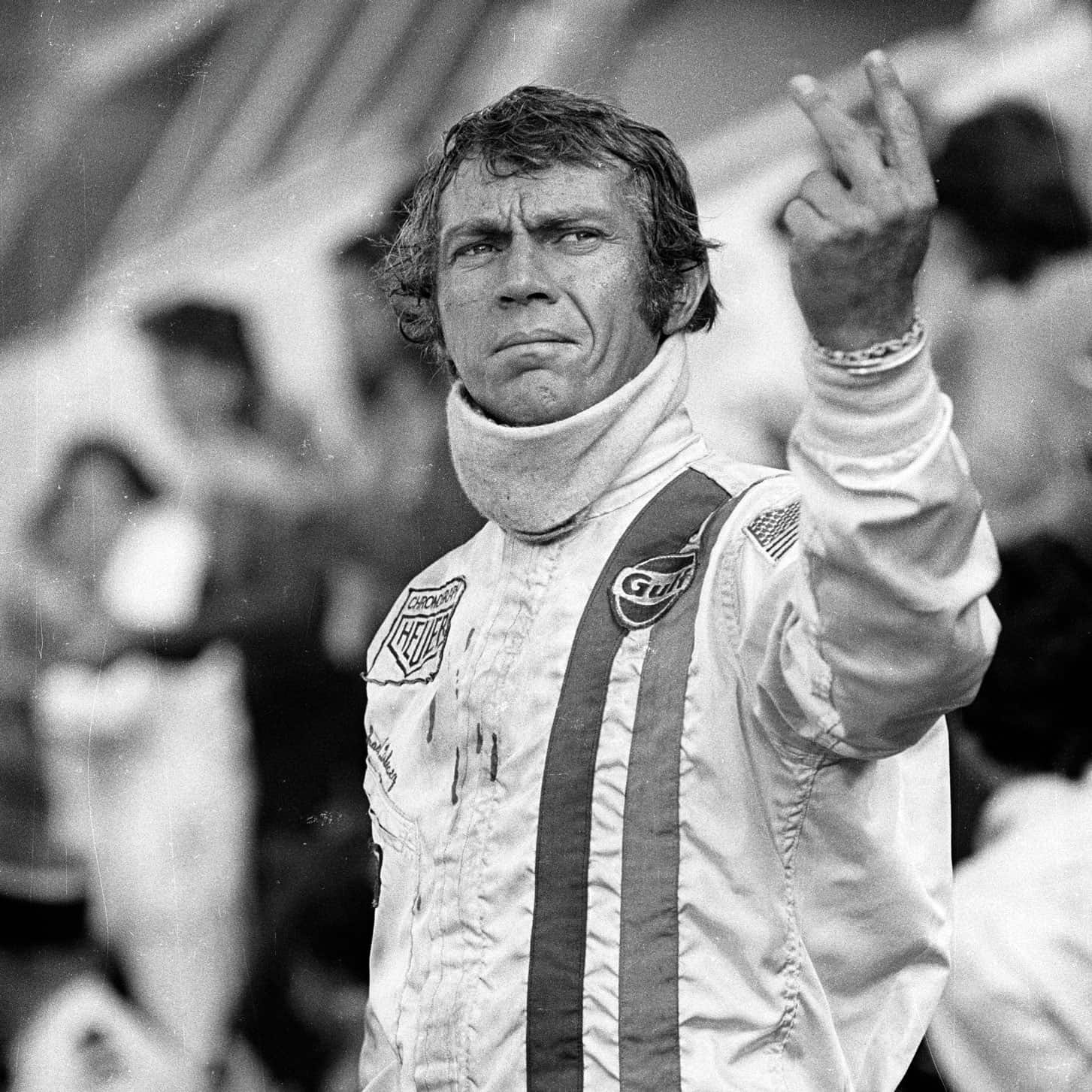 ---
31 –

1959 Ferrari opens the door to Aston
Ferrari's Testa Rossa was clearly quicker and seemingly no amount of clever strategy and calm, co-ordinated pitstops by Aston Martin could compensate: Moss had hared off as usual, but was caught, outpaced and outlasted. Ferrari self-destructed instead: Jean Behra, in a fury, and young co-driver Dan Gurney, of heavy foot and strong arm, led – but cooked their engine; and more measured pairing Phil Hill/Olivier Gendebien were four laps in front with four hours remaining when they lost all coolant. Aston's 1-2 was a victory for patience.