A heated duel in Saudi Arabia followed by a dominant win in Australia gave Leclerc and Ferrari an early advantage in both championships entering Imola – a race which served as a warning for what was to come.
Unable to keep pace with Verstappen's rampant Red Bull, Leclerc spun and crashed in his pursuit of second, ultimately falling to sixth and losing critical points.
Alongside head-scratching strategy decisions and problems with reliability, both Ferrari drivers continued to fall short of their rivals over the course of the season, ultimately being pulled into a battle for second against a struggling Mercedes.
The Tifosi were rewarded with some highlights, including Sainz's first F1 win at Silverstone and Leclerc's epic drive on Red Bull's home turf in Austria. But ultimately they were left disappointed, hoping for more consistency at the front in 2023.
2023: Ferrari looks for redemption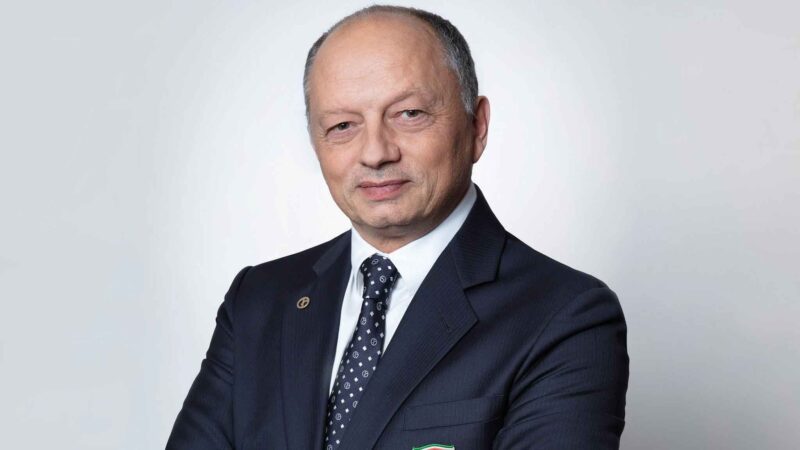 The coming season is set to provide Ferrari's best chance at a title victory since 2007, with Mercedes seemingly still behind in development and Red Bull set to suffer from cost cap penalties that could have a major impact on its performance.
It's thought that Ferrari has resolved the engine issue that caused retirements in the early part of the season and required a power reduction for the rest of the year, which should allow its drivers to fully exploit the unit's potential.
Widely regarded as a world champion in waiting, Leclerc should have no issues in leading from the front, with Sainz continuing to build upon a strong start in his first two seasons with the team. But it was off-track issues that derailed Ferrari's title chances in 2022, a problem hopefully fixed through the acquisition of Frédéric Vasseur.
Replacing Mattia Binotto as team principal as well as becoming general manager, Vasseur will aim to bring a sense of calmness to the Ferrari pitwall, identify key areas of improvement in strategy and reliability, and ultimately help return F1's most successful constructor to the top of the series.
Ferrari 2023 F1 driver line-up
| | | |
| --- | --- | --- |
| | | |
| Charles Leclerc | Carlos Sainz | |
Charles Leclerc and Carlos Sainz have contracts set to end in 2024
Vasseur keen on extending Leclerc's contract in 2023
Antonio Giovinazzi acting as reserve driver for 2023 season
Key personnel
Team Principal and General Manager: Frédéric Vasseur
First appearing in the F1 paddock in 2016, acting as team principal for Renault, Vasseur has spent the majority of his career managing the midfield. But a move to the Sauber Group in 2017 to become its managing director as well as its team principal is a true indicator of the value he can hold.
As team principal, he oversaw the development and meteoric rise of Charles Leclerc, who made his F1 debut with Sauber in 2018 before being promoted to Ferrari the following year. The Frenchman has also had a working relationship with Ferrari since 2019, when Alfa Romeo Racing began running Ferrari power units in its F1 cars. So Vasseur was an obvious candidate to replace Mattia Binotto who resigned from his post at the end of the 2022 season.
Vasseur joined in early January and isn't expected to have answers for Ferrari's problems just yet, but in his first media call as team principal he declared his intention to understand exactly what happened in every single mistake during the 2022 campaign.
Head of Power Unit Area: Enrico Gualtieri 
Engine reliability was a sore point for Ferrari in 2022, causing retirements in Spain, Azerbaijan and Austria during the early stages of its title campaign, and forcing the team to limit the power unit's output.
But it's an issue that is rumoured to have been solved for 2023 under the watchful eye of Enrico Gualtieri, who has headed Ferrari's power unit area since 2019.
The Italian has been a major part of F1's most successful constructor since 2010, when he was appointed Head of Engine reliability – experience he will need to put to use if Ferrari want to content for another world title.
Racing Director and Head of Track Area: Laurent Mekies
Mekies has spent the majority of his F1 career trackside, originally working for the Arrows team in 2001, becoming Toro Rosso's Chief Engineer in 2006, and eventually becoming safety director of the FIA in 2014. Working alongside Charlie Whiting, Mekies has been responsible for implementing many of the sporting regulations as well as overseeing updated safety precautions across all FIA racing categories.
In need of experience and leadership, Ferrari hired the Frenchman in 2017 as its Sporting Director, later taking on additional roles in Track Performance.