Top Le Mans moments
70-61

: from Hypercar era to Brundle's winning Jaguar
A breathtaking record pole lap… an exhilarating victory for Brundle… and Derek Bell's fairytale that never was: more of the highs and lows from 100 years of the Le Mans 24 Hours
70 –

2021 August date heralds Hypercar era
The race had been delayed until September the year before, and this time the long tail of a devastating pandemic forced another break with early summer traditions. But at least crowds were allowed back – well, a relative skeleton crowd of 50,000. Better than the complete lack of people that had made 2020 so surreal. The returning limited audience witnessed the dawn of the Hypercar era and, you guessed it, an inevitable Toyota victory.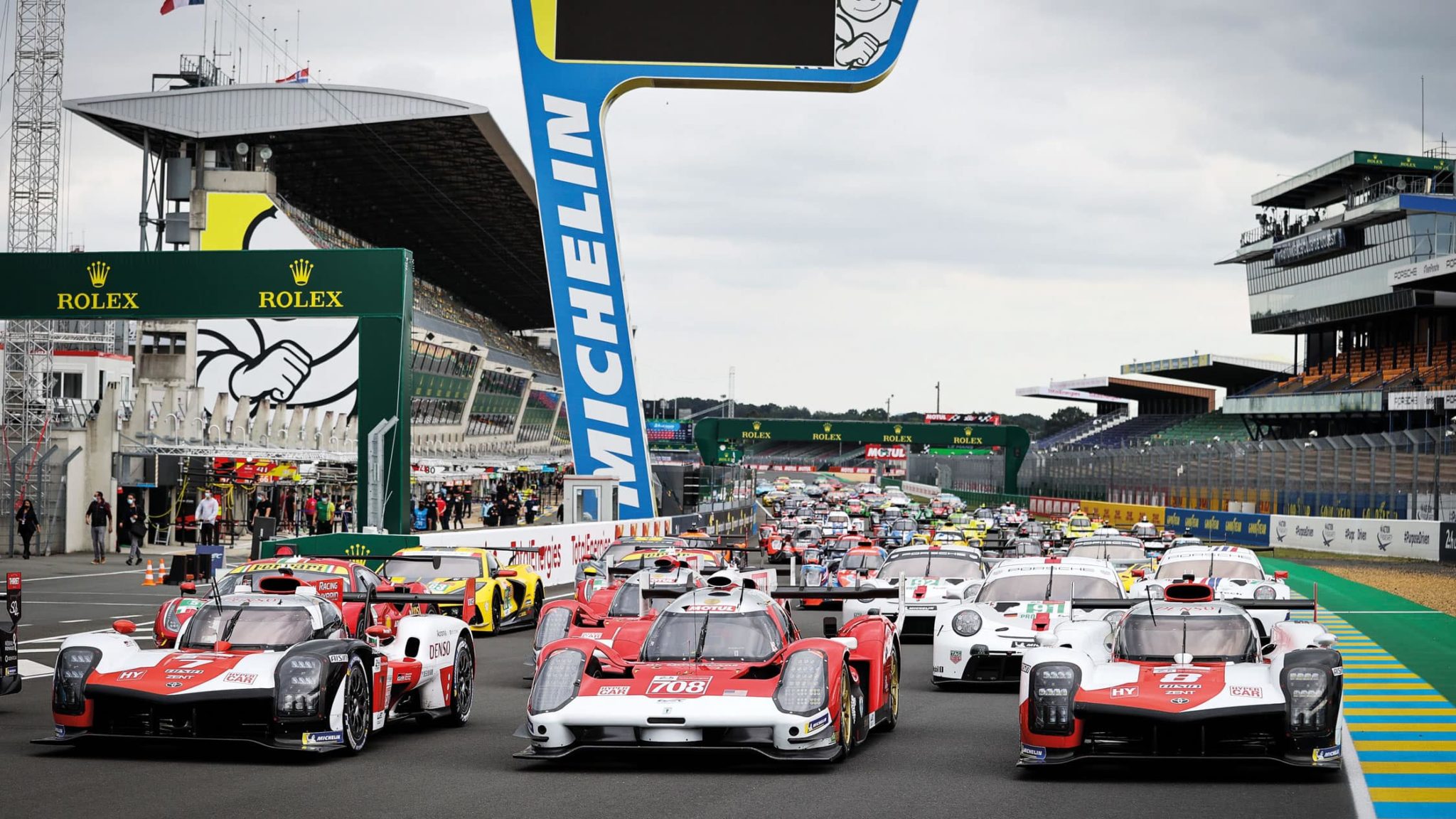 ---
69 –

1987 Percy survives Jaguar 'plane crash'
He wasn't supposed to race. But as reserve driver when John Watson fell ill, Win Percy stepped up – and then took off on the Mulsanne in the wee small hours when the right-rear of his XJR-8 let go. He even had time to think of Jo Gartner, killed on the straight a year earlier, as he looped into the night sky. "The car was twisting in the air like a leaf in the wind," he recalled. When it stopped, his helmet had rubbed through to the cloth lining – but he didn't have a bruise.
---
68 –

1985 Stuck's qualifying lap record sticks
Armed with a works Porsche 962C, Hans Stuck was on a mission, lapping the circuit in 3min 14.80sec at an average speed of 156.47mph. It was over 10 seconds faster than the fastest lap recorded in the race itself. Changes to the circuit (starting the following year with a reprofiled Mulsanne Corner) meant it would be 32 years before Kamui Kobayashi's Toyota broke Stuck's record by nine one thousands of a second .
---
67 –

1976 'De Cad' makes the podium
The year 1976 will be remembered as a good one for two very British drivers. In the summer privateer Alain de Cadenet was on the podium at Le Mans and by the end of the year James Hunt was Formula 1 World Champion. Both men had what might be called the 'bulldog spirit'.
On June 13 'de Cad' and his co-driver Chris Craft stood proudly on the podium at La Sarthe, having finished third six laps ahead of Rolf Stommelen's works Porsche 935 and just a lap behind the Mirage of Jean-Louis Lafosse and François Migault.
"We painted a Union Jack on the big rear wing," said de Cadenet, who died last year, "I always wanted to wave the flag for Britain and show the French that we still had the fighting spirit."
De Cadenet had persuaded his friend Gordon Murray to design a car for Le Mans based on a Lola T380, Murray working on the project late into the night after his day job at the Brabham Formula 1 team (see #77). Sponsored by Duckhams oil the car would be known as a Lola T380 LM76, powered by the trusty Cosworth DFV and embellished by Murray's magic aerodynamics.
"It was Gordon who had the idea of extending the bodywork by positioning a big wing low down at the back of the car," said de Cadenet. "This gave us the top speed and stability which we needed on the Mulsanne. Before Le Mans we tested the car on the M4, taking it out early one morning, and saw nearly 200mph at 9500rpm. Based on Eric Broadley's Lola chassis, and using the reliable 3-litre Cosworth, this was the most successful Le Mans car we ever produced, and on a very tight budget. In 1977 we improved the straight-line speed, seeing 220mph on the test track at MIRA. This was reported in Motor magazine at the time and a university student saw this and wrote in to say that he had been inspired by what he'd read. It was a young Adrian Newey."
Gordon Murray has since built a copy of the car, called the Duckhams-Ford LM, in which Dario Franchitti won a historic sports car race at Laguna Seca last year.
"Alain said he'd let me have the car after we did so well at Le Mans in 1976, but that never happened," says Murray. "But Le Mans '76 has always been a special memory for me."
---
66 –

1995 Derek Bell's near-miss – at 53
So close to a fairy-tale. At 53, the five-time winner shared one of the new McLaren F1 GTRs with his son Justin and one of the fastest drivers of the era, Andy Wallace. They led and took the battle to the so-called 'works' entry. But gearbox gremlins broke the spell. The David Price Racing Harrods car finished third, but a Jacky Ickx-equalling sixth had slipped away.
---
65 –

2017 Kobayashi's record pole lap
Kamui Kobayashi is the modern one-lap king of Le Mans. The Toyota driver has been on pole no fewer than four times and produced the fastest-ever lap of the Circuit de la Sarthe in any of its configurations when he took the top spot in 2017. A tail wind on the Mulsanne and a head wind through the Porsche Curves, as well as lots of grip-inducing Michelin rubber laid down during support events, helped him propel his TS050 Hybrid around in 3m14.791sec, at a staggering 156.512mph.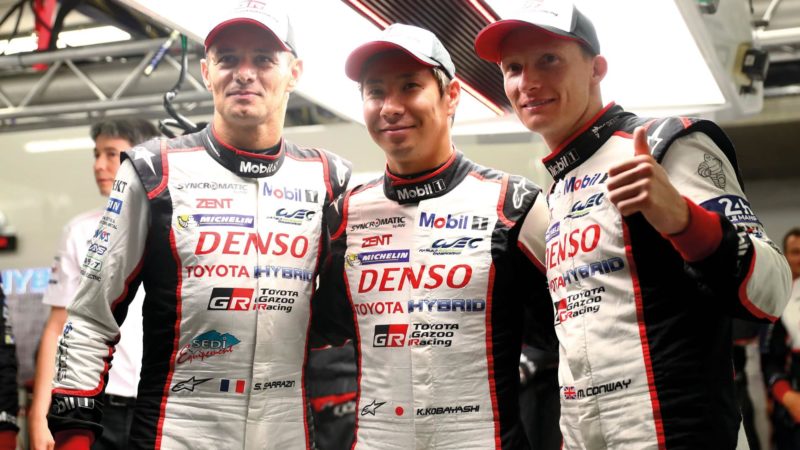 ---
64 –

1974 All-female crew takes class win
Motor racing is one arena where women compete on equal terms with men, and Le Mans has featured plenty of female contestants, despite their exclusion by the ACO from 1957-71 following several fatalities. 1974, though, produced a new item for the record book – the first class win for an all-woman crew. In their 1790cc Cosworth-engined Chevron B23, Christine Beckers, Yvette Fontaine and Marie Laurent came home 17th, but more significantly top of the so-called S-2000 class. That year a total of six women entered the race, the equal-highest female entry with 1938.
The following year Christine Dacremont, Marianne Hoepfner and rally star Michèle Mouton took the same category in their 2-litre Moynet-Simca.
Over the decades to 2022 Le Mans has hosted 150 individual race starts by women, France's Anne-Charlotte Verney topping the list with 10. Vanina Ickx, daughter of Jacky, comes next on seven, including a best of seventh overall in 2011, driving a V12 Lola-Aston Martin.
---
63 –

1978 Pironi's final double stint
This was the victory that Renault Sport needed – and its hopes were resting on a thrown-together driver combo of youngest and oldest: Didier Pironi and Jean-Pierre Jaussaud. "I had a good feeling: the car was fast and very stable," said Jaussaud. "But I started hearing a crack noise when I changed gear. I told the team my fears. Didier said he had no such problems. So they kept him in for the final stint." All concerned admitted that was an error: Pironi, dehydrated and cramping, collapsed after they'd won.
---
62 –

1963 A Lola makes low-key debut
The Lola GT was a mid-engined monocoque sports car with a big American V8 engine and doors cut deep into its roof. Remind you of anything? Untested, unproven and with the wrong ratios, it raced at Le Mans in 1963 with Richard Attwood and David Hobbs, the latter crashing out when the gearshift jammed. Few noticed, but Ford did. With its own efforts to crush Ferrari going nowhere fast, it bought the car, hired the designers, built the GT40 and the rest is history.
---
61 –

1990 Brundle switches cars and wins
It looked like another Le Mans win had evaded Martin Brundle when his Jaguar XJR-12LM was delayed first by high water temperatures and then on Sunday morning by pump failure. But Tom Walkinshaw had a plan. He'd deliberately kept Eliseo Salazar out of the sister car, letting John Nielsen and a dehydrated Price Cobb rotate until he parachuted Brundle in unannounced to help nurse failing brakes and a defective fourth gear to land Jaguar its second Le Mans win of the Group C era.