Top Le Mans moments
10-1

: from Porsche's first win to the controversial 1966 finish
Our countdown ends with the ten most seismic occurrences from the Le Mans 24 Hours, with unlikely victories, legends forged, and the most successful drivers in the race's history
10 –

1951 Porsche opens its account
Porsche is the most successful marque at La Sarthe, but its debut was a battle. The diminutive 356 SL did win its class on its first outing in 1951, but nearly didn't arrive at all when all three racing test mules were crashed. That left just chassis 063, which had started life as an abandoned aluminium shell left behind in Austria by Ferry Porsche after he switched to Stuttgart. Fitted with rear wheel covers and driven by Auguste Veuillet and Edmond Mouche, it finished 19th, winning its 1.1-litre category.
---
9 –

1988 Jaguar rides its luck
The factory Porsche team is not an organisation for which one tends to feel too sorry, but there was one moment at Le Mans in 1988 when those watching could be forgiven for extending a little sympathy. With the race just four hours old, the lead Porsche was coming down the pitlane, powered not by its 800bhp, water-cooled, twin turbo, flat six engine, but by its starter motor and half the Porsche pitcrew. There was a huge cheer from the crowd.
Such a display of schadenfreude is perhaps more understandable when you consider Porsche was gunning for its eighth victory in a row and, to that end, had built a car full of trick bits and lightweight parts and crewed by its best drivers – Hans Stuck, Derek Bell and Klaus Ludwig – solely for that purpose. Jaguar, aiming for its first win in over three decades and which had walked the previous year's championship but still managed to trip over its own shoelaces at Le Mans, now looked on for one of its five XJR-9LMs to prevail over the Porsches.
The source of the Porsche's problem has been debated ever since. In its original race report, this magazine stated that "the reserve fuel pump failed to work properly", but team boss Norbert Singer blamed the error on "Ludwig's mistake of running out of fuel". Bell is equally clear, not to mention rather more pithy: "The reserve? Well it worked perfectly well for the rest of the race…"
Porsche's problem was not any lack of raw pace with which to recover the deficit, but a lack of fuel under the Group C regulations. But then on Sunday afternoon it started to rain and, left out on slicks when everyone else dived for wets, Stuck put on a masterclass of wet-weather driving those who saw it would never forget. Soon he was back on the lead lap and even hit the front when the Jaguar driven by Jan Lammers stopped for a new windscreen. Had the rain stayed Stuck might even have won. In the event, it dried up, and Lammers nursed a Jag suffering severe gearbox trouble to take one of the great Le Mans wins. Had the Porsche not run out of fuel? Who knows – the history of racing is written in 'what if' stories. But in the end it was Jaguar that ran out a worthy winner, breaking the distance record in the process and Porsche, just for once, was left wondering what might have been.
---
8 –

2008 Audi's most unlikely win
Audi knew it couldn't hold a candle to Peugeot in the dry, but it also knew that rain was forecast for the race. Its ageing R10 TDI had looked good against its French rival's 908 HDi at the Test Day in wet conditions, so the task for Tom Kristensen, Allan McNish and Rinaldo Capello was stay in the hunt and wait for the weather to change. They drove the socks off the Audi and were sitting pretty when the rain arrived.
---
7 –

1969 Ickx beats Herrmann in closest (competitive) finish
It was a brave decision. The race was coming to a boil and yet JWA team manager David Yorke coolly called for a '15,000-mile' service for the lead car: front pads and tyres, and hood-up fluids-and-belts check. Three minutes well spent: Jacky Ickx's GT40 was now primed for its crucial final stint.
The rival Porsche 908/2, recovering from a half-hour wheel-bearing replacement and a collision with a sister car, could just about outrun the outdated Ford down the straight, but it was no match for it under braking for Mulsanne. Ickx usually crossed the start/finish line ahead. He did so with a few seconds remaining and the two swapped paint and positions on that final lap. Hans Herrmann considered a banzai move at Ford Chicane but decided not.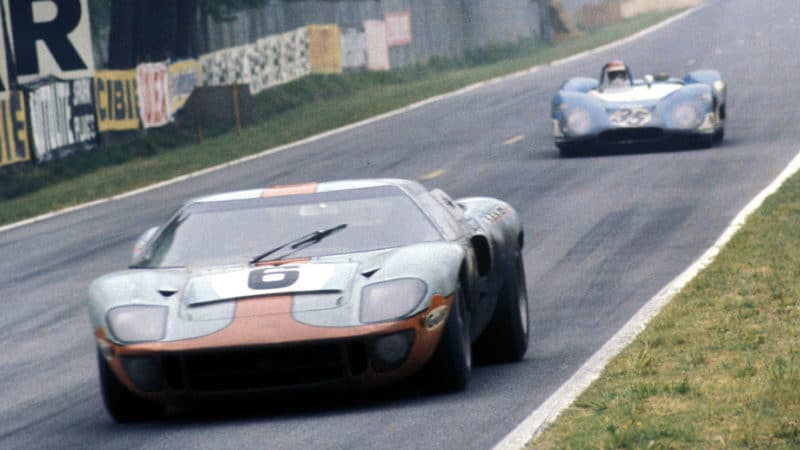 ---
6 –

1995 Murray's magic McLaren F1 GTR rains…
It is one of the great unanswered and, indeed, unanswerable questions from this first 100 years of Le Mans. Would McLaren have joined Ferrari and (by default because it won the first) Chenard et Walcker as the only makes to have won Le Mans at the first time of asking had it not rained? It is impossible to say.
But we know this: the McLaren F1 GTR was a competition development of a road car that had never been designed with racing in mind, and came with an essentially standard road-going transmission for which 24 hours of non-stop racing shifts had never been envisaged. That they'd be quick was not in doubt; whether they'd stay the distance was a very different question indeed. But rain it did. And rain and rain and rain, by some estimates for up to 17 hours, making it one of the wettest on record. And while that made life even more difficult for the drivers it took a huge strain off the McLaren's driveline – and gave former Benetton F1 driver JJ Lehto a platform to shine. "I just loved the car, especially in the wet," he said. "It had loads of traction, lots of torque – no problem." Facing gearbox worries, terrible weather and far faster prototypes, albeit with smaller fuel tanks, McLarens finished in four of the first five places, including the one that matters most, proving the brilliant adaptability of Gordon Murray's original design.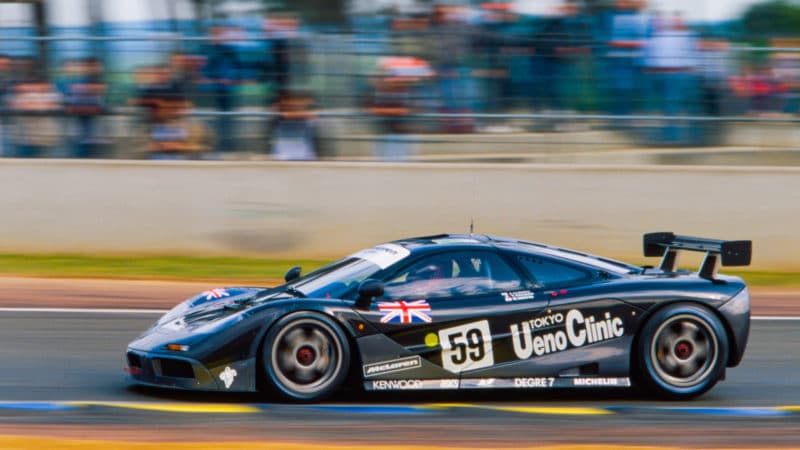 ---
5 –

1969 Porsche presents 25 917s for homologation
Worried about thinning fields, the homologation figure for Group 4 sports cars was halved to 25 examples. Though Enzo Ferrari continued to grumble about it, his team was rumoured to be complying. This sparked Porsche to take a huge gamble for a small company whose racing and production development departments were one and the same. (Ferrari baulked at the cost and baled – until he sold a 40% stake to Fiat three days after the race.)
Design began in July 1968 – the 917's 4.5-litre flat-12 used the same cylinder dimensions as the 3-litre eight and its frame owed a lot to the concurrent 908/2 – and chassis No001 was unveiled at the Geneva Motor Show on March 12, 1969 (yours for 140,000DM!). It caused a sensation.
But it was the line-up of the full complement in the forecourt at Zuffenhausen on April 21 that blew the mind. Though Porsche would come swiftly to realise that it needed outside help to sort and run this initially flawed car, undoubtedly this was the moment that altered its status forever: from admired to revered.
---
4 –

1997 Tom Kristensen receives a phone call from Joest
Blame Ralf Jüttner. It was Joest's technical director who made a late decision to call on who would become 'Mr Le Mans', but had yet to step foot in the place. "That call was the very foundation of my whole Le Mans career," says nine-time winner Tom Kristensen. "I never expected to be anywhere near Le Mans in 1997, then I got a call from Joest. I was to share with Michele Alboreto and Stefan Johansson. I signed just four days before the race. I'd never seen the track, and did just 17 laps in qualifying before the race. I was full of butterflies, preparing to impress the little team which was just 12 people then. Michele put the car on pole, and I got a new lap record. I remember Ralf coming on the radio saying 'lap record, lap record. Now keep it steady, keep it steady.' I realised, hey, if a German starts speaking English to me, then I'm doing a good job."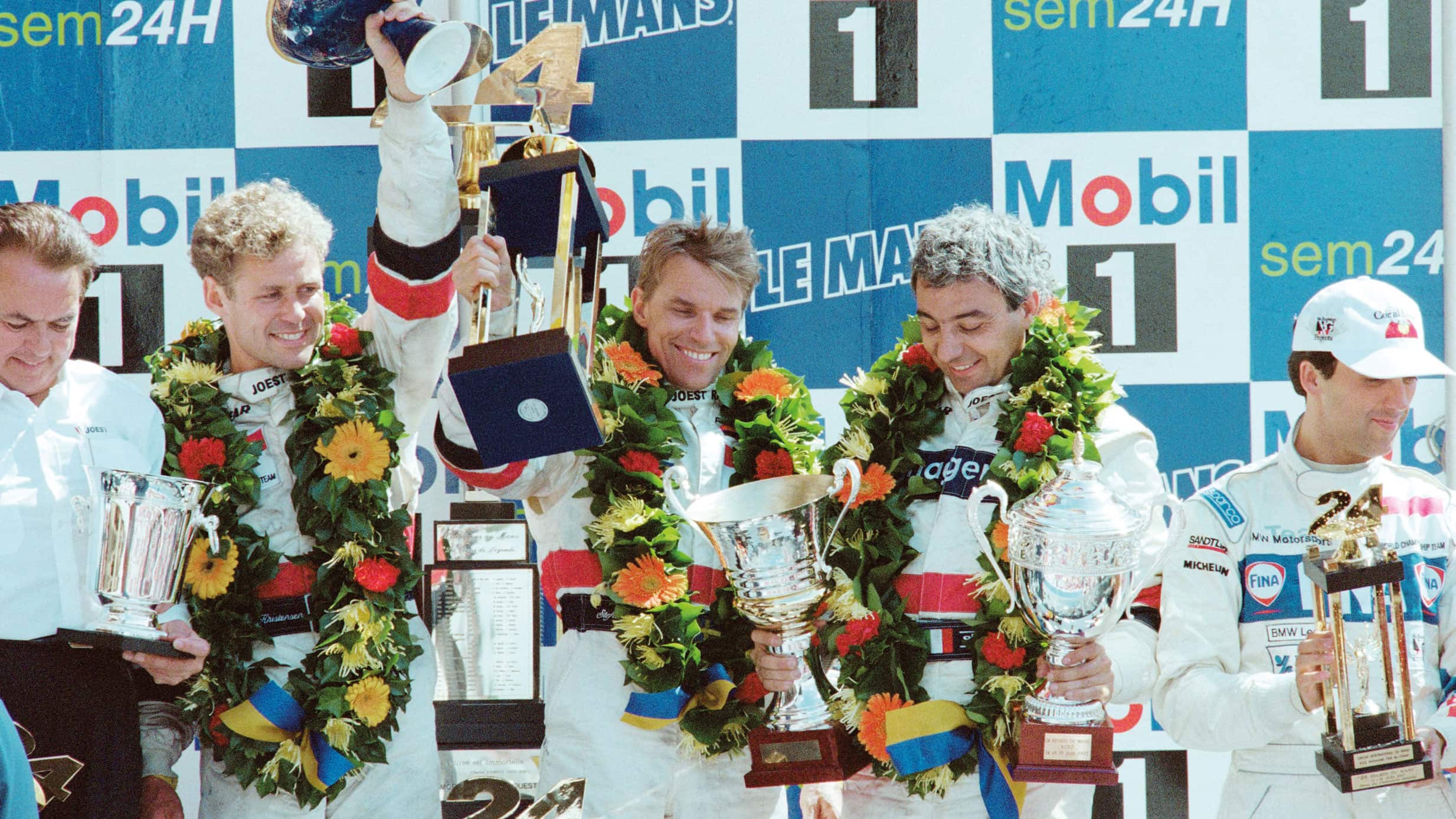 ---
3 –

2016 Toyota's last-gasp heartbreak
Toyota had long since been the nearly man of Le Mans when it had that elusive first victory wrenched from its grasp once again in 2016. It had come close in 1994, '98 and '99, and in 2014. But this time its loss couldn't have been more dramatic. A victory over Porsche and Audi was lost when Kazuki Nakajima suddenly slowed with an engine problem with six minutes left on the clock.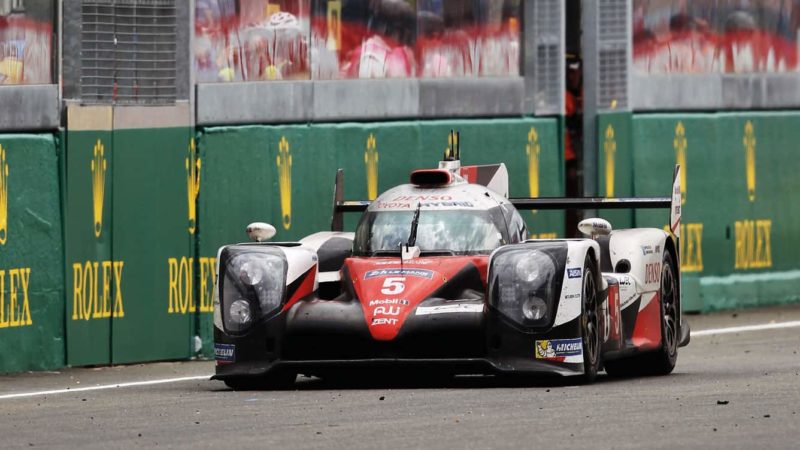 The leading Toyota TS050 Hybrid Nakajima co-drove with Sébastien Buemi and Anthony Davidson had come out on top in a battle with the best of the Porsche 919 Hybrids. The car was a minute up when the Japanese driver lost power in sector one on its penultimate lap. Porsche believed the Toyota was running out of fuel — the TS050s had been going a lap longer than the 919s. But the problem was, in fact, a fractured airline between one of the turbos and its intercooler. Toyota tried to cure the problem when Nakajima, still just about in the lead, stopped on track opposite the team's pitbox.
It was to no avail. So slow was his final lap – outside the six-minute maximum – that the car was unclassified.
---
2 –

1969 Jacky Ickx takes a walk
There's some irony that it should be Jacky Ickx who should end a grand old Le Mans tradition on the grounds of safety. Over in F1, he and Jackie Stewart grated regularly over the rising campaign that enough was finally enough. Not that Ickx was against improving his survival chances. He was just, as he put it, "conservative" in his approach. Yet here he was, at the start of the world's most famous endurance race, posting a safety protest in the most sensational (yet naturally stylish) manner.
Aggrieved at the practice of drivers only doing up their belts on the Mulsanne – or even not at all after the running start – Ickx chose to walk across the track towards his Gulf Ford GT40 when the flag dropped. "In fact I did have to run the last few metres to my car, or I would have been run over!" he smiles. "A lot of people were upset with me, because that start was a great Le Mans tradition."
But his point was proven in the darkest manner just minutes later when John Woolfe, his belts still undone, lost control of his Porsche 917 at the high-speed kink at Maison Blanche and triggered a multi-car accident. Woolfe died in the crash, and with him went the signature running start. Not before time.
---
1 –

1966 Ford's botched formation finish
Six retirements from six. That hurt Ford when the dust settled on the 1965 Le Mans 24 Hours after yet another Ferrari triumph. Despite leading 1-2 early on, every one of Ford's entries had failed to stay the course, a race meant to teach Ferrari a lesson for rebuffing the US giant's takeover cheque.
Impatient with progress at Ford Advanced Vehicles in the UK where the mould-breaking GT40 project took shape under John Wyer, Ford shifted its thrust to Shelby American in Los Angeles. There were plenty of problems – wilting brakes, head gasket failures and scary aerodynamics. Then came the switch of the 4.7-litre V8 for a muscle-packed 7-litre. The resulting new machine, simply titled 'MkII', was fast, brutally hefty – and unreliable.
Completed only in May 1965, mere weeks before Le Mans, its NASCAR-derived pushrod engine and four-speed gearbox, tough but unsophisticated compared with the Italian quad-cams, were not ready for endurance racing, despite a fastest lap around La Sarthe. Worse, long corporate communication lines to Dearborn and rivalries between the three teams now trying to make the GT40/MkII a winner added up to a fractious set-up.
It was time to seize the bull by the horns and kick it up the rump. After all, winning this race couldn't be that hard – Ferrari had just done it six times in a row. Allocating three MkIIs each to Holman Moody and Shelby, plus two lightweight specials prepared and run by Alan Mann Racing from England, Ford's prime mover and fixer Leo Beebe threw everything at the task. And as a comforting back up for the eight, there would be six privateer GT40s.
When the team hit France, no one had seen the like. Twenty tons of equipment and spares, a complete mobile workshop and over 100 people, plus a stellar driver squad. Chris Amon, one of the Ford pilots, reckoned he'd heard a whisper of a $20m spend – simply staggering for the time. Ford was going to win. It couldn't be allowed to fail – Henry Ford II himself had come to see his Italian counterpart meet his nemesis. And win it did in spectacular style – although the long-awaited victory would be shrouded in contention for years to come.
A kingpin in Shelby's armoury was Ken Miles. Athletic, ascetic and hyper-focused, Miles was the perfect combination of development and racing driver, improving reliability to the point that in February '66 MkIIs ran 1-2-3-5 at the Daytona 24 Hours.
So when Henry Ford flagged away the French showdown and Graham Hill led off in a Mann 7-litre, Ferrari was under pressure. With only two works cars backed by a dozen privateers Maranello was overshadowed, and within hours the Fords had control. The Shelby cars of Dan Gurney/Jerry Grant and Ken Miles/Denny Hulme traded the lead with a P2/3 Ferrari, but when one of the red cars crashed and the other broke, Fords ran 1-2-3-4.
After tyre troubles Bruce McLaren and Chris Amon were surging back up the field, and though the leading Grant/Gurney MkII began to overheat, a Ford triumph looked assured, McLaren/Amon now tailing Miles and Denny Hulme, with Ronnie Bucknam/Dick Hutcherson third in their Holman Moody machine. Simple victory, though, was not enough for FoMoCo. The order came down: "Close up!" Line astern, if not three abreast, made the million-dollar photo shot. At his last pitstop Miles was annoyed to get the 'slow down' message, putting him in range of a hard-charging McLaren, but by the last lap he'd obeyed. As the Ford trio hit the line it was suddenly McLaren and Amon ahead. For all his months of effort, Miles was second.
Debate raged: had Miles eased off too much? Did Ford steal Ken's win for a PR coup? Was it because the winning car had started 20 yards further back? Was there a conspiracy within Ford to stop the straight-talking Englishman winning? In 2006 Amon told Motor Sport that when the 'slow' signal went out "Ken kept going and Bruce was pissed off. There was no way he was going to finish second. He said Ken backed off; well, maybe, or maybe Bruce put on a little spurt…"
Ford cared little; defeat was avenged, Ferrari humbled, and it was the first of four victories in a row. In the years that followed, the GT40 and the tale of Ford's victory moved into the realm of legend; a defining moment not just of Le Mans but of all motor sport.